The Wiggo Effect: How Bradley Wiggins has inspired you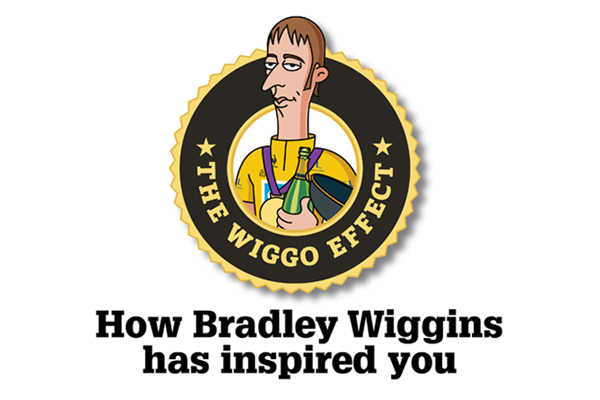 The Wiggo effect
Bradley Wiggins is the standout favourite to win the BBC's Sports Personality of the Year this weekend. His Tour de France win, Olympic gold and other victories have wowed the cycling world and introduced him to the wider British public.

But Wiggins's achievements go beyond just the sporting. He has entered the public conscience and his name is uttered in the same breath as David Cameron, Boris Johnson and Noel Gallagher. He has become a symbol of Britain's successful sporting year and has inspired people beyond the normal reach of cycling.

After his Tour de France win we got wind of people who Wiggins had inspired. It wasn't just the wannabe racers either; lapsed cyclists, housewives and people who'd lost their jobs were all getting inspired and getting out on their bikes. After printing an invite for our readers to contact us with their stories we met with the following people who told us their stories.

If ever you're still looking for a reason to vote for Wiggins this weekend these should help persuade you.
Mark Pennington and Laurence Ellis: Box Hill habitués
"I used to cycle when I lived in the US. I did a ride in 2008 from
Vancouver down to Portland, which was 600 or 700 miles. That was an
incredible experience. But when I got back from New York I stopped
cycling altogether - work and life got busy and things got in the way.
For the last four years my bike stayed in the box it flew back from
American in.........." Read more...

Adam Green: from keen to committed
"I used to ride a lot with my dad when I was younger, mainly doing
cross-country mountain biking, then I got older and found other
interests. But I've just finished studying sports coaching at university
and decided I wanted to get back into cycling and try road riding........." Read more...

Tom Blake: Bike addict
"Last November i dropped out of university. I was in my third year but I'd had problems over the summer with depression and panic attacks, and ended up living with the wrong choice of housemates. Our house was a tip. To make matters worse, on top of the depression........." Read more...

Jon Joynes: 2012 inspired riding 2012 miles
"I hadn't touched my old hybrid for five or six years, but I've always followed competitive cycling - weather it's at the Olympics or the Tour de France - and after this summer I found myself looking at my old bike more and more........." Read more...
Linda Donaldson: Scaredy cat turned tiger mum
"I grew up in the Scottish Borders. when I was seven or eight my parents bought a couple of Raleigh racers and got my sister and I into cycling at weekends. It was a fun family thing to do, it kept us all fit and I have great memories........." Read more...

Rachael Levy: The speed queen
"I learned to ride a rickety old mountain bike in a lumpy field behind my
parents' house as a little girl. Unsurprisingly, the lack of speed and
the difficulty of the terrain didn't exactly get me hooked and I didn't
touch a bike again until last autumn........." Read more...