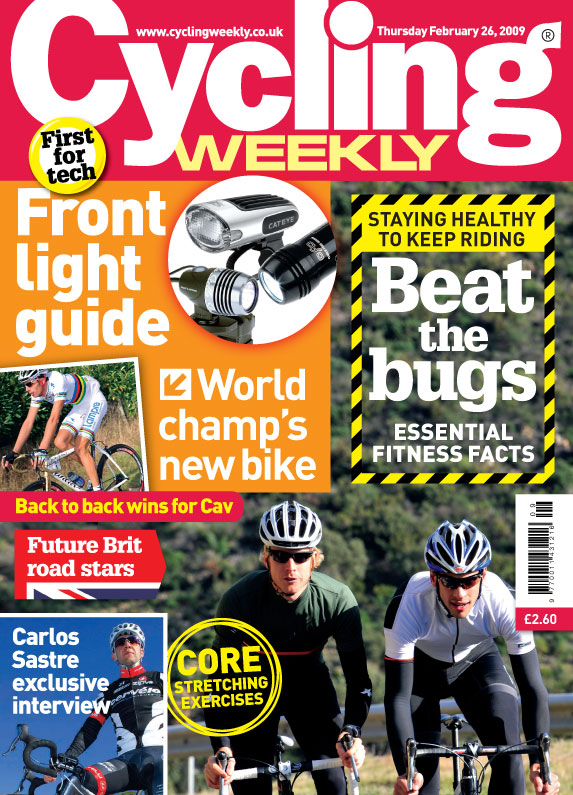 Back issues
To order back issues, phone: 01733 370800
Cycling Weekly February 26 issue
On sale: 26-Feb-2009
On sale from Thursday priced £2.60
RIP THE TOUR OF WESSEX
But what more could have been done?
For the second year running, the Tour of Wessex Premier Calendar race has been cancelled after months of wrangling with the local authorities and police.
Only last week it looked as though the organisers had done enough to save it, cutting it down from a three-day and finally a single 93-mile race based on three left-hand-only circuits around Somerton. But last week when this huge compromise didn't satisfy Somerset Highways who organiser Nick Bourne says "couldn't have been more unhelpful".
It's a ridiculous state of affairs where years of planning can be cancelled out on the whim of any disgruntle official who turns against bike racing.
So what is British Cycling doing to help? Ian Drake, BC's new boss, wants a new government cross-departmental body dedicated exclusively to road racing. An announcement is expected any time but unfortunately the sport has now suffered another high-profile loss that does nothing to build confidence.
We report in full on the cancellation of the race in this week's
Cycling Weekly
, and assess what this means for the long-term future of road racing in the UK.
Also in this week's issue we look back at the Tour of California, where Manx Missile Mark Cavendish added to his increasingly tally of pro wins with a pair of stage victories.
We also bring you a round-up of rechargeable front lights; interview Carlos Sastre; take the road to recovery with Team Columbia; advise you on how to beat winter colds; and catch up with Team GB's under-23 academy.
Cycling Weekly
February 26 issue is on sale from Thursday at WHSmith, major supermarkets and all good newsagents priced £2.60.
Robert Garbutt
Editor