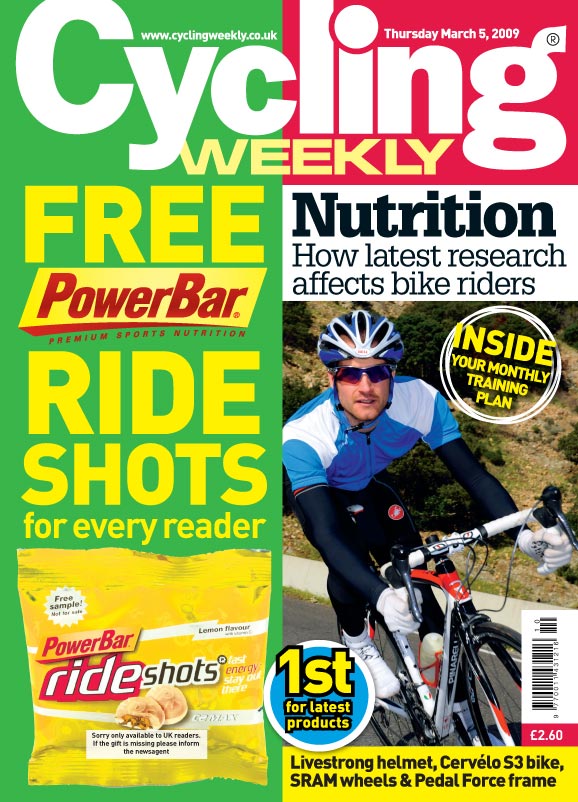 Back issues
To order back issues, phone: 01733 370800
Cycling Weekly March 5 issue
On sale: 5-Mar-2009
On sale from Thursday priced £2.60
CAPE OF NO HOPE
Why did I agree to ride the biggest race on earth?
Like so many things, it seemed like such a good idea at the time. Now there's just three days to go before this editor tackles the Cape Argus Pick 'n' Pay, otherwise known as the world's biggest bike race.
I'm not complaining, the thought of riding in the South African sunshine is still pretty appealing; it's just come around a little too quickly. Two things worry me: the 20 degree difference in temperature will certainly come as a shock, but probably my main obstacle will be the distance. Normally 110 kilometres would be a doddle, if only I had done some training. I'm blaming the snow.
What the hell, however slowly I ride I'm not going to be lonely in such a massive field. At the time of writing entries totalled 40,965 with this rider allocated number 19,001 and an 8am start time so that I would be placed mid-field.
It appears that I am part of a massive UK invasion judging from the feedback from readers since I announced I was riding. There will also be plenty of Brits at the front of the ride including Steve Cummings and Chris Froome in the Barloworld team, plus a strong Rapha-Condor line-up with Chris Newton and Kristian House.
There's even a British women's team led by ex-internationals Emma Davies and Tanja Slater, who have raised £18,000 for charity.
Back in Europe, the pro ranks are preparing for this week's Paris-Nice - we preview the 'race to the sun' in this week's issue of
Cycling Weekly
.
Also in this week's issue we take an in-depth look at the latest aero equipment ruling; take a nostalgic look back at the now defunct Kirby Cycling Club; review SRAM's new deep-section wheelset; take a ride with Rob Hayles in Derbyshire; and talk to new BC supreme Ian Drake.
Cycling Weekly
March 5 issue is on sale from Thursday at WHSmith, major supermarkets and all good newsagents priced £2.60.
Robert Garbutt
Editor