Nov 10
20:32
Posted by Robert Garbutt
It is with very deep regret that we announce the death of Johnny Helms. Our resident cartoonist needs no introduction after entertaining readers for more than six decades and for many he not only personified this magazine but also the essence of the British club cyclist.
Cycling Weekly simply won't be the same without Helms. The man from Cheshire was at the very centre of this publication for more than half of its 118-year history.
His work served to document club life through some six decades. That's approaching three-and-a half thousand cartoons since February 1946, making Helms the longest continually published contributor not only of this magazine but any publication in the UK and probably the world.
One of my first and lasting memories of Cycling when I first read this magazine as a teenager was of a luckless rider being pursued by one of Helms's famous canine creations.
Several years ago when I visited Johnny he drew a cartoon for my daughter. Was it of that dog? Of course it was!
A full obituary appears in news and next week's special issue of Cycling Weekly (November 19) will feature a 12-page Helms tribute.
Robert Garbut is editor of Cycling Weekly magazine
---
Nov 10
10:53
Posted by Emma Silversides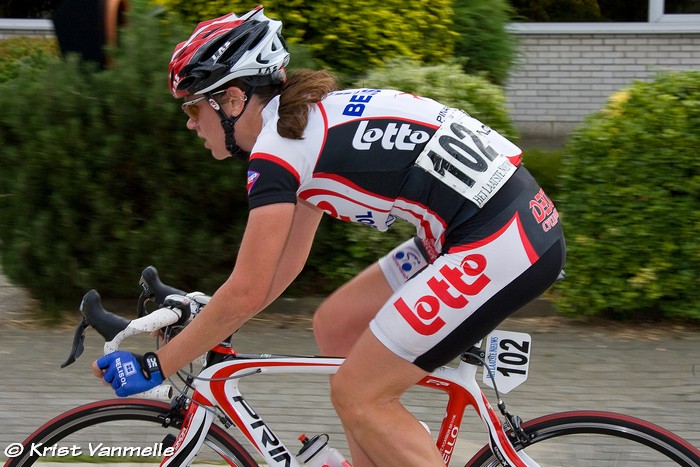 Emma Silversides is a professional cyclist for the Lotto Belisol team and is based in Belgium. Here she shares her insight into the continental women's scene.
I have deviated from the Belgian theme for some weeks now and feel a little guilty about this; when first asked to write the blog it was specifically supposed to be about 'the women's scene in Belgium'. So this week I am going to make an attempt to at least begin to get back on track with a sprinkling of Belgian influence.

I have in fact spent the last two weeks in Yorkshire working full time for an American optical company. My daily commute to work consists of 14km on quiet country lanes followed by a further 9km taking me from the south of York, right through the centre, up to the north of the city, and out the other side.

I was completely unprepared for the endless dangers that face me (and indeed all the others who opt to commute by bike) every morning and evening. I have come to the conclusion that I am being kept in the dark about two major things.

Firstly, the whereabouts of the roads that make York a 'cycle city'; I am told that this is the case by the regional news programs and in the local papers. Seemingly my route to work, despite taking me from one side of York to the other, misses a major part of the city which qualifies it to be bike friendly.

Maybe all the 100 and 200-metre stretches of bike lanes total more than any other city in England thus making York a 'cycle city'. Or maybe the fact that at the majority of lights a green box suddenly appears for cycles to wait in while the lights change; these are so helpful with their carpets of glass shards and impatient drivers collecting behind ready to race past at the soonest available opportunity.

And the second thing that I am being kept in the dark about? I can only guess it's maybe a party, a free meal or the visit of a celebrity. Whatever it is, it happens every evening and you must be there on time and not a minute late. Oh, and only car drivers are admitted so get your foot on the accelerator and don't lose a minute.

Where is the Belgian influence I hear you asking? Well I guess my ranting comes from growing accustomed to being treated with respect while riding my bike in Belgium; is that such a bad thing? In Belgium the verb to ride (as in a bike) is 'rijden'. The verb to drive (as in a car) is 'rijden'. Yes, they are the same, they are conjugated identically, and I think that this is no coincidence. Drivers of cars expect to share the road with 'drivers' of bikes, everyone abides by exactly the same rules and more often than not the cyclist takes priority. It really is quite simple and neither party complains.

I become so infuriated by the attitudes of drivers everyday and wonder if some of them have ever ridden a bike themselves; probably not. So here lies the route of the problem; it is sheer ignorance of the majority of the population and I must learn to curb my frustration since you cannot blame a person for being ill informed and inexperienced. The car takes priority over the bike and that's how it's simplified here in England. I am returning to Belgium next weekend; I cannot wait. I assure you that the blog will be about Belgium and women's cycling!
---
Nov 5
14:12
Posted by Robert Garbutt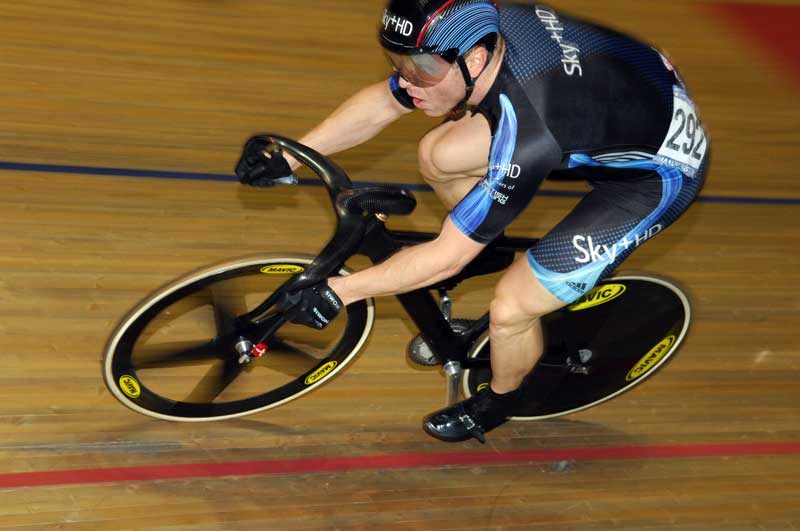 Another international track meeting and another whitewash by the British team. It was business as usual at the Manchester World Cup, but even by our own very high standards these performances were something special.
With less than 1,000 days to go until the Olympics, this was the start of the proper build-up for 2012 and on the strength of this performance our riders are set for unprecedented success.
Sir Chris Hoy and Victoria Pendleton still reign supreme in the sprint, but with four riders in the top five of the men's competition, you can see GB's strength in depth. Our youngsters are also getting better, much better, and are not afraid to challenge the old guard for selection.
Things are changing fast. Bradley Wiggins has been deposed as Britain's current quickest pursuiter after Geraint Thomas managed a 4-15 in qualifying. The 23 year old's performance is now the third best of all time and the fastest using conventional tri-bars. And it was only his second individual pursuit series, after the previous weekend's National Champs.
It's no wonder the BBC devoted most of Sunday afternoon to TV coverage from the velodrome, and Sir Chris was even given a mention on the 10 o'clock news.
For anyone wanting to keep up with all the latest on our track stars, then a subscription to Cycling Weekly makes the perfect Christmas present. You'll save 15 per cent and our offer includes the DVD of this year's Tour de France.
Robert Garbutt is editor of Cycling Weekly magazine
---
Oct 29
10:49
Posted by Helen Wyman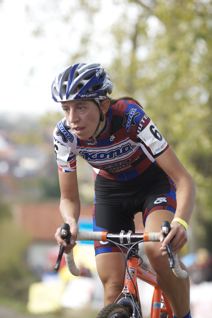 Whoever said that racing should be solemn and serious is wrong. This week I have done two of the most enjoyable races I've ever done, over completely different terrain, atmospheres and even different random prizes.

I've kind of got a bit hooked on night time races this season after having thought that being practically blind I would hate them. Technically I am just short sighted but to qualify my statement, I once went to a new swimming pool, took my glasses off, turned to go to the pool and thought some one had stolen it. I had to return to my locker, locate the pool with my glasses on and then tentatively slide my foot to the edge before getting in.

Anyway, by some stroke of genius I actually find myself with less of a disadvantage in these night-time races as I can't see the tape or barriers and just find myself racing faster each lap. So Tuesday's Nacht Van Woerden was a great success.

A five minute lap made up of 27 corners is always going to be fast but not suffering hard as you couldn't ride more than 100 metres in a straight line before you got to the next corner. Just in case anyone wants a tip for night racing, pre-ride in daylight! This we managed to do although the race was so well lit that I don't think it made that much difference on this occasion, except for one corner where as the night fell a tree root suddenly appeared in the only section with shadow.

Near the pits on the circuit there was a fairground with one of those rows of seats in a straight line attached to a backboard that goes around in circles (the ones with a man shouting: "If you want to go faster, scream!"). Associated with this was a Dutch man shouting what I can only assume was something similar and clouds and clouds of dry ice interspersed with flashing multicoloured spotlights. It felt a little bit like I was on Stars in Their Eyes on bikes every time I passed by.

Other highlights of the evening included walking straight into the women's changing room that was full of naked men. Another was winning a big ball of young Gouda cheese that has a very nice creamy taste and melts well, just in case anyone wondered.

On Sunday I raced the Koppenberg cross, another fun race but this time more for the amount of spectators and the general atmosphere. As we were getting ready to ride the course a small group of spectators marched past the car in all matching Sven Nys supporters' kit with the obligatory Flanders flags. One of the guys shouted 'Hey Mario, it's Helen Wyman', to which the majority started laughing and making random 'oh la' style comments. I'm assuming he was the rather sheepish guy looking directly down the entire time, but Mario, whoever you are, thanks for the support.

In order to get a place on the hill you have to be there early and take a lot of people so you have extras to go for the beer and frites at regular intervals. During the race it's amazing. On the last two laps the entire crowd on the off road climb were shouting and cheering for me. It's difficult to describe exactly how fantastic it feels but it definitely made me ride even harder than I thought was possible, especially as there were quite a few English voices amongst them!

For this race the podium prize was - to Stef and Jurgen, my mechanic's, delight - a three litre, six kilo (I know: I just weighed it for this diary) bottle of Primus Belgian beer! When coupled with the litre and a half of cactus genievre from Namen, it's going to be one interesting after season party.

Next stop for me is the European Championships in Hoogstraten this weekend before we go to Nommay for the second World Cup of the season. I am looking forward to some seriously muddy races so fingers crossed for a bit more rain.

---
Oct 28
10:32
Posted by Robert Garbutt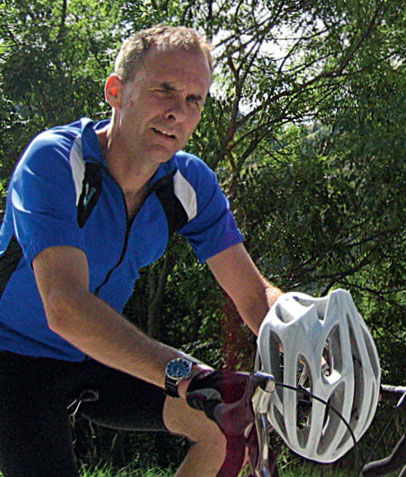 Don't get swine flu, it stops you cycling. This is the longest I've been off the bike for ages, but I suppose the timing isn't that dreadful, coming at the end of what I still call a season.
Faced with a second weekend of convalescing, I opted for a country walk as alternative exercise and duly dragged the family up the side of Box Hill.
I really should have thought things through. The only thing worse than not being able to ride a bike is to watch other people doing it.
And that's exactly what everybody, except me, seemed to be doing Sunday lunchtime. While I sat eating my pasty outside the cafe at the summit of Box Hill, I counted more than 40 riders in the space of some 45 minutes.
You couldn't move for Lycra, which can't be a bad business for the cafe owner considering the huge quantities of cake and tea being consumed.
For as long as anyone can remember Box Hill has been a magnet for bike riders and these hairpin bends are the closest many get to riding up Alpe d'Huez.
These days it's getting mightily busy on these slopes - further proof of Britain's newfound love of cycling. I'm just hoping I'll be allowed to join in by next weekend.
Robert Garbutt is editor of Cycling Weekly magazine
---
Blog
More posts
24 October 09:

22 October 09:

20 October 09:

15 October 09: