CW picture exclusive: Mark Cavendish in London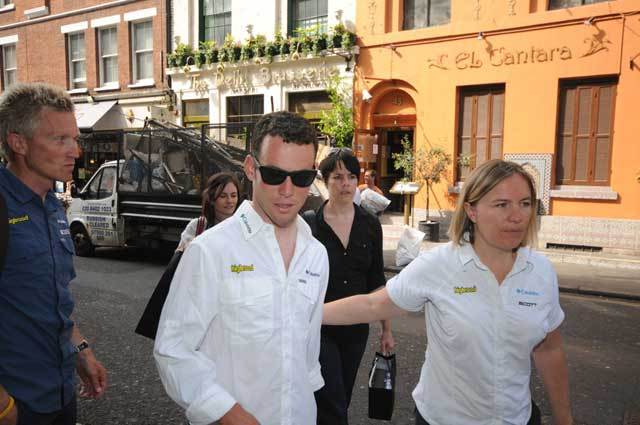 If last year's quartet of Tour de France stage wins for Mark Cavendish caught the mainstream media on the hop, they won't make the same mistake this July.

With the Tour de France on the horizon and his book Boy Racer to promote, Cavendish and his Columbia-Highroad team held a day of interviews at Bar Italia in London's Soho district on Monday.

And it was a long day, with more than 50 media outlets requesting time with the 24-year-old sprinter.

"I did interviews from 7.30 in the morning until nearly eight at night, with only a little break when Sir Paul Smith came in," Cavendish said.

The designer is a keen cycling fan and friend of Columbia-Highroad directeur sportif Brian Holm. Sir Paul has met Cavendish several times and cycled over from his office off Drury Lane on his fixie to say hello. Cavendish took the opportunity of a break and grabbed a plate of sandwiches for lunch before the interviews resumed.

"It was pretty exhausting, but I've forgotten about it now," he said. "It's good to give everyone some time but I'm glad all of the media work was out of the way in a couple of days because it means I can concentrate on getting back into training for the Tour de France."

By Tuesday evening Cavendish was back in Manchester and this morning (Wednesday) he did two hours on the road before a session on the track.

CAVENDISH ON... THE GIRO D'ITALIA
"It was perfect. I was satisfied to win three stages. That is what I set out to do. Wearing the pink jersey was fantastic, and it would have been nice to have won a stage in pink. I don't like losing but maybe the day Petacchi won did me a favour."

THE MILAN STAGE PROTEST
"The course was a bit dangerous, but it's only as dangerous as the riders make it. The Tour of Qatar is held on dead straight roads but it's dangerous because of the way the riders ride. [In Milan] they didn't need to stop. They could have ridden round at a tempo and not embarrassed the race and the organisers. They [the other riders] were asking me what I wanted to do and I said: 'Well, I want to sprint.' In the end, other than when they stopped, I think they worked it out okay. They neutralised the times and the guys who wanted to race raced and those who didn't didn't."

PULLING OUT OF THE GIRO
"I wanted to finish the Giro. If the team had said go on to Rome, I'd have continued, but my team said 'no'. They pulled me out and I was kicking and screaming. But the thing is, I'm not on holiday. It's not like I've paid my entry fee for a circuit race and it's my decision to pull out. I'm paid by my team. If you break it down, my job is to display the company's logo crossing the line in first place as often as I can. That wasn't going to happen in the final week. The stages were too hard for me to help the team. The team wants me to be as strong as I can be at the Tour and riding round at the back for another week wasn't going to do anything to achieve that goal."

THE NATIONAL CHAMPIONSHIPS
"Strength-wise, I could do something, but I know I won't get a result at the Nationals because it'll be just like last year. There'll be a load of Cervelos, a load of Raphas, a load of Plowman Cravens and they'll jump on my back wheel. The thing is, it's got to be in someone's interests to let me get in a break. Surely they want me to be doing as much work as possible, so why not let me go in a break and try to beat me that way? Why chase me down and then watch others go up the road? It'll be even harder than last year because I won't even have a team-mate, but it's nice to ride. I know I can't get a result but I still want to ride it because everyone is coming back and it's the National Championships."

THE TOUR AND THE GREEN JERSEY
Cycling Weekly asked Cavendish what he'd prefer if given the choice of three stage wins but no green jersey at the end of it or one stage win, a string of places and the green jersey in Paris.

"I haven't really thought about it? Can I say three stages and the green jersey? The thing is, I'm aiming for three stage wins, and the other goal is to learn how to reach Paris. Until you know what it takes to reach Paris, you can't plan a whole campaign for the green jersey. I could win it this year, but I think it would need me to alter how I ride the Tour, and it's a bit too early in my career to do that. I just want to win as many stages as possible. Last year, I won four stages but didn't even have a day in the green jersey. To me, if you win four stages you should be in green. End of story.

"You might have to go for intermediate sprints, but if that affects my chances of winning a stage, I won't do it.

"If a break stays away, for whatever reason, and there's a sprint for fifth or sixth, then I would go for it. Last year in Nantes [stage three when Samuel Dumoulin won after four riders stayed away] the sprint was for fifth. Robbie [McEwen] got it. I did go for the sprint and I got 10th, but I didn't take every risk like I would when you're sprinting for the win.

"If the chase for the green jersey takes away from the goal of winning as many stages as we can, then we won't go for that scenario."

Former professional rider Paul Watson, who rode the 1987 Tour de France for ANC-Halfords, is now a photographer. He documented Cavendish's day on Monday for Cycling Weekly



Mark Cavendish did a full day of media interviews in London on Monday. It began with a question and answer session at Bar Italia in Frith Street, at the heart of London's Soho district.



Looking cool on a hot day, Cavendish in team issue white shirt and Oakley shades, arrives at Bar Italia with his Columbia-Highroad directeur sportif Brian Holm. Cavendish's girlfriend Melissa is to Cavendish's left. In the black shirt is Fran Millar, sister of David Millar and part of Face Partnership, Cavendish's management company. In the white shirt is Columbia-Highroad's press officer Kristy Scrymgeour.



Brian Holm (blue shirt) listens as Mark Cavendish answers questions from the media at Bar Italia in Frith Street, Soho.



Legendary designer Paul Smith, a well-known cycling fan, arrived on his fixie to say hello to his friends Cavendish and Holm.



After the session at Bar Italia, Cavendish and the numerous TV crews headed to Regent's Park for more interviews. Some in casual clothing, some in bike kit. Come the end of the day, Cavendish had done 12 hours of interviews.



The Giro d'Italia edition Scott bike

Photos by Paul Watson