Will the Giro erupt on Mount Vesuvius?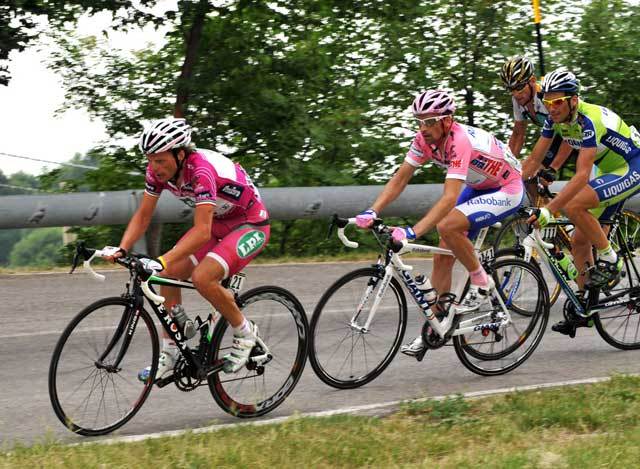 The 2009 Giro d'Italia will almost certainly be decided during Friday's final mountain stage on the slopes of the Mount Vesuvius volcano overlooking Naples.

Denis Menchov (Rabobank) comfortably defended his pink jersey for yet another day on Thursday during the stage to Benevento and is more confident than ever that he can keep closest rival Danilo Di Luca (LPR Brakes) in check and set up victory in the Giro before the final time trial stage in Rome.

"I'm relaxed and I feel strong. I'm confident. It'd be perfect not to lose any time before last time trial," Menchov said after pulling on the pink jersey for a seventh time.

He revealed he has studied the 13km Vesuvius climb and was ready for Di Luca's attacks.

"I'm not scared or worried about it," he said, putting a dampener on the Italian media's hopes of seeing a great finale to the Giro.

"It's a special climb and has a special history but it's only as important as the Monte Petrano or Blockhaus stages."

"It's difficult to sat what will happen. Maybe there will be a strange breakaway and so the other teams will have to work. It's the last hard day of the Giro and last opportunity to gain time before the time trial."

"I expect a hard day but I hope my team can help me. Teams like Liquigas showed their potential in the last few days and I expect that they'll try to attack. They have two guys in the top and so I expect them to try something. Of course Di Luca will try something as well."

Menchov did not want to consider what would happen if he cracked and lost time to Di Luca but admitted it would mean the end of his chances of winning the Giro.

"That's a bad thing to think about. I feel strong and I don't want to think about losing a minute or two minutes. Even if I'm just one minute down overall, it's too much. You can't do anything in short time trial."


TROUBLE AHEAD?
Thursday's edition of Gazzetta dello Sport reported the possible involvement of Menchov in the Humanplasma investigation with the headline of 'Menchov, trouble looming'.

However, just like with Di Luca in the Giro, Menchov played things cool and insisted he was not worried about developments in the Austrian doping investigation.

The Rabobank team confirmed that they have been contacted by Austrian police but Menchov claimed the team has not told him anything, although he admitted he would be willing to travel to Austria as a witness.

"At the moment, I'm really focused on the race, I don't know what'll happen in future," he said.

"Now the most important thing to finish this race. If it's really necessary (to go to Austria), I will do it. It's really not a very nice thing, but if they want to me to do it, I will. I don't have any problem. After the race, we'll find a time."

DI LUCA READY TO ERUPT
Danilo Di Luca has tried to attack Denis Menchov whenever he could during the Giro d'Italia. He wore the pink jersey for the first half of the race but Menchov 1-54 out of him in the Cinque Terre time trial and the little LPR rider has been trying to pull back seconds ever since.

The finish on Mount Vesuvius is his last real chance and he knows it.

"Menchov is strong, he's shown it time and timer again but I'm not going to throw in the towel. I'm going to try and win the Giro right to the end. I'm giving it everything and can't do any more than that."

"I've always believed I can win and still do. Menchov cracked a bit yesterday on the finish at Blockhaus. It wasn't enough for me but who knows the same could happen again near the finish on Mount Vesuvius. I've got to be ready to take advantage if he cracks."

"I know I've got to gain at least a minute on him if I want to win the Giro. I wouldn't be happy with 30 seconds but at least I can go for it in Rome."

The 164km stage starts in Avellino on the other side of the Vesuvius volcano and passes along the spectacular but nervous Amalfi coast before the 13km climb up to an altitude of 1000 metres. At the finish will almost certainly know who has won the 2009 Giro.

Cycling Weekly will be covering stage 19 in full, with report, results, photos, analysis and exclusive interviews

---
Stage reports
Stage 18: Second Giro stage win for Scarponi
Stage 17: Pellizotti wins on Blockhaus, Menchov remains in pink
Giro rest day review (May 26)
Stage 16: Sastre wins stage to Monte Petrano
Stage 15: Bertagnolli gifted stage win by Cervelo mix-up
Stage 14: Gerrans solos to win
Stage 13: Cavendish takes his third Giro win and prepares to head home
Stage 12: Menchov storms to Giro TT win and race lead
Stage 11: Cavendish romps to second Giro stage win
Stage 10: Di Luca lays down the gauntlet
Giro rest day review (May 18)
Stage nine: Cavendish blitzes rivals to win in Milan
Stage eight: Siutsou makes it two in a row for Columbia-Highroad
Stage seven: Boasson Hagen takes treacherous stage
Stage six: Scarponi wins longest stage with big break
Stage five: Menchov wins mountain battle as Di Luca grabs the pink jersey
Stage four: Di Luca denies Soler on the line; Lovkvist takes pink jersey
Stage three: Cavendish loses pink jersey after being caught behind late crash
Stage two: Petacchi denies Cavendish the stage win
Stage one: Cavendish in pink as Columbia prove their point to Garmin
Photo galleries
Stage 18 photo gallery
Stage 17 photo gallery
Stage 16 photo gallery
Stage 15 photo gallery
Stage 14 photo gallery
Stage 13 photo gallery
Stage 12 photo gallery
Stage 11 photo gallery
Stage 10 photo gallery
Stage nine photo gallery
Stage eight photo gallery
Stage seven photo gallery
Stage six photo gallery
Stage five photo gallery
Stage four photo gallery
Stage three photo gallery
Stage two photo gallery
Stage one photo gallery
Desktop wallpaper photos
News
Wiggins getting ready for final Giro TT
Menchov brushes off boos and doping questions after the Blockhaus
Di Luca promises to fight to the end of the Giro
Garmin at the Giro: And then there were five
Stannard sees Rome after birthday pain
Di Luca out to topple Menchov on the Blockhaus
Bruyneel tips Menchov to win Giro
Giro Britannia: A long, hot slog in Italy
Leipheimer: Lance had to wait for me today (Stage 16)
Millar climbs off and heads home from Giro
Basso discovers he has few friends at the Giro (stage 15)
Froome agonisingly close to stage victory (stage 14)
Cavendish quits the Giro d'Italia
Cheeky Cipo sneaks a ride in the Giro
Cavendish: His most important Giro win yet (stage 13)
Comment: Lance vs the press, some things never change
Menchov's first pink jersey (Stage 12)
Wiggins: 'I went too hard at the start' (Stage 12 TT)
Lance and Levi: Ready for Giro time trial
Cavendish: 'Today brought back memories of San Remo' (stage 11)
Is Di Luca trying too hard, too soon?
Wiggins loses time in the Giro (stage 10)
Armstrong and Basso say sorry for Giro protest
How are the Giro favourites doing?
Cavendish says 'I'm addicted to winning'
Riders stage go-slow protest during Giro stage in Milan
Cavendish cool before Milan sprint
No sympathy for Armstrong from Giro boss
Boasson Hagen celebrates his birthday early
Cavendish overjoyed for Boasson Hagen
Armstrong 'livid' at dangerous Giro stage
Astana riders wear faded kit in protest over unpaid wages
Armstrong sees Leipheimer in pink
Giro news round-up: 14 May
Wiggins: 'I can't keep smashing away on the climbs'
Wiggins eyes top 20 finish overall
Armstrong after Giro stage 5: 'That was hard'
Cavendish looking for Giro revenge
Armstrong happy with stage four performance
Lovkvist will fight to keep Giro lead
Giro could be last race for Armstrong's team
Vande Velde crashes out of Giro
Petacchi claims he didn't know of Cavendish crash
Cavendish struggles to find consolation in pink jersey
Petacchi: I've been working out how to beat Cav
I'm wearing pink on behalf of the team, says Cavendish
Wiggins ready to win Giro team time trial
Friday, May 8: Giro news round-up
Cavendish out to topple Garmin in Giro team time trial
Team time trial start times
Cycling Weekly's Giro d'Italia top ten prediction
Brits in Venice for Giro presentation
Armstrong overshadows overall favourites at Giro presentation
Armstrong confident of finding new sponsor for Astana
Armstrong working to save Astana team
Wiggins in top form for Giro
Garmin Slipstream kitted out for Giro opener
Dan Lloyd gets late Giro call-up
Armstrong's special Giro bikes unveiled
Daniel Lloyd overlooked for Giro ride
Cummings and Thomas not selected for Giro d'Italia
Cavendish tests Giro form at Tour of Romandie
David Millar confirms he's riding in 2009 Giro
Bennati to take on Cavendish in Giro 2009 sprints
2009 Giro d'Italia to start in Venice
Evans and Silence-Lotto disagree on Giro 2009 ride
Armstrong to ride 2009 Giro
Tuttosport reveals 2009 Giro d'Italia route
Dolce & Gabbana design new Giro jersey
2009 Giro d'Italia guide and features
Find the pink jersey competition
Giro d'Italia 2009: The Big Preview
British riders to have led the grand tours
CW's Giro top ten prediction
Brits in the Giro 2009
Brits in the Tours: From Robinson to Cavendish
CW Classic: the 1987 Giro d'Italia
---
2008 Giro d'Italia archive
Giro d'Italia 2008 coverage index - race reports, photos, results
From rule Britannia to cruel Britannia
Giro 2008: The final word on this year's race
Brits at the 2008 Giro: photo special
Five days to go, what's in store?
Giro d'Italia 2008: Rest day review (May 27)
Giro d'Italia 2008: Rest day review (May 19)
Giro d'Italia 2008 preview
Follow Cycling Weekly on Twitter>>