THE WEDNESDAY COMMENT REVIEW OF THE YEAR PART 2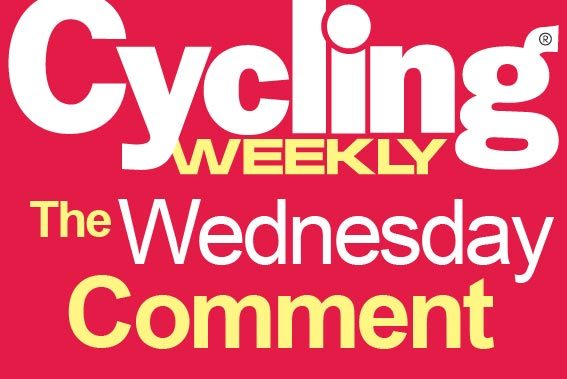 Welcome to a look back over the second half of 2008 through the magnifying glass (or should that be prism, or perhaps kaleidoscope, or even periscope?) that is The Wednesday Comment.

Cyclingweekly.co.uk's regular comment column took a break during the Tour de France, returning in August with a new name. Millions were spent, focus groups focused, brand consultants were consulted, and what did we come up with? That's right, The Tuesday Comment became (drum roll, please) The Wednesday Comment.

Here we look back at July to December.


For the first time in three years, I covered the Tour de France from the relative comfort of a hire car and a string of hotel rooms booked at almost the last minute, instead of from a camper van.
I won't say it wasn't fun travelling round France in a camper van trying to live and work in a confined space with two or sometimes three other colleagues, as we did in 2006 and 2007, but it was something of a relief to be able to bed down in a comfortable hotel room each night.
I say comfortable, but the success rate was really no better than one in two. The hotel in Chateauroux was the worst I have stayed in in western Europe. The following night in Aurillac threatened to be almost as bad as it seemed the bar downstairs was used by every smoker within a 20-kilometre radius.
And don't even get me started on the disastrous couple of nights in Italy. With accommodation at Cuneo at a premium, I thought I'd struck gold with a little mountain chalet complex in Gaiola. It was indeed idyllic, with a dozen wooden chalets positioned around a swimming pool and surrounded by imposing Alpine peaks. It was stunning. The chalet, though, was very, very basic. One plug socket, no television, not the ideal place to write on the so-called rest day. To make matters worse, I'd invited out photographer Luc Claessen, who had also struggled to find anywhere, to take the spare bed – not realising that the spare bed would be the top bunk.
Covering the Tour is always a challenge. It's the biggest race in the world, where the riders are most nervous, most focused and most in demand. There are more media and fans and rules and people in official Tour de France polo shirts saying you can't go here or there.
There are great days and terrible days, but never a dull day and if you are there for the full three weeks, you often experience a real pull of emotions. On the one hand a strong desire to dump the hire car where it stands and fly home immediately, and on the other a buzzing excitement to see how the race turns out and what further scandals and stories are going to erupt.
And when you are home, there is a sense of anti-climax. For a couple of days you feel lost without the rhythm and routine and the work.
This year's Tour was one of the most exciting for years, with six riders genuinely in the shake-up for the yellow jersey going into the Alps. Carlos Sastre may not be the most charismatic champion of all-time but he was a deserving winner.
Like much of this job, the Tour throws up many internal dilemmas and the race becomes almost about what you can't write as what you do.
One rider said to me, off the record, about Riccardo Ricco after he'd won a stage in the Massif Central: "That guy's a joke."
How do you write about that? Quite apart from the fact we were having an off-the-record conversation, the accusation was obvious and, without evidence of wrong-doing, verging on libelous. But that rider's summary of Ricco was not isolated. There were plenty who were waiting for him to get caught.
After the stage to Hautacam, I began my analysis of the day's stage with the words: "Ignore the Saunier Duval one-two for a moment, today's stage in the Pyrenees was a classic."
A few people objected to that line, but when Leonardo Piepoli admitted he'd been up to the same things as Ricco, and the entire Saunier Duval team withdrew from the race
Another rider, when asked about the result of the time trial in Cholet, raised his eyebrows and blew out his cheeks. The inference was clear, but if you were to write: "The rider raised his eyebrows and blew out his cheeks as if to suggest he did not believe in the veracity of Schumacher's achievements," you'd be ridiculed. It's not a statement that would stand up to scrutiny and yet it almost impossible to prevent it colouring your view of the race.
I heard about Ricco's positive test when a call came through as we were driving to the start one morning. I admit I was extremely glad they had got him. I remember quite late on the final Saturday of the Tour seeing a journalist interviewing Stefan Schumacher and saying to Ed: "How does he answer questions with a straight face?"
The other problem with the Tour is that there is so little time to do anything other than eat, sleep, drive and work. We took bikes, but I managed to get out just four times in three weeks. We met up with the BBC Radio Five Live team and the look of jealousy must have been obvious on my face when one of the producers said he'd ridden every day since Brittany. I thought about pointing out that once the race is over and they are off air, their day is effectively done, whereas for the lowly print journalist, it's only just beginning.
But I did manage to ride the Cholet time trial course on the morning of the race, and I slogged over the Col de la Croix-Morand and three-quarters of the way up Super-Besse, until a police officer intervened. On the rest day I enjoyed a 100-kilometre loop out of Lourdes and over the Tourmalet.
The things that will stick in the mind are Cavendish's stage wins, meeting some British fans at the top of the Tourmalet and sharing the moment of reaching the summit, three grim nights in Lourdes, a great meal in Carcassonne and a picnic on the first-category Col de Portel near Foix where we didn't realise our ham was two months past its sell-by date and had a strange green, translucent quality until I'd had seconds, and some fierce-looking ants swarmed all over my feet, biting viciously without me noticing for quite a while.
And the racing? Well, yes, the racing was great at times too, it's just a shame that so many of the stages were tarnished by dopers. Still, it's a necessary evil, because we can't go back to the days of turning a blind eye and brushing it under the carpet.
The Wednesday Comment in July…</strong
We took a break from the regular comments, but that didn't stop us being nosy and opinionated about the Tour de France.

August was dominated by the Olympic Games and the glut of medals won by Britain's riders.

It all started with Nicole Cooke's victory in the women's road race, in filthy weather conditions and it continued with what was more or less a whitewash in the Laoshan velodrome.

I remember the Sydney Games in 2000, when Jason Queally took everyone, and the BBC in particular, by surprise by winning gold in the kilometre. It was as if the Dunc Gray velodrome was the last place they expected to produce a British medal.

Cycling has had a bit of a raw deal in the mainstream media, but 2008 was the year it really arrived. As if to underline the effect the cyclists had, you could hardly switch on the television in the autumn without seeing one of the medalists. Victoria Pendleton had a makeover on This Morning and Bradley Wiggins was on The Wright Stuff on Channel 5, which was one of the more bizarre appearances.

The sporting success was remarkable but the lasting legacy is the real benefit of those ten days in Beijing. Cycling is now firmly on the British map. Who knows, we may even get a bit more respect on the roads as the sport becomes more established.

Some time shortly after the Games, I was out riding and I pulled up at the traffic lights, using the green-coloured box in front of the line of cars, as I was permitted to do.

A guy wound down his window and I heard him shout: "Oi."

"Here we go," I thought, and braced myself for some mild verbal abuse. I turned round and he said, with a broad smile: "Who do you think you are, Chris Hoy?"

"No mate, I'm Victoria Pendleton."

The Wednesday Comment in August…
We suggested that inviting LPR and Rock Racing to the Tour of Britain was not a great idea, expressed absolutely no surprise whatsoever that Emanuele Sella had tested positive, bemoaned the loss of Roger Legeay's Crédit Agricole team and celebrated Britain's success in Beijing.

I must admit, I had thought it was a joke when I first heard it. But then I thought "It's on the internet, so it must be true."

Lance Armstrong's planned comeback has been the story of the autumn. Love him or hate him, Armstrong is big news.

Funnily enough, during the Tour Edward Pickering spent a day with Jonathan Vaughters and Allen Lim checking out the Cerilly to Saint-Amand-Montrond time trial course.

After Ed had finished regaling me with the quality of the lunch and wine they'd all enjoyed, he said that Vaughters had suggested that it had fleetingly crossed his mind to make a comeback in 2009. Lim had urged him to do it.

Armstrong's return divides fans, and magazine and website readers alike. Those who dislike Armstrong and everything he stands for believe that the media is merely an extension of his PR arm, those who fete and worship him see malice in every sentence. The Texan hasn't even ridden a bike in competition yet, but already we've had almost four months of debate, discussion and argument.

My opinion has not changed. Armstrong's return may be good for the cycling industry, but it's not good for the sport. What can his comeback prove? It certainly can't prove anything about the 1999-2005 era one way or the other.

Here we are, with under a month to the Tour Down Under – a race Armstrong should not technically be eligible for and is only riding because the UCI decided not to enforce its rules. There are rumours Armstrong wants to wear a different jersey to the rest of his Astana team. That may be only a small concession in the grand scheme of things, but it's a visual symbol that carries great importance. It's like saying: "Yes, Mr Armstrong, you are different to the rest of the peloton."

My biggest problem with the suggestion that this comeback is motivated purely and simply and only by a desire to increase awareness of cancer is that it doesn't add up. No one in the developed world is unaware what cancer is. Had Armstrong returned with a huge fund-raising target and said: "I want to raise a million dollars for every day of racing I do," I'd have understood.

But how will Armstrong be satisfied his comeback is a success if he's not bothered about winning? As he always says, you can't prove a negative.

The Wednesday Comment in September…
We wondered why the National Time Trial Championship clashed with the Tour of Britain, criticised the Tour of Britain for welcoming Sevilla, Botero and Hamilton with open arms and suggested that Alberto might want to leave Astana.

Sorry, it's that man Lance again.

A frequent complaint is that Armstrong's mug appears on the cover of our magazines too often. Guilty M'lud.

But the facts of the matter are that, in the short term at least, Armstrong has generated interest in cycling and sold magazines which, like it or not, is the bottom line for a magazine publisher.

Perhaps some new fans will be attracted to the sport because of Armstrong's return, and hopefully they will see there is more to cycling than him and continue to be enthused after he has gone again.

Hopefully the fans who are already bored of the sight of his face will be patient and focus on what the rest of the sport has to offer instead of obsessing over every mention of him.

There is no doubt Armstrong's shadow is already looming large over the sport. Remember his seven Tours, when no other race seemed to matter, when the other stage winners and temporary holders of the yellow jersey were treated like walk-on parts in the Lance Armstrong Extravaganza? Well, we had perhaps better brace ourselves for a reprise.

It is a little bizarre, particularly in light of Edward Pickering's interview with Armstrong published in November, that we are accused of being part of the PR machine.

I'd argue that Cycling Weekly expresses a range of views, some favourable, some not and that printing a picture of someone does not equate to endorsement.

Anyway, as soon as Armstrong announced his return, he said he'd be transparent with all the media, so we asked for an interview. And asked again, and again, and finally were granted an invitation to Texas.

The questions put to Armstrong were exactly what needed to be asked. The answers are very revealing too.

The Wednesday Comment in October…
We talked about Lance, Lance and more Lance. Oh, and the 2009 Tour de France route and rumours the Tour will be returning to London in 2011.

The quietest month of the cycling year, as everyone winds down after the season just past and takes a brief pause before beginning preparations for the one to come.

It was fitting that a sell-out crowd packed the Manchester velodrome to see many of the Olympic heroes in action at the World Cup.

Naturally thoughts began to turn to 2009, and while there may not be an Olympic Games to look forward to, there is still plenty to relish.

Over the next 12 months we'll monitor the development of the young track riders who are steaming through the ranks at a great pace. The World Championships in Poland in March will be a big indicator of their progress. We can anticipate Mark Cavendish bounding another few rungs up the ladder. Will 2009 be the year a British rider wins the Tour de France's green jersey for the first time?

The Wednesday Comment in November…
We discussed British Cycling's sponsorship deal with Sky, championed Chris Hoy for the BBC's Sports Personality of the Year award, showed no pity for Bernhard Kohl and wondered if Astana will be the strongest Grand Tour team of all time.

When I first joined Cycling Weekly in 1998 I could not have imagined there'd be a time when we'd draw up the list for a countdown of the best 50 British riders of the year and come up with more than 75 names of people who had achieved major success in big events.

But that puts 2008 into some kind of perspective. There were gold medals and rainbow jerseys and world records galore, not to mention some fantastic performances from young riders. It's worth noting that 22 of our top 50 are aged 23 or under.

In December we devised an advent calendar-style countdown of the top 50 riders of the year, revealing new names each day between December 1 and 24. You can see the full list from 50th to 11th here

Then we published the top 10 in the December 25 issue of Cycling Weekly. Great though the magazine is, you may ask the very valid question about who would pop out on Christmas Day to buy it. Anyway, you can see the top 10 here.

It has been a truly memorable year, and one that will take some beating. Perhaps nothing will rival it until 2012, by which time the British pro road team will be in full swing and the Olympics will be in London. It has been a very successful year for Cycling Weekly, Cycle Sport and cyclingweekly.co.uk too.

And it's been a pleasure and privilege to be able to report and comment on the best sport in the world. Hopefully you have enjoyed reading.

All that remains is to wish you a Happy New Year and say, see you in 2009.

The Wednesday Comment in December…
We enjoyed a glass of sherry, a mince pie and a nice sit down.

REVIEW OF THE YEAR PART ONE
The Tuesday Comment: January to June 2008

PREVIOUS WEDNESDAY COMMENTS
December 17 – The final edition of 2008
December 10 – With barely a mention of you-know-who
December 3 – IT Factory ceases production
November 26 – British pros branching out
November 19 – Lance, the televised crits and the British boom
November 12 – Revolution: The future for the Six-Days?
November 5 – Why it's ludicrous to blame British Cycling for domination
October 29 – The BBC's Sky dilemma and too much Lance?
Bonus comment: Assessing the 2009 Tour de France route
October 22 – Is the Tour coming back to London in 2011?
October 15 – How to pick a winner
October 8 – UCI bends the rules for Lance
October 1 – Armstrong again…
September 24 – Why Contador must leave Astana for his own self-respect
September 17 – Let's leave the dirty generation in the past
September 10 – The Armstrong Edition
September 10 – The Armstrong-free Edition
Bonus comment – Why Sevilla, Botero and Hamilton must not start Tour of Britain
September 3 – Want to be national TT champ and ride the Tour of Britain? Tough, you can't
August 27 – Defending Great Britain
August 20 - Gold, gold, glorious gold
August 13 – Gold rush starts
August 6 – Team LPR in the Tour of Britain
July 30 – Assessing the Tour
The Tuesday Comment - January to July 2008