TOUR OF BRITAIN REVIEW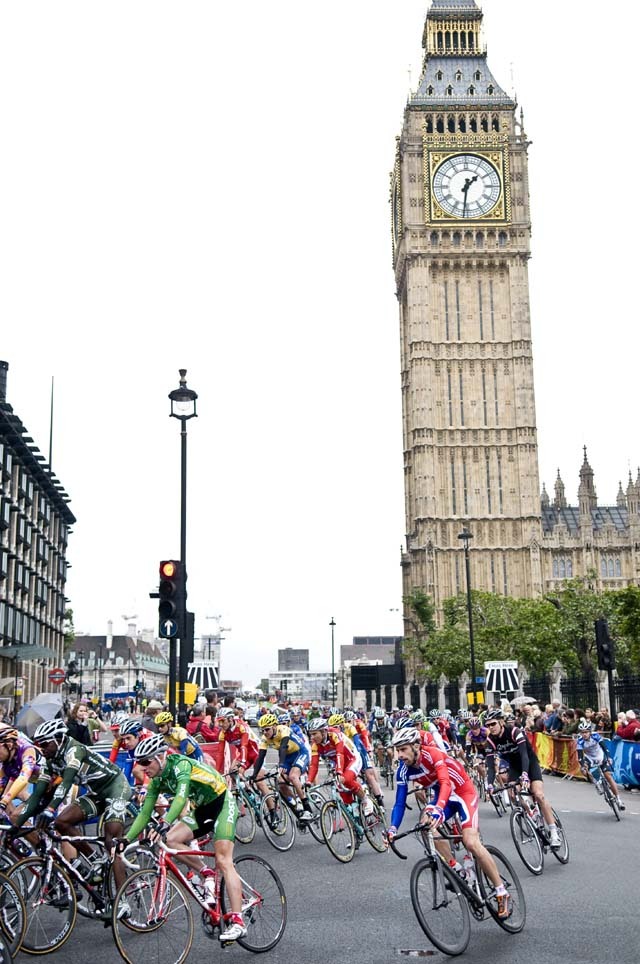 This year's fifth edition of the Tour of Britain was widely considered the best yet.

The racing was close, aggressive and entertaining for all eight stages. British riders failed to win a stage. That would surely have been different if Mark Cavendish had ridden, but Steve Cummings' second place and Ian Stannard taking third overall showed the strength of British riders in the race.

These are some of the highlights of the race and some news about the 2009 edition.

GREAT BRITAIN IMPRESS AT HOME
Team GB impressed with the results they achieved and they way they did it at the Tour of Britain.

The six-rider team was a mix of youth and experience with Tom Southam and Rob Hayles guiding the talented riders from the Italian-based Academy. Ian Stannard fully deserved his third place overall behind Geoffroy Leqautre (Agritubel) and Steve Cummings (Barloworld) after going across to Cummings on stage three over Exmoor.

Ben Swift made a mistake by letting Danilo Di Luca get in the key break on stage seven and take all the climber's points but he is clearly on form and ready for the world championships. Barloworld are still regretting not signing him last year but he is now set to join the new Russian Katuysha for 2009, where he will ride with Robbie McEwen and Gert Steegmans.

Jonathan McAvoy, Andy Tennant and Tom Southam rode their heart out all week, chasing breaks and helping Stannard stay in contention, while Hayles was an inspiration with the way he went on the attack, dived into the sprint finishes and kept everybody smiling.

British Cycling's Shane Sutton rode in the team car on several stages and was proud of the team.

"I think the Brits performed well across the board, not just in the Great Britain team," Sutton said.

"Cummings went close to winning and Stannard moved up to third overall which was a but of bonus for the Great Britain team and made up for Ben Swift losing the climber's jersey to Di Luca. In general we were up there and the results showed we've got potential on the road and that if we develop it in the right way we can eventually become Tour contenders. Next stop the Tour de France!"

ORGANISERS OPTIMISTIC ABOUT THE FUTURE
Race director Mick Bennett again refused to speak to Cycling Weekly after the Tour of Britain because we have been critical of the race in the past, but chief Executive Hugh Roberts did - and revealed he is optimistic about the future of the race. That is good news for cycling in Britain.

"I think we started on a high note in London and finished on a higher note in Liverpool. We had some great racing this year because the strength of the teams were equally matched and the stages were not too long," Roberts said.

"I think the race has definitely gone up a notch. Now we've got a great team of people who have been working well together for a few years. We work at a very high safety threshold but things have been further tightened up and that could be seen this year. It's great we've got the NEG and the police escort and I have to thank Bob Brayshaw and his officers."

Roberts confirmed the 2009 Tour of Britain will start in Yorkshire and end in Central London after nine days of racing.

"The Olympics has been a huge boost for the race and created a perfect wave for us to ride. Now we've got capitalise on this year's success in the future. We have to get a ninth day for next year and the circuit race series will compliment what we achieve with the Tour of Britain. We're already working on and looking forward to 2009."



Great Britain's Ben Swift: impressive

BRITISH TEAMS SHINE AGAINST EURO RIVALS
The British-based teams in the Tour of Britain have much smaller budgets than most of the European team but were never afraid to take on their Euro rivals.

Plowman Craven, Rapha-Condor-Recycling and Pinarello sent riders up the road whenever they could and took the race to rest of the peloton. They also fought in the sprint finish with Malcolm Elliot, Russell Downing often just a few places behind Alessandro Petacchi. Kristian House was the early leader of the climber's competition.

Hopefully the television and media exposure was enough to satisfy their sponsors so that we can continue to have at least three British-based teams in the race next year.

CUT THE TRANSFERS
The biggest complaint heard on this year's race and something that has to be resolved concerns the long daily transfers. The riders covered 700 miles during the eight stages but covered a total three times that distance because of the long transfers between each start and finish. The race manual kept them out of sight and good motorway links helped ease the pain but riders raced hard in the rain and then had to sit in cars and buses for up to three hours after stages.

The Tour of Britain organisers will have to reduce the transfers in the future if the race is to grow and attract the biggest riders in the peloton.


TOUR OF BRITAIN 2008 LINKS
STAGE REPORTS
Stage eight: Lequatre seals overall victory
Stage seven: Boasson Hagen takes third stage
Stage six: Petacchi wins in Newcastle Gateshead
Stage five: Boasson Hagen wins again
Stage four: Boasson Hagen snatches victory in Stoke on Trent
Stage three: Agritubel take control over Exmoor
Stage two: Aussie Goss wins in Newbury
Stage one: Petacchi wins in Westminster
NEWS
Hamilton crashes out of contention in Tour of Britain
Comment: Why Hamilton, Botero and Sevilla should not start
Tour of Britain boss defends inviting Rock Racing
Behind the scenes at the Tour of Britain
No Cavendish at Tour of Britain
Tour of Britain on TV
PHOTO GALLERIES
Stage eight
Stage five
Stage four
Stage three
Stage two
Stage one
GUIDE
Tour of Britain 2008 preview
Tour of Britain 2008 start list
EXTERNAL LINK
Tour of Britain official website:
www.tourofbritain.co.uk
.