The climbs of Liege-Bastogne-Liege part 2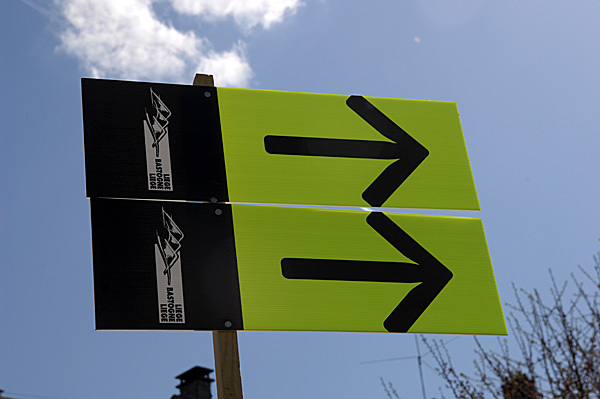 Counting down the final five climbs that will decide the winner of Liège-Bastogne-Liège


at 209km
3.1 kilometres at 5.9 per cent
This is where Vinokourov and Voigt attacked in L-B-L 2005, and stayed away to the finish. Well-surfaced, few corners and steady rather than brutally steep, not a memorable climb at all, though it does drag on for ages.
Our difficulty rating
at 226.5km
2.1 kilometres at 8.4 per cent
The most emblematic climb of the whole of L-B-L, and when it finishes in the city centre, the one which almost always decided the race. Traditionally it's where the big favourites know they have to be at the front and getting in the moves - and we're not surprised. Starts off gently enough in the middle of a small town, underneath a motorway bridge then a right-hander is where it really begins to steepen.
Narrow and twisting, there are sudden major changes of gradient which make it really strength-sapping. The fans will be three or four deep on either side of the road here (on Thursday there were already caravans parked there) and there really is nowhere to hide. Lose the wheel of the guy in front on this climb and you're gone. Probably forever.
Our difficulty rating
They start to climb on a narrow road that runs adjacent to the main road
It's getting steeper…
Finally, the top is in sight
at 232km
1.4 kilometre at 4.7 per cent
The easiest climb of the whole of L-B-L and in 2009 actually not classified as a climb at all, although the race goes over the same route as ever. Split in two with a short downhill mid-climb section, the first half is a steady rise through a posh residential area then after the descent it goes up a smooth A road ot the summit. It's a doddle in comparison with the Redoute, but could see some attacks go.
Our difficulty rating
2 COTE DE LA ROCHE AUX FAUCONS
at 241km
1.5 kilometre at 9.9 per cent
The new addition to L-B-L in 2008, replacing the Cote de Sart Tilmont and Cycling Weekly will be very surprised if it doesn't split the race wide, wide open.
This one is a monster. It starts by going over a level crossing (remember the goods train incident at Paris-Roubaix a couple of years back? It could happen again...) and then kicks upwards with constant changes of gradient and corners galore. Narrow, twisting, there's even a huge road drain running right across the middle (yes, the middle) of the road at one point. The surface isn't as bad as La Redoute, but it's getting there.
As if that weren't enough, after the official summit, there's another kilometre of a winding unclassified climb, not as difficult, following straight after a kilometre of fast descending and a short flat section. Then it's onto a long, long descent into one of the grimiest suburbs of grimy Liege.
Our difficulty rating
The new climb is even harder than the Sart-Tilman it has replaced
at 255.5km
1 kilometre at 11.1 per cent
Where the race always - but always - splits apart and the final attacks come thick and fast.
Running through a grimy suburb of Liege, this is basically a succession of steep corners with nothing between. Known as little Italy because of the number of immigrants from that country who live on the street, it leads almost directly via some cobbled streets and a fast descent onto the final 1.5 kilometre drag up to the finish in Ans.
Not the toughest of the Liege climbs in itself, but so steep it can leave you winded. After 250 kilometres of racing, very hard to handle - except for a very few top names.
Our difficulty rating
A rare stretch of straight on the St Nicolas. The last chance to definitively snap the elastic
After a drag into Ans, the race finishes on an ugly stretch of road in the suburbs of Liège. Handily, though, it's right next to a petrol station for those who've run out of gas on the climbs of the Ardennes.
BACK TO PART ONE
Côtes and cols between Bastogne and Liège
RELATED LINK
Liege-Bastogne-Liege 2009: The Big Preview
Follow Cycling Weekly on Twitter>>