The climbs of Liege-Bastogne-Liege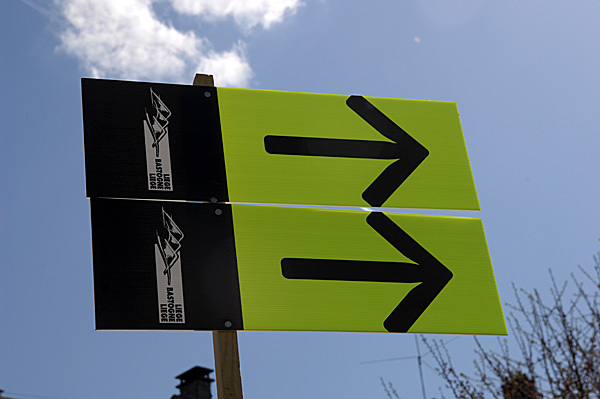 What sets Liège-Bastogne-Liège apart from the cobbled Classics? Very simple, La Doyenne is made for the mountain specialists.

Three-time Vuelta a Espana winner and former Hour Record holder Tony Rominger once added up all the changes in altitude in Liege and reckoned the total came to something like a solid Alpine stage of the Tour.

So, starting at the turn in Bastogne and counting down to the finish at Liège, here's our climb-by-climb guide to the hills of the last Spring Classic, 261 kilometres long and barely a metre of flat on it.

All pictures by Andy Jones


at 128km
800 metres long at 12 per cent
The first hill on the way back to Liege from Bastogne, the third on the day's menu - and where the racing starts to get really serious. At the foot of a long sweeping descent into the town of Houffalize, a sharp righthander from a central roundabout leads up a short, well-surfaced and largely straight climb.
The catch is the gradient - viciously steep throughout and after such a fast previous descent, sure to split up the bunch.
Our difficulty rating
Looking back down the Côte de St Roch
at 172km
2.7 kilometres long at seven per cent
After 40 km of undulating roads, the first of a trio of hills (the Stockeu and Haut Levee follow immediately afterwards.) and where the first big splits tend to go. Narrow, badly surfaced and running through a farm at one point, this one drags on and on.
There's a bit of a descent half way up, then the second half is much worse, with a real kick at the top. Some witty person has written Alpe D'Huez at the summit, and whilst it's not that bad, after 170 kilometres it'll do some damage for sure.
The descent is probably the most dangerous of the entire course - fast and narrow.
Our difficulty rating
at 178.5km
1.1 kilometre at 10.5 per cent
Rightly famous as a killer climb, a bit like the Koppenberg in Flanders, it's a long way from the finish, but it always creates havoc. Why? Because it's viciously steep, has an appalling road surface that rises out of the town of Stavelot and into the woods and is so narrow at some points there's barely room for three riders abreast.
At the top there's a monument to Eddy Merckx in the form of a sculpture but we don't think he'll like it: it makes him look like Cro-Magnon man riding a bike. Believe us - if the hill hasn't finished you off, the sculpture will put you off cycling for the rest of your life in any case.
Our difficulty rating
Steep, narrow, the Stockeu
Is it Eddy Merckx, or is it Cro-Magnon man?
at 184km
3.4 kilometres at six per cent
If you thought there weren't any cobbles in L-B-L, you thought wrong. This climb starts with about 500 metres of wheel-rattling pave through the centre of a town, with lots of bars and outside terraces if you fancy a drink whilst the race roars past.
Then the climb continues as a smooth tarmac rise with a huge concrete barrier in the middle. After a bad hairpin it eases up just before a roundabout, then there's a false flat that follows drags on forever.
Our difficulty rating
The smooth, steep section of the Haute-Levée. The cobbles are in the town at the bottom
at 196.5km
5.4 kilometres at 5.9 per cent
This climb should be more famous than it is. Just like almost every hill in L-B-L, it starts with a right-hander, then winds its way upwards with almost no breaks. Reasonable road surface, but lots of sharp bends, mud and sudden sharp kicks upwards.
A really tough climb. In 2008 a farm dog tried to rip off the wing mirror from Cycling Weekly's hire car on this climb. This time round, no dog, but it's still a tough climb.
Our difficulty rating
Nearing the top of the Côte du Rosier – one that shouldn't be under-estimated
PART TWO OF OUR RUN-DOWN OF THE CLIMBS
Côtes and Cols between Bastogne and Liège
RELATED LINK
Liege-Bastogne-Liege 2009: The Big Preview
Follow Cycling Weekly on Twitter>>