HAMMOND "READY" FOR FLANDERS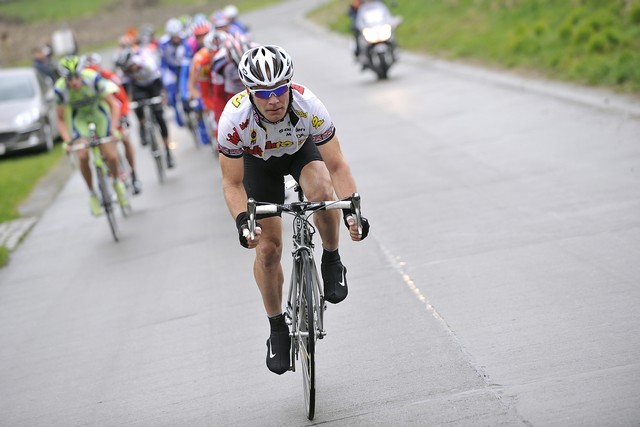 High Road sent out an upbeat message from the start of the Tour of Flanders about Roger Hammond's chances in Belgium's biggest bike race.

"He's been going well all the way through the spring." team manager Allan Peiper told Cycling at the start in Bruges.

"He rode good races in Waregem, E3 Harelbeke, been in breaks in De Panne, and before that in Tirreno and San Remo."

Hammond's Flanders have been hit by misfortune in recent years. Two years ago he crashed out and in 2007 he was delayed after giving his wheel to team leader Marcus Burghardt.

"Hopefully things will work out differently this time." Peiper argued. "Now is his chance to put his nose on the window."

Credit Agricole's Jeremy Hunt reported at the Flanders start that he was "ready to go." although he's recently had a stomach infection.

"I'm doing ok, but we'll have to see what happens." he added.

Landbouwkrediet's Ian Stannard, the third Briton taking part in Flanders and who lives near the finish in Ninove, said he was "nervous, because I've never ridden anything like this before.But I'll try to enjoy it."

As for top local contender Tom Boonen, he said before the race (fairly predictably) that he's in good shape for Flanders. The Belgian press, meanwhile, is full of the news of his getting back together with long-standing girlfriend Lore.

"She's the link that makes the chain works, the last piece of the jigsaw that makes the picture perfect." commented Boonen's mother Agnes on his website. Heartwarming stuff.

"I'm ready." Boonen told reporters just minutes before racing began.

"This is my first real objective. For the first time in my career I've tried to do nothing
before the Tour of Flanders. I've just tried to focus and tried to be 100% fresh. I haven't worried about any other races and haven't had anything on my mind, and it's worked out."


Update: latest news (12 midday) from the race is that the bunch is still together and moving fast - 50 kms in the first hour - but that 2007 winner Alessandro Ballan (Lampre) has crashed.

The weather is cold and clear although according to Belgian weather forecasts there's a very real threat of heavy rain or hailshowers later in the day. According to the BBC, though, there's no risk of rain in Belgium.

RELATED LINKS
Tour of Flanders preview: Will it be Cancellara or will Boonen come good?
Ballan ready for second Tour of Flanders win
Cycle Sport May 2008: Exclusive Bettini interview and much more...