COMMENT: HOW MANY MORE GOLDS FOR GB?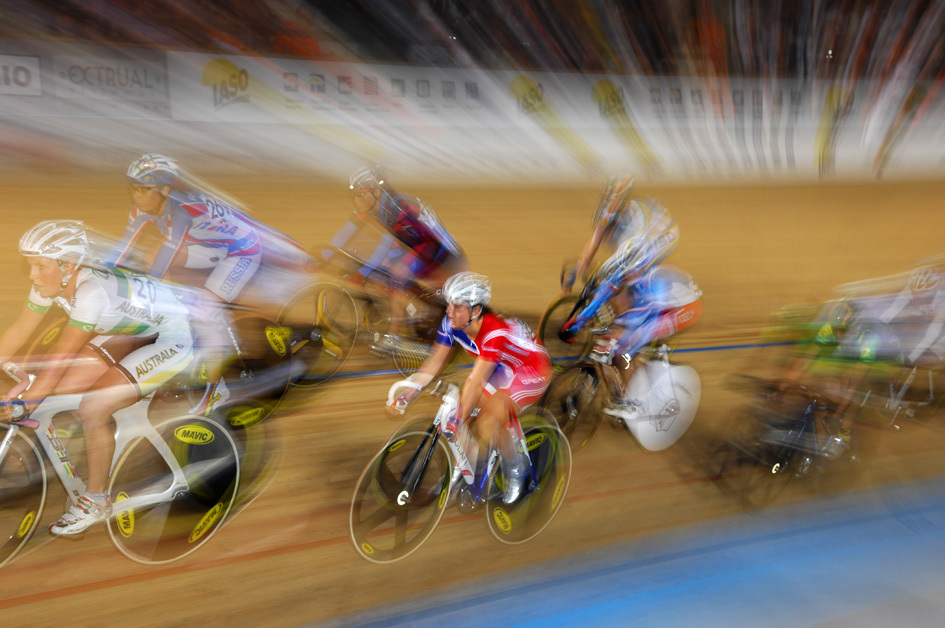 Day two at the track worlds in Manchester was nothing short of sensational. Three gold medals and a stunning world record in the team pursuit saw the British team back on top of the track racing tree.

Thursday was an electrifying day as excitement built after GB coaching staff had said with some confidence that the team pursuit world record was on. The temperature was slowly cranked up inside the velodrome through the day and we all knew the track was running fast.

Australia's time of 3:56.610 minutes was in sight.

The British quartet of Ed Clancy, Paul Manning, Geraint Thomas and Bradley Wiggins were out of the blocks quickly and soon started piling on the pressure. Their Danish opponents had scared them in qualifying in the morning when they clocked the third fastest time ever ridden in the event. It turned out to be the perfect incentive.

But after the first kilometre it was obvious that the Danish challenge was crumbling, GB were now racing against the clock. As the volume in the velodrome rose in anticipation the four riders kept their cool, and their speed.

The turns got shorter in the final kilometre as they managed to keep their form while riding on the edge. The bang stopped the clock at 3:56.322 minutes and crowd went wild.

A world record in the most coveted event on home soil. It doesn't get any better than that.

The four Australian riders who had just ridden to bronze lined themselves up track side and congratulated each Brit as they stepped off their bikes. It was Britain's third world title in four years, and the Aussies now recognise this is no longer their event.

Soon after, Rebecca Romero crushed American Sarah Hammer in the women's individual pursuit: Britain's third pursuit gold of the championships.

Then Victoria Pendleton and Shanaze Reade stepped up to defend their team sprint title. They had comfortably beaten the field in qualifying, but a faulty countdown put Reade off and she was down on the Chinese at the end of the first lap.

Then Pendleton took over.

Any questions over Pendleton's form, following a nasty crash and slight knee problem in the winter, were instantly answered. The speed was there for everyone to see as her legs turned at a blistering pace to bring home the third medal of the night.

Two days, four golds, the team is already up on last year's tally at this stage, the question is, can they beat seven?

Before these championships, Performance Director Dave Brailsford wouldn't be drawn on a number of medals. GB coaches talk in terms of performance, not results. But the form is there, throughout the team, so we can reasonably expect a lot more.

Chris Hoy has already put reigning sprint champion Theo Bos out of the sprint (a feat as impressive as the world record), and all other riders will not relish taking on the Scot.

He is looking good for a medal, and, if he can recover, he could medal again in the keirin. Then we have the women's team pursuit. With world champ Romero riding with Wendy Houvenaghal (fourth yesterday in the individual pursuit) and Joanna Rowsell, another medal looks odds on – although which colour is hard to predict in this, a new event.

After that we have Pendleton in the sprint and keirin events. It feels like asking too much of her to deliver another two gold medals, but after watching her deliver last year's triple crown I get the impression that anything is possible.

Then we have Bradley Wiggins and Mark Cavendish in the Madison. Having watched his team mates win, Cav will be itching to get stuck in, although there's no telling what the pair can achieve in an event as bewildering as the Madison.

Cavendish will also ride the points race, and although he'll want to medal, he may just save himself for the Madison.

Realistically, there are six strong medal chances for the British team over the next three days. Ladies and Gentlemen, place your bets.


BRITAIN'S STRONG MEDAL HOPES
These are Britain's best medal hopes in the final three days. Could they get three more gold medals and beat last year's haul of seven?
Men's sprint (Friday):
Chris Hoy
Women's team pursuit (Friday):
Great Britain
Men's Keirin (Saturday):
Chris Hoy
Women's sprint (Saturday):
Victoria Pendleton
Madison (Saturday):
Bradley Wiggins & Mark Cavendish
Women's Keirin (Sunday):
Victoria Pendleton
Men's points race (Friday):
Mark Cavendish
Women's points race (Saturday):
Lizzie Armitstead
Women's scratch race (Sunday):
Lizzie Armitstead
Men's kilometre (Sunday):
Matt Crampton
2008 TRACK WORLD CHAMPIONSHIPS: DAILY REPORTS
Sunday, day five>>
Saturday, day four>>
Friday, day three>>
Thursday, day two>>
Wednesday, day one>>
RELATED LINKS
Women's Keirin: Reed denies Pendleton the perfect finish
Who are Brit's golden nine?
Hoy wins the Keirin
Eighth gold for Britain in the Madison
Gold for Pendleton in the sprint
Chris Hoy wins sprint gold
Pursuit women take fifth British gold medal
Jo Rowsell's gold: the toast of Sutton Cycling Club
Belarussian wins men's points race
Britain going for more gold on Friday
Comment: How many more gold for GB?
Hat-trick of golds for Britain
Britain break team pursuit world record
GB into women's team pursuit final
Gold for Romero in individual pursuit
Reade and Pendleton cruise into team sprint final
Track World Champs: results
Romero breaks British pursuit record
It's Britain vs Denmark in team pursuit final
Britain aiming for team pursuit world record
Britain take silver in team sprint
Crowd step in as French anthem stalls
Hayles denies cheating after failing blood test
Wiggins: "I'm pleased I got the job done"
Wiggins wins pursuit gold
Brailsford defends Hayles after failed blood test
Hayles fails pre-race blood test at Track Worlds
Cycling Weekly's 2008 Track World Championships preview
PHOTO GALLERIES
CW's online gallery section>>
Day three in pictures
Day two in pictures
Day one in pictures