READE AIMS FOR WORLD 500M TITLE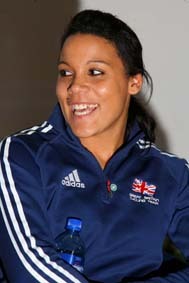 Double world cycling champion Shanaze Reade has one eye on the women's 500m time trial world title this year as well as targeting the defence of her BMX crown in China a month later.

20-year-old Reade believes that she can improve on her fifth place in the 2007 Track Cycling World Championships in Palma, Mallorca and would love to have a chance at the solo title. Reade won gold in the women's team sprint in Palma teaming up with Victoria Pendleton to beat the Dutch pairing of Yvonne Hijgenaar and Willy Kanis to clinch the gold medal.

"I never set out on my track career with a target of winning the World Championships," said the British sprinter from Crewe: "It was always crossover training for BMX and it still is at the moment but I seem to be getting faster and faster on the track and you can shut the door on it. Sometimes I think that I should put all my eggs in one basket in BMX but last year I did both and managed win gold medals in each and it was the best year I have had in the sport so far."

"It is so hard to qualify for both BMX and the track so I am going to carry on like I did last year and see what doors open for me," explained Reade: "I am leaving it late for the World Track Championships again. I have only done one training session since Palma but I have produced a personal best on starts. So I am getting faster without specific track training. So now I want to concentrate more on the 500m time trial. The event is something that is special to me."

"Winning the team sprint event in Palma was something that I never even dreamed of. I used to watch track cycling on TV when I was a kid and it was mad when I went home and watched a tape of my ride in Palma on video tape. I am working alongside Iain Dyer now. He is the best coach in the world at getting somebody to peak for one given day. I have got 110% faith in Iain. I am going into a training phase aimed at helping my BMX but I think I can also win a world track championship out of it."

Reade finished fifth with a time of 34.633 seconds in the Palma 500m time trial in her first ever attempt in top competition and was just over two tenths of a second behind former world sprint champion Natallia Tsylinskaya from Belarus who won the bronze medal.



Reade in action: the fastest start in the business

"I was called up in Palma to take Victoria Pendleton's place in the 500m time trial when she had made the sprint finals and it was not something I had specifically trained for," continued Reade: "I had never even done two laps before so I thought I would just give my best and pedal as hard as I could to the finish and I ended up fifth behind the Olympic champion and world record holder. I was so close to making the podium without training for it. I hadn't even used the aero bars or ridden double disc wheels before so I want to get on the podium this time."

Britain can qualify for two places in the 500m time trial and Reade will have to be going faster than either Anna Blyth or Victoria Pendleton if she wants the ride. The five-day championship event in Manchester means that Pendleton can go for four events this time including the 500m event. Pendleton holds the British record of 34.070 seconds but this is likely to be challenged by Reade this year. Both riders will have to beat current world champion Anna Meares in Manchester. Meares produced a blistering two laps to win the gold medal last year and set a new world record of 33.588.

Meares won 500m race in the Sydney round of the World Cup in November and Lisandra Guerra Rodriguez of Cuba produced a super-fast time of 33.994 to win the last round in Beijing in December.

"There are three of us going for the GB two spots. I wasn't far off Victoria's best time and I hold the UK record for the one lap (250m) so we will see. I am scheduled to ride in the Copenhagen World Cup in February. I will do the 500m time trial there and the team sprint as well."

Reade hails from nearby Crewe and she is expecting some keen support from the home fans.

"My BMX club and all my family are going to get tickets for the World Championships in Manchester. The came to the World Cup event there last year it was mad seeing everyone I knew and it was my first time out on a track bike. It will be great to have their support again this year."



Reade with Team Sprint partner Victoria Pendleton sharing the honours at the 2007 Track World Championships

RELATED LINKS
Reade and Staff join Kelly Holmes to coach kids
Reade looking good for BMX gold
Pendleton and Reade scoop Sunday Times Sportwomen of the Year award