BEIJING NIGHT 2: HOY AND PURSUITERS STRIKE GOLD AGAIN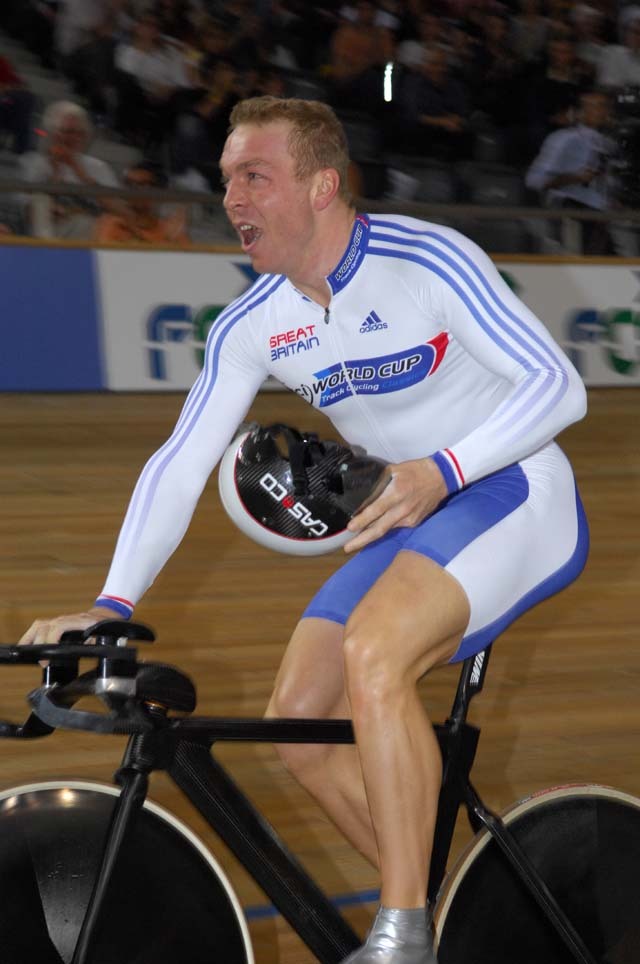 Chris Hoy and a re-jigged team pursuit quartet delivered the goods again, repeating their gold medal performances of a week ago.

Hoy won gold in another thrilling Keirin competition and is rapidly becoming impossible to beat. Since switching specialist subjects from the kilo to the Keirin, the Scotsman has made the motor-paced event his own.

He cruised through to the final, winning both the first and second round races, before clinching the final with a decisive sprint – just as he did in Sydney last week.

In fact, Hoy's win in the final in Beijing was his 12th straight win in World Cup and World Championship Keirin races, stretching back to the Los Angeles round of last season's World Cup in January.

Performance director David Brailsford was full of praise for Hoy (pictured). "He's remarkable, he really is. The others don't seem to have an answer at the moment."

The team pursuiters showed just how interchangeable the squad has become and won gold without having to be at their peak.

Bradley Wiggins and Chris Newton, who rode in Sydney, were replaced by Paul Manning and Geraint Thomas but it made no difference to the result. Qualifying fastest set up another final against New Zealand and, just as in Sydney, the British were too strong.

While not focusing on what the opposition are doing, another poor display by the two Australian squads – Australia were ninth in qualifying and Team Toshiba were only fifth – will offer further incentive that Olympic gold is there for the taking.

Performance director David Brailsford said of the team's showing in Beijing: "I knew we'd be right on it this week. You can't get away from the fact that you're in the Olympic velodrome in the Olympic city and that has lifted everyone. We're not at our best, we know that, but we're winning medals.

"Points wise we've exceeded our targets this weekend and hopefully we'll do well again tomorrow [Sunday] but we're not getting carried away. We'll get back home to Manchester on Monday and then assess the situation with a cool head, work out what we need to do and then enter the next phase of training [which peaks with the Copenhagen World Cup and the World Championships in Manchester].

"There are plenty of things to be happy about. Victoria Pendleton, for example, has really bounced back. There's a lot more to come out of her but to get a silver medal in the sprint yesterday after last week was a good result."

BRITISH MEDAL COUNT SO FAR: 3 Gold 3 Silver 1 Bronze


Gold
Lisandra Guerra Rodriguez (Cuba)
Silver
Simona Krupeckaite (Lithuania)
Bronze
Natallia Tsylinskaya (Belarus)
The Brits
Victoria Pendleton
(SIS) was sixth in a time of 34.894 seconds.
Anna Blyth
, riding for Great Britain, was ninth.
Gold
Great Britain (Ed Clancy, Steve Cummings, Geraint Thomas, Paul Manning)
Silver
New Zealand (Sam Bewley, Westley Gough, Tim Gudsell, Marc Ryan)
Bronze
Netherlands (Levi Heimans, Jenning Huizenga, Jens Mouris, Peter Schep)
The Brits
Great Britain
set up another meeting with New Zealand after qualifying fastest in a time of 4-04.659. The time set by the line-up of Paul Manning, Steve Cummings, Ed Clancy and Geraint Thomas was almost three seconds slower than the British quartet set in qualifying in Sydney a week ago. Australia's 'B' squad – Team Toshiba – finished only fifth, with the Australia team in ninth. The surprise was that Denmark and the Netherlands qualified for the bronze medal race with Russia, Spain and Ukraine all falling well short. In the final Great Britain rode a 4-02.517 to beat New Zealand with relative ease.
Brailsford said:
"We were off last in qualifying so they rode to a schedule that would see them qualify in first place, so they knocked out a 4-04. It was a really solid, disciplined ride. The final was really interesting because the New Zealanders came out to race and went off really fast. We started quite steady and then reeled them in with three 59-second kilos, which was pretty much perfect for this time of the season."
Gold
Marianne Vos (Netherlands)
Silver
Yoanka Gonzalez Perez (Cuba)
Bronze
Katherine Bates (T-Mobile)
The Brits
Upbeat after her silver medal in the pursuit
Rebecca Romero
gained some valuable experience in mass-start racing when she unexpectedly took up her place in the points race. Although she finished 12th in her heat, it was a big step on the road to seeing whether she can represent Great Britain in the points race in Beijing – assuming she qualifies via the individual pursuit.
Brailsford said:
"We waited to see how Rebecca got on in the individual pursuit before deciding whether to throw her into the points race. She had a great pursuit and her confidence is up so we gave her some valuable experience. She's got the gas but what she hasn't got is then ten or 15 years' experience of racing in a bunch on the track that the other girls have. It was really interesting to see how she got on and she did very well so there's a lot of positives to take from it."
Gold
Chris Hoy (Great Britain)
Silver
Arnaud Tournant (France)
Bronze
Teun Mulder (Netherlands)
The Brits
Chris Hoy
(Great Britain) won his first round match comfortably. But it was not such a great day for
Ross Edgar
(SIS), who took silver in Sydney. He finished third behind Carsten Bergemann of Germany and Arnaud Tournant of France in a very tough first-round match. He had no more luck in the repechage, finishing third and failing to reach the second round. Hoy won his second round race, ahead of Tournant and Dutchman Teun Mulder. In the final he fought off a powerful burst by Tournant, who came around the outside of him, but had enough to come through on the line.
Brailsford said:
"What can you say about Chris Hoy? He's just phenomenal isn't he? He's a real inspiration to the rest of the team too. He just keeps winning. The other guys know what he's going to do but they can't seem to do anything about it. To be fair, Tournant tried something different in the final but Chris had the legs and he timed it just right to get past him."
Gold
Francois Pervis (France)
Silver
Yevgen Bolibrukh (Ukraine)
Bronze
Li Wen Hao (China)
Gold
Netherlands (Yvonne Hijgenaar, Willy Kanis)
Silver
France (Sandie Clair, Clara Sanchez)
Bronze
China (Shuang Guo, Lulu Zheng)
Gold
Michael Friedman (USA)
Silver
Walter Fernando Perez (Argentina)
Bronze
Tim Mertens (Belgium)
The Brits
Jonny Bellis
(Team 100% Me) qualified for the final, where he finished 16th.
See Thursday's Cycling Weekly for full reaction from Beijing
RELATED LINKS
Night 1: Beijing World Cup
Full Beijing World Cup schedule and preview
CW's Dummies' Guide to track cycling