COOKE CHECKS OUT OLYMPIC ROAD RACE COURSE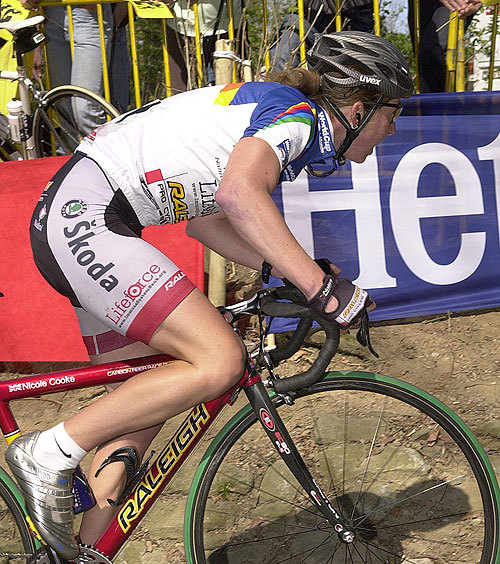 Nicole Cooke flew out of Beijing this morning following a two-day visit to the Chinese capital to check out the Olympic Games road race course.

Cooke and coach Julian Winn spent much of their time studying the ten-kilometre climb that is set to make the road races extremely tough.

Emma Pooley will fly in this weekend for a similar experience and Great Britain performance director David Brailsford said the visit would stand the team in good stead come August.

"With the World Cup taking place here it made perfect sense to get Nicole and then Emma out to look at the course while the rest of the team are here," he said.

"Nicole took a lot of positives away with her. It's not an unknown quantity now, she knows what the course is all about and that has to be a good thing."

But Brailsford accepts Beijing will be a very different place in the height of summer. At the moment the temperature is hovering just above freezing. In August it'll be stifling and humid. "I've been to Beijing five times now but never in winter. It's very cold and crisp. I've never seen it so clear. There are mountain ranges surrounding Beijing that I've never seen before because of the smog."


Advance planning paid off for the Great Britain team as they flew out of Sydney to Beijing on Monday.
"There were about 700 people trying to fly from Sydney to Beijing and some were going via Kuala Lumpur and all manner of routes to get there. We had booked our tickets well in advance and at the airport it was us and the Aussies all lined up next to each other ready for the direct flights," said Brailsford.
"We had a tonne and a half of excess baggage we'd already paid for and only 13 pieces of luggage didn't make it. The Aussies had 23 bits of luggage not arrive. Round one to us," he joked.
Unfortunately for the Belgians, New Zealanders and Colombians, their bikes were delayed. Brailsford agreed to lend the Colombians some spare bikes so they could train.
OLYMPIC STATUS ADDS AN EDGE
After a relatively relaxed week in Sydney, there's an edge in the camp now they've reached Beijing.
"That's the way I like it," said Brailsford. "We were ready in Sydney and treating it seriously but it was a little more relaxed. Here everyone has their game face on and it's edgy. I've got my hands full here, it's a lot harder to manage but I prefer that.
"Because it's Beijing everyone is aware that the next time they compete here it'll be at the Olympics. This is the test event and they are running it like the Olympics so there is that extra level of tension. There's all the security measures and they'll be treating the medal ceremony just as they will at the Games, so it all adds to the experience."
One thing that could take the edge off is an empty velodrome, but Brailsford believes the Chinese will come up with the goods.
"I was at the BMX test event and the arena was full. I am sure they will get a crowd in at the velodrome – whether it's a crowd who want to be there or who have been told to be there is another matter," he said.
RELATED LINKS
Brits all set for Beijing World Cup
Wiggins to ride for T-Mobile in Beijing
CW's Dummies' Guide to track cycling