Dean Downing gets a preview of Tour of Britain stages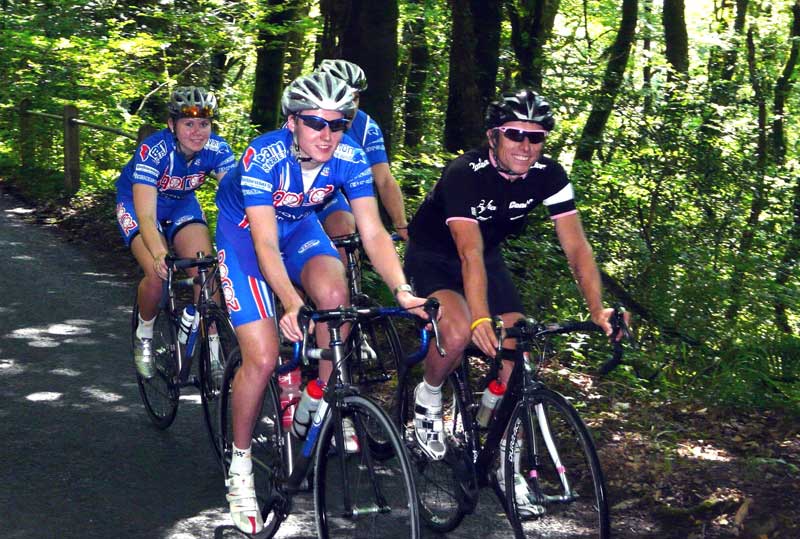 Dean Downing gets a preview of the south west stages of the Tour of Britain
Dean Downing, the former British crit champion and winner of the Exeter round of the Tour Series this summer, returned to the South West recently, for a spin along part of the Tour of Britain route.

Stages six and seven are in Devon and Somerset, September 17 and 18. His visit was a PR exersize on behalf of Devon and Somerset who are now big fans of everything cycling. This will be the Tour's third consecutive visit to the South West.


The Rapha Condor rider took with him a few local experts - members of the South West Bike Academy, young riders testing themselves in the Premier Calender series this year.

"I've seen the Academy riders at races and it's a great opportunity for them to experience the highest standard of cycle racing in the UK," said Downing.
"It gives them a good grounding on how to be a professional cyclist and to aspire to take part in the Tour of Britain."
The group took in a few miles of stage six between Bampton and Dulverton, including a category one King of the Mountains climb, which is not exactly Downing's cup of tea.
He's more at home on flatter stages, evidence his fourth place on stage one in London last year, behind stage winner Alessandro Pettachi.

Downing said: "Two stages in this area is a real coup for Devon and Somerset County Council. It's very scenic but the riders won't be taking in the scenery. These stages are going to test everybody"
"It's really hilly and there are some little lanes, so I think these stages will be decisive. Personally I won't be looking forward to it because the flatter stages and sprint finishes suit me, but my team-mate Kristian House will be."
Downing also praised the South West for having excellent cycling country."
"There are some great off road and mountain bike trails here too. It's an enjoyable pastime that the whole family can get involved with."
Councillor Stuart Hughes, Devon County Council Cabinet Member for Highways and Transportation, said: "It's always encouraging to hear Devon and Somerset spoken about in such glowing terms by one of Britain's best cyclists. We're lucky to have such scenic towns, villages and countryside and hopefully by hosting the Tour it will inspire residents and visitors to discover what great cycling our region has to offer, which will be a great boost to the economy."


Graham Bagley, Somerset County Council's Tour of Britain Project Manager, said: "The South West stages are going to be a real challenge for this year's riders. It was great that Dean joined us for the preview ride. With about five weeks to go until the main event everyone is getting very excited. We hope that having two stages of racing will encourage lots of people to take a trip to Somerset and Devon to watch the race and enjoy the beautiful scenery of both counties."