Cycle Show 2009: Photo special part one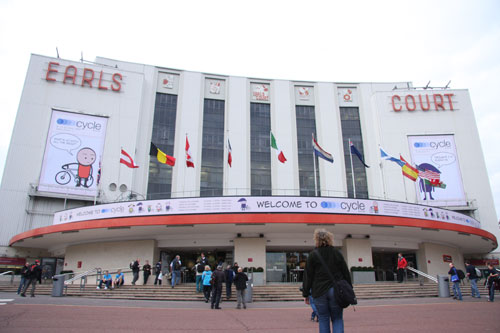 Cycle Show 2009, Earls Court
Cycle Show 2009 opened to the public on Friday, October 9, and Cycling Weekly was there to check out some of the latest bikes and kit, and to see what was catching everyone's attention.
We've put together a selection of photos of hot new bikes, components and accessories - as well as images from the show's other attractions.
One of the big draws on Friday was the presence of 2009 Tour de France winner Alberto Contador, who made an appearance on the Science in Sport stand. The Spanish triple Grand Tour champion was virtually mobbed by a large crowd eager to meet him and get his signature.
One trend that stood out more than any other, was the presence of fixed and single speed bikes. Pretty much every manufacturer was displaying one or two fixies, from small boutique outfits to the big players. The more retro the colourscheme and graphics, the better.
Cycle Show 2009 is open all weekend at Earls Court, finishing on Sunday, October 11. We will be presenting further news and galleries from the show later...
Standing room only: Alberto Contador on the Science in Sport stand
Wilier Cento Chrono, £3,499 frame set only
Wilier Cento 1 Superleggera, £4,299 special order frameset only
Wilier Cento 1 Super Record, £6,250 with Campag's top spec groupset
Come and visit us on stand C31 for great subs offers and more...
Bianchi Pista Via Condotti, £650
Bianchi 928 SL Super Record, £6,000
Bianchi Infinito Ultegra, £2,450
Ducati Corse Factory, made by Bianchi for the Italian superbike manufacturer. Price TBC
Campagnolo had a great stand with all of its new groupsets, including Athena 11 speed shown here, in clear perspex cases
De Rosa Idol, £4,199 with Athena 11 speed and Fulcrum Racing 3 wheelset or £2,299 for teh frame set only
De Rosa Merak, £4,599 for full bike with Athena 11 speed group or £2,699 for frame set only
BMXers strut their stuff in front of a big screen showing cycling videos
Eddy Merckx carbon-framed range-topping EMX-5
Eddy Merckx aluminium-framed AMX-5
A women-specific, carbon framed model from Eddy Merckx, the EFX-1
Transport for London had the London Cycle Hire bikes and hire points on its stand. You could even try out a virtual London Cycle Superhighway
Nice retro styling on the Pinarello Lungavita