UCI technical regulations enforced on bikes at the Giro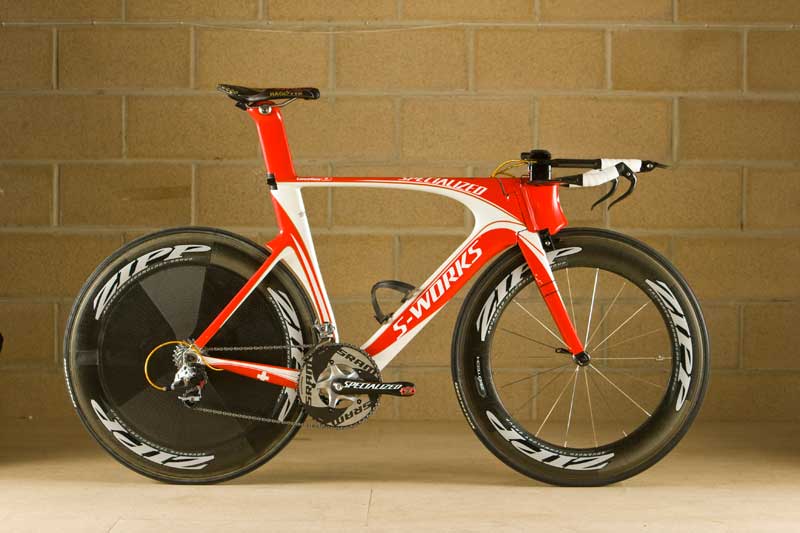 When Alberto Contador was prevented by the UCI from using his Specialized Shiv time-trial frame just prior to the Tour of the Algarve TT in February, it indicated that, despite repeated warnings by cycling's governing body, all was still not well in the murky world of the UCI rules.


Despite assurances that the UCI would have its house in order for 2010 - read, the manufacturers would have complied with their demands - a story that has run and run continues to rumble on.

But will this in fact be the year all of this gets resolved? The UCI's technical consultant, Jean Wauthier, certainly hopes so.

"Things have certainly improved for 2010, and are definitely going in the right direction. I can see it as being a year of transition," Wauthier told Cycling Weekly. "The situation had become unacceptable and we told the manufacturers that across the winter. Most complied with the rules - in particular regarding the nose cone of certain frame designs, which is an aerodynamic aid that is not a necessary part of the bicycle. But there are still some minor problems - millimetres here and there - that have also been necessary to address on some frame designs.

"Specialized were one of the manufacturers affected," confirmed Wauthier, "and that's why Contador was prevented from using his Shiv at the Tour of the Algarve. Instead, they had to use older frames, which also had to have modifications made to them. But now we're almost there. The latest modifications have brought these bikes into line."
Specialized were required to remove the Shiv's nose cone
Shiv happens
"We were required to change some areas of the Shiv, including the nose cone, across the winter, which we did," Specialized's Global Marketing Manager Nic Sims told Cycling Weekly. "Then, immediately prior to Algarve, the UCI contacted Specialized with new concerns about the Shiv's legality. Between Algarve and Paris-Nice, our engineering team revised the Shiv and obtained written approval for that bike to be used in UCI competition."

Teams had been given until the start of the Giro d'Italia in Amsterdam to get their houses completely in order.

Wauthier admitted that some may see the quibbling over those millimetres as unnecessary, and he agrees to a certain extent.

"But the rules are the rules. Even small gains make a difference - in time trials, in particular. Lots of manufacturers have been in trouble with meeting the requirements, and it has needed correcting."

Specialized are one of those manufacturers who have had to address the issue. Another is Rabobank team supplier Giant. Like Specialized, Giant had to adapted the nose cone of their Trinity time-trial frame across the winter to ensure that it complied with the UCI's 3:1 rule, but recently had been required to make some other small changes in time for the Giro.

"This year has been about millimetres," confirmed Giant's Tom Davies. "A rule's a rule - I'm fine with that. We had a problem with the dimensions of the bottom bracket, so that has been pared down for the pros' bikes. It was the same for the nose cone across winter - like Specialized.

"My biggest problem in all this is with the term 'illegal'," he continued, "which people often wrongly take to mean 'dangerous'. People will say, 'Oh, Specialized's Shiv or Giant's Trinity is illegal, whereas another brand is therefore 'safer'.' Where we are now is that we've had to make running changes. It's a serious issue. It's costing thousands and thousands of euros for us to make these changes at this point. That could bankrupt some smaller bike companies."

From the manufacturers' point of view, the impact on their businesses takes precedence, and money spent converting frames to bring them into line with rules that are only now being enforced takes vital - and huge - finances and man power away from developing new products for the market.

Some might argue that if they had followed the rules in the first place, then there would be no need for expensive modifications.

HTC-Columbia bike suppliers Scott have always ensured that their Plasma3 TT frame conformed thanks to constant dialogue with the governing body.

"We go to the UCI with our designs to check they're OK," said Scott's Adrian Montgomery. "We can't afford not to do that."

The UCI has always tried to be fair, Montgomery says. "They're there for the cyclists, for the teams - they're not the suppliers' union."

But when the UCI have allowed bike manufacturers to get away with it for so long, the equipment manufacturers have simply been forced to compete with each other.

"People see what they can get away with," Montgomery said. "Like a child, pushing the boundaries, bending the rules. Manufacturers will, I'm sure, continue to do that."
Fabian Cancellara's Worlds TT-winning Shiv has had to be adapted to make it legal for 2010
UCI 'bike labelling system' for 2011?
From bike manufacturers, to teams, to the UCI themselves, everyone would agree that something needs to be done to simplify and clarify the rules governing bike design.
And for 2011, the UCI may well have found the solution.

Both the UCI and new ProTour Council (UPTC) member Stephen Roche confirmed to Cycling Weekly that it was something that has been talked about, but is still just an idea at this point.

That basic idea is that pro bikes would be given some kind of stamp of approval by the UCI - and only these bikes would be eligible for competition. It would be in an effort to eliminate any grey areas whereby a manufacturer thinks - or at least claims - that they are following the rules.

"It's still to be discussed further, but it was brought up at our last meeting in Brussels [on April 23]," explained 1987 Tour de France winner Roche. "It's the kind of thing that's needed so as to avoid confusion, such as when a rider gets his bike checked five minutes before a time trial only to be told that it's illegal. It would avoid hassle for the riders, and hassle for the manufacturers who'd know for certain well in advance that the bike they were supplying teams was completely in line with UCI rules."

"Fabian Cancellara can win the world championship time-trial title on a bike which actually doesn't conform to the rules," continued Roche. "There's some ambiguity there which really isn't acceptable."

"Something like this needs to be done," agrees Giant's sports marketing manager Tom Davies. "But surely a stamp on every bike would almost be unworkable with the number of bikes that each team gets for a season."

What it reiterates is the UCI's desire for a solution. If 2010 is a year of transition, 2011 could be the year everything, finally, falls into place.

Related links
Cancellara's Specialized Shiv at the 2009 Tour
Comment: UCI's new technical regulations as clear as mud

External links
UCI's technical regulations