Mayor Boris launches London cycle hire Scheme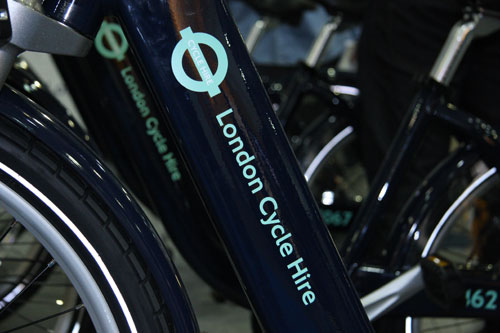 London Cycle Hire bikes
The Mayor of London, Boris Johnson, today launched the city's Barclays Cycle Hire Scheme, making an entrance along the South Bank on what he described as the "Rolls-Royce of bicycles."
The docking stations all around London sparkled in the early morning sun with a brand new fleet of 5,000 bikes, which Boris says will "get people out of their cars and enjoying fresh air, as they deserve to."
The cumbersome blue bikes aren't going to rival Fabian Cancellara's time trial machine anytime soon but the buzz among city goers this morning was largely positive with plenty of commuters trying one for size.
And size did seem to be the first hurdle along the Thames today as smaller users struggled to adjust the saddle height, but Johnson is confident this "cycling revolution will tackle all sorts of problems" in the capital.
On the whole, the process looks pretty straightforward with a simple key being provided for registered users that releases the bike.
David Brown, Managing Director of Surface Transport for TFL, said they've learned from teething problems in Paris and have focused on making the whole process as "user friendly" as possible, explaining: "It couldn't be easier to use and that's one of the things we wanted to achieve. I think it's going to be received fantastically well, I got very excited myself when I saw my first cycle user at 6am this morning."