Brit Dowsett puts on aggressive show at Under 23 Worlds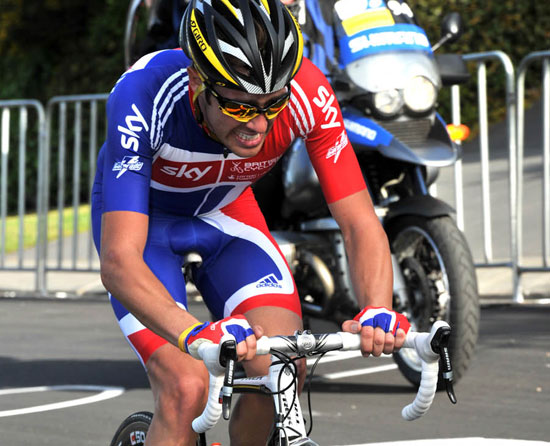 Alex Dowsett chases, World Championships 2010, under-23 men's road race
Brit Alex Dowsett went on the attack again today at the Under-23 World Championships road race in Geelong, Australia, only two days after having a try in time trial.
"The plan was to make sure there were not any big breaks without one of us in it," explained Dowsett. "I sensed a lull in the group, I just went on instinct and bridged across to the [Moreno] Moser group."
In the sixth of 10 15.9-kilometre laps, Dowsett rode across to four-man group that included the nephew of famous cycling star, Francesco Moser. The two eventually rode clear of their companions and tracked down solo leader, American Ben King.
"I felt strong on the flat, on that first climb," continued Dowsett. "I said to Moser that we should work together. We could have stayed away longer as a pair because he climbs well and I am good everywhere else."
The two caught King on the way up the climb to the Ridge, but it was too late as the main group followed closely behind. Dowsett quickly slipped off the back of the group after he was caught on the climb and pulled out of the race at the close of eight laps.
"I need to work on my climbing, even if I came here with mostly the time trial in mind. I am good for holding a high power for a long amount of time, but I have to improve on the short, sharp climbs.
"In the next two years with team Sky, I will be learning and spending a lot of time doing donkey work - pulling on the front from the team for the first 100 kilometres of a race. I will also work try to improve as a time trial rider, which is where I am strong. I want to one day win the World time trial championships and the Olympics time trial."
Dowsett said he does not want to be the next Chris Boardman, but the next Alex Dowsett. He explained that there is a strong crop of riders coming through with himself, Moser, Tony Gallopin, Taylor Phinney...
"And Luke Rowe, he is going to be a great rider."
Related links
Under-23 road race: Matthews takes home win
Cancellara makes history with fourth world time trial title
Pooley wins Worlds time trial
Phinney lives up to expectation, Dowsett suffers setback
World Championships 2010: Cycling Weekly's coverage index
Alex Dowsett: Rider Profile