The Nines and Tens: best of kit 2010 part 2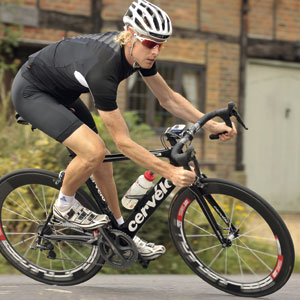 We carefully tested hundreds of new products in 2010 and refined it down to these 70-odd winners that scored nines and tens.
We tested a serious amount of kit in Cycling Weekly magazine over the year. Here's the best of the best from 2010; all the products that were rated as a nine or ten. Buy any of the following and be sure of a class-leader.


Reviewers were Mike Hawkins (MH) Stuart Bowers (SB) Simon Smythe (SM) Dan Duguid (DD) Hannah Reynolds (HR) Austin Mills (AM) Jamie Darlow (JD) Ian Cleverly (IC) Lynn Clay (LC)

Kinetic by Kurt Fluid £299.99
With a large flywheel the Kinetic offers a very realistic feeling ride, along with a wide stance to keep you stable on those big efforts. The additional flywheel makes it even more realistic although perhaps a step too far as we did suffer tyre slippage when doing short hard intervals, which was slightly disappointing. SB
www.chocolatedistribution.com 9
Lumicycle LED System4 Xelite 26 £629.99 or 
£329.98 separately
These lights burn brightly, pumping out a mighty 2,240 lumens, enough light to make motorists respect your presence. A combination of flood and spot lamps uses four LEDs in aluminium casings with a toggle switch to change between five power modes. Depending on mode, burn time is from 2.2 to 70 hours from a neat stem-mounted battery. IC
www.lumicycle.com 10




Mavic Inferno gloves £49.99
Based near the Alps in Annecy you would hope that Mavic could produce a good winter glove and the Inferno doesn't disappoint. With a windproof and water-resistant outer shell and brushed fleece lining this is a warm glove. Low bulk by design, it provides for good shifter control and the thin strap closure is effective. DD
www.mavic.com 9


Cannondale winter mid-socks £9.99
This multi-yarn (micro-acrylic, polypropylene and spandex) mid-length winter sock from Cannondale has thicker areas under the foot, heel and toe box to keep your feet well insulated. By using Spandex they do keep their shape well. A thinner layer on top of the foot is a mistake in our opinion as this allows air to come through from shoe fixings. SB
www.cannondale.com 9





Cateye TL-560 reflex rear LED with reflector £24.99
High-volume, with one high-powered central LED surrounded by four 5mm LEDs this is one bright light. There are five modes, from fixed to flashing, including a pulsating mode that is hard to ignore. Riders following may find it off-putting it's so bright, but it should mean motorists notice you. It has 120 hours of run time. JD
www.zyro.co.uk 9



Fenwick's FS-1 Concentrate (1lt) £9.99
This versatile biodegradable cleaner can either be used neat as an effective degreaser, removing thick grime from components, or diluted to one part to 10 parts water to be used as a general cleaner. We found you get better results at a 1:5 mix as the higher concentration removes grime with less work and is still economical at £2 a litre. SB
www.zyro.co.uk 9


Le Col Winter Jacket £159.99
Contemporary-looking with a slim on-bike cut, this jacket has no excess flapping material. Warm fleece lining and Windstopper outer layer runs the length of arms and chest to stop wind chill. Three rear pockets carry plenty of kit, allied to two secure zipped pockets. High collar just lacks a zip garage. DD
www.lecol.net 9



Pearl Izumi PRO Softshell gloves £28.99
IT'S bulky-looking, but actually allows for good dexterity and freedom of movement. A warm fleece lining and long cuffs ensure no gaps around your wrists. The outer is windproof and water-resistant and does a good job of keeping this tester's usually cold hands warm. Palm grip is satisfactory while thumb and forefinger get sticky patches for braking and shifting. SB
www.pearlizumi.com 10



Santini Estivo 
jersey £39.95
When we first used the Estivo jersey on a hot day the blast of cooling air coming through the material was surprising - our tester thought he'd forgotten to do the zip up. What appeared to be excessively tight cuffs turned out fine during a day's ride. Great for hot days but perhaps too cool when the sun 
goes down. AM
www.prendas.co.uk 9



Zefal HPX Classic pump £24.99
Zefal's retro-looking frame pump fits neatly alongside your seat tube. Four sizes are available to suit frame sizes and it's securely held in place using its own spring-locking mechanism. At 283g for size three it should not weigh you down. It looks great on a classic frame; it is a shame that sweat has already oxidised the aluminium surface. SS
www.zyro.co.uk 9




Rogelli Rimini jersey £27.99
The Rimini jersey from Rogelli offers outstanding value, with well-placed mesh side-panels offering good cooling. Three pockets on the rear comprising two narrower side pockets either side of a larger central zipped pocket is ideal. Loaded the jersey refuses to sag, which was pleasing. You may be flattered by sizing so it's best to check. MH
www.rogelli.co.uk 10











Qoleum Sports Care Antifriction Cream £9.99
This 100 per cent natural sports care product is made from essential tea tree oil and vitamin E in New Zealand. It's not like most chamois creams - it's a bit like Vicks VapoRub in smell and consistency. Tea tree oil gives it antibacterial and antiseptic properties while vitamin E protects your skin. An old favourite now back on our shores. DD
www.zipvit.com 10





Topeak Shuttle CB bottle cage £42.99
A minimal compromise bottle cage from Topeak that probably owes its Shuttle name to the aerospace-grade carbon it's made from. This stylish looking 20g cage won't break the bank. Practically speaking, bottles slide in and out well and it comes supplied with bolts. SB
www.madison.co.uk 10










Pro Turnix
 saddle £99.99
This no-nonsense carbon railed saddle from Pro offers a good level of comfort due to a sympathetic shape and plenty of padding in the nose. Initial adjustment is a little fiddly to get the tilt just so. With 80mm of rail clamping area, fore and aft adjustment is no problem, and the leather cover has proven durable, showing only slight wear. SB
www.madison.co.uk 10





Four4th 1200 Lumens light £195
Beautifully CNC-machined and available with a choice of lens and battery options. Our test model arrived fully charged with a 10° spot and Velcro battery stem mount. It's easy to use and we liked the automatic overheat protection. Our only gripe was the lamp unit catching on the O-ring of the mounting bracket. Run time is 2.5-3 hours. DD
www.four4th.co.uk 9





Assos T F1.Uno S5 bib-shorts £117.99
Spending over £100 for what Assos calls its 'entry-level' shorts might suggest they are overpriced, yet the performance is bang on the money. Tailoring is superb with six-panel construction offering a snug fit, plus you have six sizes to choose from. The elastic chamois makes you feel like you've spent your cash wisely. MH
www.yellow-limited.com 10



Garmin Edge 500 £249.99
Aimed at racers, this pared down version of Garmin's 705 is sleeker and lighter, but does lose the colour screen and lacks some mapping functionality. The display is still customisable and it still guides on uploaded routes. We have successfully linked it to a PowerTap using Ant+. Cold weather reduced battery life. SB
www.garmin.com 9






Electron Backupz seatpin LED £12.99
Designed as an emergency 'get you home' light, the Backupz has two rearward-facing LEDs plus smaller corner ones that offer a greater spread of light. With a seatpost mounting that is purposely angled to allow for the angle of your seatpost, keeping the beam at optimum level, and simpe elastic chord attachment it's superb. JD
www.madison.co.uk 9


Giro Havik 2 glasses £124.99
Some detective work is required to spot the subtle changes Giro has made to the Haviks. Wider arm spacing to reduce pressure on the temples, a colour-coded nosepiece and an 
extended brow are new features. The quality scratch-resistant lenses, made by Zeiss, and the number of combinations of frames and lenses makes them tough to beat. MH
www.madison.co.uk 10




Pearl Izumi W's Elite Thermal SL Drop Tail Suit £129.99
These tights from Pearl Izumi are designed to protect a lady's modesty, with their discreet 'drop tail for convenience'. An ingenious elasticated waist allows for calls of nature without removing upper layers of clothing. They are exceptionally warm, and fit is good with a front zip and locking ankle zips too. A comfortable chamois and reflective piping means you are left wanting for nothing. HR
www.pearlizumi.com 10






Fizik Antares 00 saddle £259.99
Initial reaction to the Antares is: how can this possibly be comfortable? It has a wide, flat surface area of carbon with a hint of black Microtex padding. Support is via braided carbon rails, helping drop weight to 135g. The saddle is actually supremely comfortable but 
utilising Fizik's Wing Flex technology to absorb shocks it does have 
a steep price tag. IC
www.extra.co.uk 9



Tacx Satori
 £219.99
The Satori makes a good all-round trainer as it's got a good range of resistance from very light spinning (ideal for warm-ups, recovery and cool-down) through to big track sprinters' efforts with minimal tyre slippage. The unit acted smoothly and felt quite similar to outdoor riding efforts. The retention/release system is very user friendly and it copes with uneven ground. SB
www.fisheroutdoor.co.uk 9









Gore Bike Wear Xenon II Lady jersey £74.99
Gore's Xenon II jersey has a race-style fit and offers good summer performance with a three-quarter-length zip, and plenty of ventilation from mesh panels on the back, sides, armpits and midriff. The microfibre material provides for a sculptured feminine fit with plenty of back length so it doesn't ride up. Three well positioned rear pockets finish off this all-round excellent jersey. RC
www.gorebikewear.co.uk 9








dhb Knowle
 bib-shorts £94.99
The dhb Knowle short is Wiggle's take on high-end shorts. With a Cytec elastic insert chamois 
featuring triple layers and honeycomb construction, it means business. Flat-lock stitching on the seams keeps things comfortable with matt Lycra making them feel rugged. Fit is certainly orientated towards the cafe stop connoisseur. MH
www.wiggle.co.uk 9
The Nines and Tens: best of kit 2010 part 1
The Nines and Tens: best of kit 2010 part 3