Contador faces tough questions in pre-Tour press conference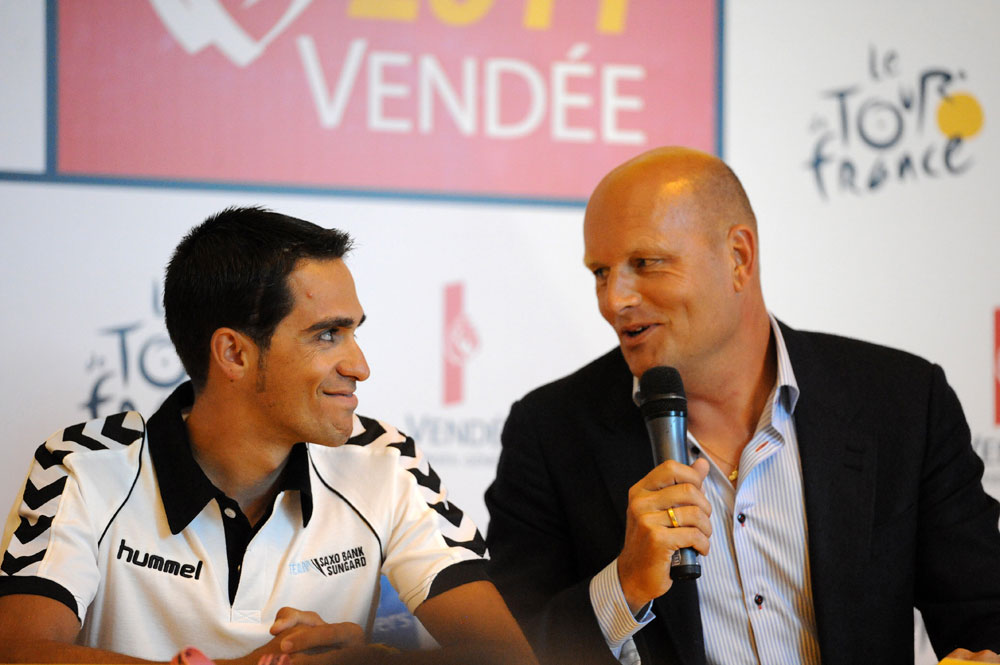 Alberto Contador and Bjarne Riis, Saxo Bank, Tour de France 2011 press conference
Tour de France 2011 press conferences photo gallery by Andy Jones>>
In a tense pre-Tour press conference, defending champion Alberto Contador fended off accusations of being "under a huge doping cloud, never having made a clear statement against doping and having always ridden for teams that were implicated in doping."
The Saxo Bank rider responded to the journalist who asked him, "You must be misinformed. I have always been 100 percent anti-doping. But everybody is free to think what they want."
Asked how he felt about racing to win a Tour that he might lose a month later if the CAS decision over his clenbuterol case went against him, Contador retorted "it would be ridiculous."
"I have won a lot of races this season, and I've been tested after each victory. Few other riders have been as tested as me."
Contador's director Bjarne Riis - himself not free of controversy - had weighed in earlier on the same subject, saying "I don't see why Alberto should be punished or suspended when he's been cleared."
"If you don't agree with the solution then you should question the system, not so much us or him."
"We have to respect the system as it is."

Alberto Contador (centre) with team manager Bjarne Riis (right)
Contador did say that he believed he could handle the pressure, because "Many times it is worse off the roads on it, but you just have to concentrate on what you are doing."
He also revealed that he was not too pleased with the Tour route, either and was worried about his condition after winning one of the toughest Giros on record.
"I would have been a lot happier with three time trials, one at the beginning, one about 30 kilometres in the middle and one about 30 kilometres at the end, rather than just the one this race has got."
"I don't know how my body is going to respond to this, the Giro was very hard and you don't know how it's going to react to yet another big Tour, running over a three week period. I have my doubts. Of course I have them - I've never done a double like this before."
As for rivals, there were no surprises in Contador's list, with Robert Gesink (Rabobank) and Andy Schleck (Leopard-Trek) singled out as top potential contenders.
"I've heard that Gesink has been training very hard at altitude and he'll be fighting for the overall. And if I had to mention a single challenge, then of course it would be Andy."
"But there will be a large number of riders fighting for the overall. It's going to be very tough."
Tour de France 2011: Related links
Tour de France 2011: Cycling Weekly's coverage index
Brits in the Tour de France 2011
UCI and AFLD collaborate on Tour de France dope tests
Contador confirmed for Tour de France
Evans set for Tour de France win
UCI says 'respect Contador at Tour de France'
Contador confirms taking part in Tour de France
Bookies slash odds on Wiggins winning Tour
Halfords launches free Garmin Tour de France fantasy game
Cavendish to start all three grand tours in 2011
2011 Tour de France teams named
Tour de France 2011: Route details
The mountains of the 2011 Tour de France
Cavendish challenging for up to eight stages in 2011 Tour