Olympic time trial round-up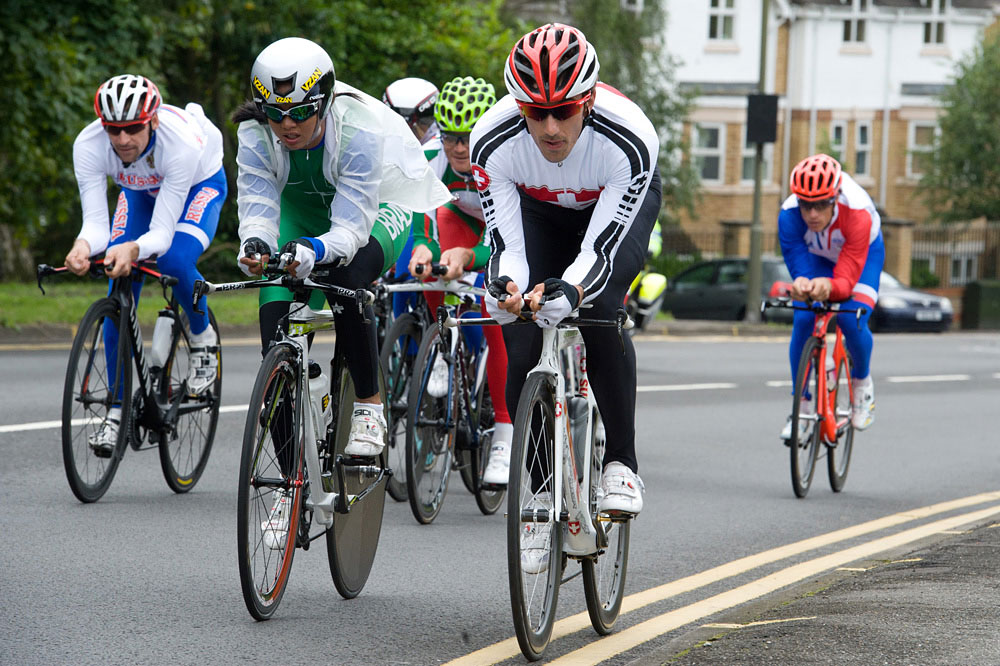 Fabian Cancellara, London 2012 Olympic time trial training, 31 July 2012
The men's and women's time trials around Hampton Court bring to a conclusion the cycling road events for the London 2012 Olympic Games.

Great Britain has several good medal hopes in Bradley Wiggins, Chris Froome and Emma Pooley.

Here's a round up from some of the riders and coaches from other nations looking to stop the Brits on home soil.

Michael Rogers AUS
Three time world time trial champion and key domestique for Bradley Wiggins at the Tour de France this year
"In the past, for the one-day time trials I'm always up around the mark, so I certainly hope to do a good ride. I feel fresh today. If I'm on a good day I think I can definitely medal. Bradley's probably a step above everyone at the moment. Froome can be up there, [and] let's see how Fabian comes out after his crash. I think there's a bunch of guys that, on their day, can be around the medals."

"I just hope [the weather is] going to be the same for everyone. I've done so many time trials where it's rained for part of the pack so, I don't really mind what kind of conditions there are, as long as they're the same for everyone. You hate to see so many years of work thrown away because the weather conditions are different."

Matt White (Aus)
Head Director sportive at Orica GreenEdge and Australia's national team's man behind the wheel
"Michael's been in the mix for the last two Olympics. The Olympics are the cream of the cream. If he shows the form he had in the Dauphine (in June) he's definitely in for a very big chance for winning it. Physically he has exited the Tour de France very well."

Kirstin Armstrong (USA)
Defending champion from Beijing, 2009 world champion and consistently good performer against the clock. She has recently come back to cycling after having her first child
"It's very special [to be defending champion], but there is also some pressure. I feel the pressure. Normally, a day or two before the time trial, I start feeling stress. Knowing that I am coming back trying to defend, I know I have a target on my back."

"It's a challenging course. It's a true time trial course. It has a little bit of everything. It has some technicality to it. It has some rollers going and coming back in. It's windy and the rain may come as well. There are a lot of variables out there. They call the time trial the 'race of truth' and I think that it will be the race of truth tomorrow."

Ryder Hesjedal (Can)
Winner of the 2012 Giro d'Italia
"It will be brutal. Slow roads. You have to stay on top of it for the whole ride. It's going to be horrible. There are some undulation and seams in the roads, there's some transitional stuff through the little villages. It beats you up. There are not a lot of consistent stretches of pavement. Depending on how the wind is, you really have to focus."

"There are some pretty solid time trial specialists. My time trialling has improved, but that is relative to guys that I am competing against in stage races. I am just out here to ride the best I can and represent the country and everyone who supports me. I will leave it all out on the road. That's all I can do."

Marianne Vos (Ned)
Winner of the women's road race on Sunday
"I'm not fully recovered form the road race yet. That race obviously cost a lot of energy. My legs are still a bit sore, but I've still got one day to recover."

"I kept the celebrations low key and yes, it (the gold medal) may help me in the time trial. I'm very relaxed after Sunday and that's a good feeling at the Olympics."

Lars Boom (Ned)
Consistent performer against the clock, winner of last year's Tour of Britain
"It's good to have ridden the course at full speed. That gives you a better impression of what to expect. The course has many long straight roads. I haven't seen any bottlenecks. It's a circuit for the big gears, so that suits me well."

Denis Menchov (Rus)
Winner of the Tours of Spain and Italy, 15th in this year's Tour de France
"It's a hard course, but the roads are not very fast. It's a course to give pedals. It's hard to say what I can do. I will try my best and see what happens. It's clear that (Bradley) WIGGINS, with the level he has right now, he's the favourite. For me, to reach the podium, it will be complicated. This is my third Olympics. It's always beautiful to ride here."


London 2012: Live text coverage of cycling events
August 1: Men's and women's time trials
July 28: Men's road race
July 29: Women's road race
London 2012: Latest news
Pendleton warms up for London 2012
Cancellara in, Evans out of time trial
CW eyewitness: Remember the name
Cavendish finds solace in commitment of his team mates
The scene at Box Hill
Tickets for Box Hill? You may need another...
Bradley Wiggins' UKSI Olympic bike
Hoy helicoptered in for opening ceremony
Box Hill closed after local riders give security the slip
Boonen and Gilbert train on Box Hill Olympic circuit
Goss fresh for Olympic Games assault
Trott on top: London 2012
Hoy to be GB flag bearer at London 2012 opening ceremony
Millar: I think about Olympics all the time
Cavendish recognises advantage in missed Tour chances ahead of Olympics
Kenny not Hoy selected for London 2012 sprint
German and French Olympic teams sneak in fourth sprinter
Cavendish: GB's best bet for Olympic gold
London 2012: Team info
Men's road race start list
Women's road race start list
Men's time trial start list
Women's time trial start list
Team GB rider profiles
Great Britain track team confirmed
Bronzini leads Italian Olympic cycling team
British Olympic men's road race team announced
Armitstead and Cooke lead GB women's road cycling team
London 2012: Event guides
Olympic Games men's time trial: Who will win?
Olympic Games women's time trial: Who will win?
Olympic time trial routes announced
Olympic Games women's road race: Who will win?
Olympic Games men's road race: Who will win?
Download detailed Olympic road race route map
London 2012 cycling schedule
London 2012: Reports
Cycling events medal table
Women's road race: Armitstead wins silver as Vos strikes gold
Men's road race: Vinokourov wins as Cavendish misses out
London 2012: Photos
Pendleton track training
Women's road race by Andy Jones
Women's road race by Graham Watson
Men's road race by Andy Jones
Men's road race by Phil O'Connor
Men's road race by Graham Watson
Team GB road race training on Box Hill (July 26)
London 2012: Podcasts
Cycling Weekly podcasts on Soundcloud
London 2012: TV schedule
London 2012 BBC TV cycling coverage schedule
London 2012 Eurosport cycling coverage schedule