Pendleton ends career on a high at Olympics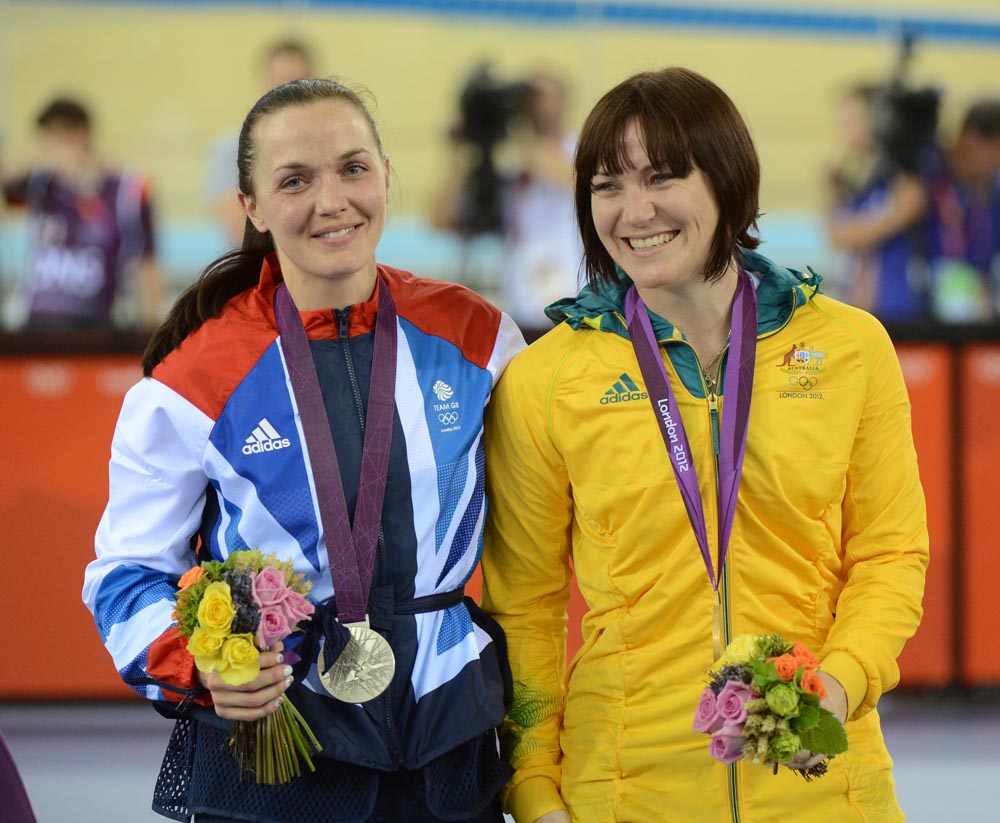 Victoria Pendleton and Anna Meares, silver and gold in sprint, London 2012 Olympic Games, track day six
Victoria Pendleton brought the curtain down on a spectacular career with an Olympic silver medal in the sprint.
The British sprinter lost out to her rival Anna Meares (Australia) in the final despite a narrow win in their first race. In a reverse of their match at the World Championships this year, it was Pendleton who was relegated for coming out of the sprinter's lane.
In the second race, Meares showed incredible skill to trackstand at the top of the exit of bend three on an impossible gradient. Pendleton couldn't hold her bike still and was forced to roll around in front of Meares and take the lead.
As soon as Pendleton went to the front, she slowly built her speed over the next two laps and gave Meares an armchair ride to the finish.
It wasn't the way Pendleton would have wanted to end her career, and may wish the sprint was scheduled before the keirin on the Olympic programme, but a silver and a gold is a fine way to sign off after 23 years of bike racing.
Pendleton retires with nine world titles, two Olympic titles and an Olympic silver. Only Meares comes close to such a haul of accolades.
There is likely to be a tinge of disappointment to the result as the sprint is the one that Pendleton wanted, and viewed the keirin as a bonus. She only missed out on a medal in the team sprint because of another relegation as Jess Varnish was judged to have swung up too early.
"I am just so relieved right now. I am just so overwhelmed with emotion," Pendleton said after the sprint finale. "I would have loved to have won in my final race. At the same time, I am just so glad I am done and I can move on."
Pendleton was gracious in defeat and said of her long-time rival Meares: "I am glad it got to that stage because I believe she's the best rider on the field. Anna and myself in the final. We have met many a time. I wish her all the best. I am glad to say that this is the last time I have to go through this."
However, Pendleton's second relegation of the Games at the hands of the commissaires obviously stung. "I was really annoyed because I was sure that she [Meares] touched me and it caused me to move up. I cannot believe twice in one competition that I have been relegated, disqualified, it's unheard of. It's a bit of surprise. It did knock my confidence a bit, I have to say. I really tried in that last ride. I don't know. Sorry. This is it. I cannot believe it's all over."
London 2012: Live text coverage of cycling events
August 7: Track cycling day six
August 6: Track cycling day five
August 5: Track cycling day four
August 4: Track cycling day three
August 3: Track cycling day two
August 2: Track cycling day one
August 1: Men's and women's time trials
July 28: Men's road race
July 29: Women's road race
London 2012: Latest news
Sir Chris Hoy looking good as British cyclists look to end with a flourish
GB doing something right says O'Shea
Comment: Hindes's purposeful crash - fair or foul?
New format for team pursuit explained
Pendleton and Varnish out of team sprint
'Hot pants' key to Pendleton and Hoy sprint
Britain's sprinters looking to continue GB medal haul
Wiggins: Tour was perfect Olympic TT preparation
Olympic time trial round-up
Pendleton warms up for London 2012
Cancellara in, Evans out of time trial
CW eyewitness: Remember the name
Cavendish finds solace in commitment of his team mates
London 2012: Team info
Men's road race start list
Women's road race start list
Men's time trial start list
Women's time trial start list
Team GB rider profiles
Great Britain track team confirmed
Bronzini leads Italian Olympic cycling team
British Olympic men's road race team announced
Armitstead and Cooke lead GB women's road cycling team
London 2012: Event guides
Mountain bike event guide on www.mbr.co.uk
Olympic Games men's time trial: Who will win?
Olympic Games women's time trial: Who will win?
Olympic time trial routes announced
Olympic Games women's road race: Who will win?
Olympic Games men's road race: Who will win?
Download detailed Olympic road race route map
London 2012 cycling schedule
London 2012: Reports
Tremendous Trott eliminates the rest in Olympic omnium
Kenny stuns Bauge in sprint to win second gold
Bronze for Clancy while Pendleton marches on
Pendleton sets new Olympic record to qualify ahead of Meares
Trott, King and Rowsell keep gold medals coming
Kenny lights up a stuttering men's sprint competition
Track day two: Pendleton and team pursuiters deliver more gold
Track cycling day one: Hoy leads team sprinters to gold
Wiggins wins gold in men's time trial, bronze for Froome
Armstrong defends Olympic title in women's time trial
Cycling events medal table
Women's road race: Armitstead wins silver as Vos strikes gold
Men's road race: Vinokourov wins as Cavendish misses out
London 2012: Photos
Track day five by Andy Jones
Track day five by Graham Watson
Track day four evening session by Andy Jones
Track day four evening session by Graham Watson
Track day four morning session by Andy Jones
Track day four morning session by Phil O'Connor
Track day three evening session by Andy Jones
Track day three evening session by Phil O'Connor
Track day three morning session by Andy Jones
Track day two by Phil O'Connor
Track day two by Graham Watson
Track day one by Andy Jones
Track day one by Phil O'Connor
Track day one by Graham Watson
Men's time trial by Graham Watson
Women's time trial by Graham Watson
Pendleton track training
Women's road race by Andy Jones
Women's road race by Graham Watson
Men's road race by Andy Jones
Men's road race by Phil O'Connor
Men's road race by Graham Watson
Team GB road race training on Box Hill (July 26)
London 2012: Podcasts
Cycling Weekly podcasts on Soundcloud