The Nines and Tens: best kit of 2010 part 3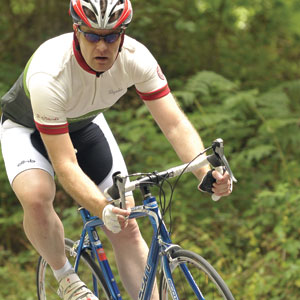 We carefully tested hundreds of new products in 2010 and refined it down to the 70-odd winners that scored nines and tens.
We tested a serious amount of kit in Cycling Weekly magazine over the year. Here's the best of the best from 2010; all the products that were rated as a nine or ten. Buy any of the following and be sure of a class-leader.



Reviewers were Mike Hawkins (MH) Stuart Bowers (SB) Simon Smythe (SM) Dan Duguid (DD) Hannah Reynolds (HR) Austin Mills (AM) Jamie Darlow (JD) Ian Cleverly (IC) Lynn Clay (LC)


Zipp SL Short/Shallow bar £225
At just 174g for our 44cm bars (outside to outside) the Zipp SL short/shallow bar is one of the lightest money can buy. A drop of 128mm and reach at 84.5mm has helped my comfort levels and I find I ride more powerfully. They taper from 31.8mm to 24.2mm with double cable grooves so you don't feel like you're holding loo rolls. SB
www.saddleback.co.uk 10


Park Tool CM5 Cyclone Chain Scrubber £27.99
WELL designed, the Park Cyclone chain scrubber is compatible with all types of bike. It can be a little awkward to fit; however, once in place it's easy to use. It's highly effective, leaving chains spotless. It has a reservoir plus holes to replenish degreaser without removal. Initially expensive, but replacement brushes can be purchased for £5.99. SB
www.madison.co.uk 9


Verenti carbon bottle cage £24.99
This budget carbon bottle cage from Wiggle is an unusual design, that works well for left and right-handed use. It has a flared lip to guide bottles in and out smoothly. Its only drawback is it's not overly light for carbon at 31g, but at this price you really can't grumble much. MH
www.wiggle.co.uk 9


Finish Line Speed Degreaser 500ml £10.99
No one likes cleaning a grimy drivetrain, but Finish Line's Speed Degreaser can make the task a lot easier by cutting through the worst of the muck. It'll make your drivetrain sparkle in a relatively short time - providing you've not left it for several months! Avoid letting it dry on, as it can leave marks that are hard to remove. DD
www.madison.co.uk 9



Crud Roadracer mudguards £27.99
For bikes without mudguard eyes, Crud's Roadracers are close to perfection. Fitting is straightforward, but check out the hints on the website too. The breakaway stays are a 
nod to safety and the fibre brushes are a genius solution to rattles. With 
longer tails they'd be spot-on. SB
www.crudproducts.com 9



Howies Chevron messenger bag £65
One thing is for sure, with this messenger bag from British company Howies you are going to get noticed at night. A distinctive Chevron design across the flap, plus further reflective detailing that should be picked out by vehicle lights, almost guarantees this. A chest strap plus the padded shoulder strap should keep it securely in place on the bike. SS
www.howies.co.uk 10



Saris PowerTap SL+ hub £1,250
For 2010 the PowerTap SL+ gained a new oversized (15mm) axle to help the fragility some owners have experienced with bearings and to improve stiffness. Also notable was the addition of ANT+ as standard to allow it to communicate with ANT+ GPS devices. High mileage this spring has been trouble free. All we wish for now is a sub 400g weight. SB
www.paligapltd.co.uk 9


Rudy Project Genetyk ImpactX £165.99
These do-it-all glasses offer a solution to those who aren't keen on changing lenses. Providing the correct level of tint for bright to shade is always difficult. The Rudy Projects were impressive in this respect and tint change occurred in a reasonably fast time. They feature fully adjustable arms and nosepiece, providing a comfortable fit, so little to moan about except possibly the price. AM
www.yellow-limited.com 9



Elite Moro d'Elite carbon cage £39.99
If you are looking to add some bling to your bike, this cage could be for you with its high gloss, black and white colour scheme and the distinctive fang-like arms. It's not just for show, as it does a good job of safely holding your bottles. However, it's not the lightest at 35g. SB
www.madison.co.uk 9


Lizard Skins DPS Race bar tape £24.99
Cyclists are obsessed with making everything as light as possible and nothing is safe, not even humble bar tape. Made from DuraSoft polymer material with a dimple texture Lizard Skins DPS Race tape weighs 50g including end plugs. Just 1.8mm thick, it provides a naked bar feeling but offered ample comfort and good grip even in wet conditions. SB
www.2pure.co.uk 9


NiteRider Cherry Bomb £24.99
A dedicated horizontal beam combined with additional visual impact from the super-bright, high volume LED, offering flashing or constant modes. A special lens focuses the light at road level so that light is not wasted. Mounting can be via a bracket or onto a belt. It pumps out enough light to be one of the best out there. JD
www.2pure.co.uk 9











De Marchi Contour Evo jersey £149.99
This well-ventilated jersey with plenty of mesh incorporates a Y-shaped non-breathable panel up the back and over the shoulders to help keep its shape. The Contour Evo has a relaxed fit and a full-length zip plus three rear pockets and an additional secure sweatproof pocket. We're not entirely convinced the price is justified and the zip does tend to ruck up. SB
www.2pure.co.uk 9


Fenwicks HC-1 £4.99
No, we've not made a mistake; HC-1 has been tested as a hand cleaner but it also has another use as a carbon paste. Most pastes will add friction between carbon parts, thus reducing torque required to hold the components in place. However over time they do dry out. In a back-to-back test HC-1 outlasted Tacx paste on a seatpost. MH
www.zyro.co.uk 10

Lusso Breathe Undershirt £17.99

Previously this base layer scored well and we felt it deserved another look. It features soft microfibre fabric that wicks moisture well, it's stretchy allowing for good movement and the neckline and arms are comfortable. We would like to see better tailoring even for this price, as there is some excess material on the long back that gets damp. SB
www.lusso-clothing.co.uk 9
Campagnolo 11 Speed C655 bib-short £169.99
These flagship shorts have a 10-panel design - some panels are made of high-stretch Lycra Power fabric to work like compression clothing on the thighs. By contrast, ultra-light Revolutionary Lycra panels that noticeably bunch, are placed on the front and hips, however 
performance was unaffected by this or the high back. The TriProPad is comfortable for hours in the saddle. They're pricy though. DD
www.i-ride.co.uk 9


Nunn Electrolyte Tabs
All-natural electrolyte tabs are a convenient way to replace sodium (180mg per tab). Along with smaller doses of potassium, magnesium and calcium they should go a long way in helping to reduce cramping for heavy sweaters in hot conditions. However, if you're not such a heavy sweater or suffer from magnesium loss they may not be so suitable LC
www.nuun.com 9


CycleOps Fluid2 £214.99
Of all the trainers we have tested, the latest Fluid offers the most realistic ride from any trainer to date. This is due mainly to the larger-than-average roller and flywheel. Its wide stance makes it stable in use and the fluid resistance only wandered a small amount due to 
temperature fluctuations, but not enough to disrupt pedalling. SB
www.paligapltd.co.uk 10


ithlete £34.99
An invaluable training aid, ithlete works by measuring your heart rate variability (HRV). This is the minute difference in resting heart rate when breathing in and out. In this way ithlete can judge your fatigue level and warn of pending illness. You do need to be consistent with use, as external factors can influence results. More complex software would be welcome
www.myithlete.com 9


Blackburn Mars 3.0 £19.99
This latest incarnation of the Mars now offers tool-free battery replacement for the two AAA batteries. Coupled with seven LEDs including two smaller yellow tinted ones on the side, it provides 180° visibility. Longevity should not be an issue as we've been running an older version for several years, but a slight rattle was apparent after a few rides. JD
www.madison.co.uk 9


Altura Ergofit mitts £29.99
These mitts are quite generously cut - you may need to drop a size. They have a Lycra back and fit well, the short cuff is elasticated using the Neoprene's properties. Gel palms are heavily padded but do absorb bumps and vibrations. However, you can feel it squirming about. Still a pleasing glove. SB
www.zyro.co.uk 9


Castelli Aero Race jersey £90
Deceptive-looking, this jersey looks like it will not fit - it's tiny. Castelli claims it can save 10 watts over 40kph. We are talking about a second skin that conforms to your body in a very 
comfortable way. Although it lacks a full-length zip. cooling is excellent due to the 'hydrophobic' treated material and mesh back. SB
www.saddleback.co.uk 10


Profile Elite Karbon Kage £59.99
Initially this über low-weight (17g) cage takes some getting used to, as the arms that hold the bottle have been pared down and consequently are overly stiff. Once you've adapted your technique to take and replace the bottle though, it works well and holds the bottle very securely. Expensive at nearly £60 though. JD
www.madison.co.uk 9


The Nines and Tens: best kit of 2010 part 1
The Nines and Tens: best kit of 2010 part 2