New titanium frame from Enigma and more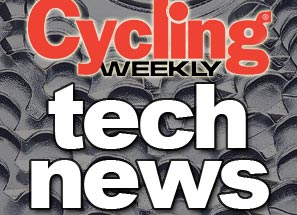 Enigma's Jim Walker took the opportunity of last weekend's Bespoked Bristol custom framefest to show off a new titanium frame which he and his builders have been fettling in the workshop. The relieved head tube and bottom bracket - in the shape of the Enigma question-mark logo, of course - offered a clue that something special was on offer, especially when you picked it up.


Weighing 840 grams for this 52cm size, the prototype featured tubes drawn to the very limits but mostly lacking the enormous 'oversized' features of most current production frames. "Of course, the whole point of ordering a custom frame is that we can build you anything you want including BB30 bottom brackets or what-have-you for stiffness," said Walker "but a lot being offered on carbon frames is frankly over the top and we're already seeing a move back to more nimble frames for a nicer ride."


As ever, it's the beauty, workmanship and longevity of a custom titanium frame that are the big selling points, as well they might be when the cost is £2,400. Lead time is currently five months.

www.enigmabikes.com
Paulus Quiros: a new name from South Wales
Also at Bespoked was an entirely new brand in the UK custom framebuilding arena. Paulus Quiros is based in Burry Port near Llanelli in South Wales and if those names don't sound very native one partner Jon Paulus will reassure you he is properly local, while José Quiros very proudly says he's from Barcelona although well and truly naturalised by dint of being married into the area. They only displayed a small selection of the relatively few bikes they've made so far but each was fascinating; our favourite being a polished Reynolds 953 tourer with enough exquisite detail to keep us occupied for a long time. Notable was adjustable, removable rear dropouts and lugwork that seemed to be inspired by Barcelona's architecture.

www.paulusquiros.co.uk
2012 Lapierre Xelius: details imminent
Stand by for an onslaught of Tour de France launches; meanwhile French brand Lapierre has got in quick with equipping their FDJ sponsored team with a forthcoming 2012 version of the Xelius model. It didn't hurt that their man Pinot finished 2nd on the final stage of the Critérium du Dauphiné, following a true professional's breakaway on the Croix de Fer. That's as much as they're saying about the new model and it may turn out to be a revised graphic scheme. We've noted it doesn't yet feature on their W-Series custom bike-building website.

Lapierre W Series website

Tour de France iPhone app launched
The Cycling Weekly Tour de France guide next week might be the most comprehensive way of reading absolutely everything authoritative there is to know about this year's race, but 'Le Tour 2011' is an iPhone app for £0.59 (in the UK) that will drop a useful summary including a map and parcours profile for each day into your phone. Best of all, it can synchronise with iCal to place a stage summary in the calendar.

iPhone app 'Le Tour 2011'
New Pinarello Rokh bike coming
No pictures yet but one sneaky snippet we found out at last week's Dragon Ride, courtesy of a ride village exhibitor we couldn't possible name, is that we will shortly be getting details of a new model called Rokh which will be a less expensive version of the already very successful but top-notch and pricey Kobh. The new model will carry over the Kobh's ride-friendly geometry, the asymmetric features and come in a selection of builds. Think £2,600 for Ultegra.

www.pinarello.com
French clothing brand Cafe du Cycliste launches website
Another welcome meeting at the Dragon Ride was with Rémi Clermont of new kit label Cafe du Cycliste. It would be tempting to think that it's just an alluring brand name but Rémi and his friends really do own a cafe in Chateauneuf de Grasse on the Cote d'Azur and it didn't take them long organising group rides before the subject of stylish clothing came up. They didn't feel that the 'pro' or aggressively sleek Italian and Swiss brands were really their thing so they called on the expertise of Italian designers and Eastern European manufacturers to get the softer - dare we say it more chic - look they were looking for.

www.cafeducycliste.com

Cafe du Cycliste 'Michelle' jersey in superlight Merino wool. Mustard or grey £103
Specialized opens Covent Garden store, appoints 'sustainability strategist'

In the same week that bike, clothing and accessory maker Specialized opened it's ninth UK 'Concept Store' at London's new St Martin's Courtyard development in Covent Garden, at the company's head office in California a new appointment has been made to spearhead the effort to reduce its manufacturing impact. Bryant Bainbridge has been hired from Nike, were he co-authored that company's Considered Index "widely recognised as one of the most comprehensive systems for predicting the environmental footprint of products during the design phase," according to Specialized. Carbon-fibre recycling is a major issue and their release continues, "the cycling industry uses massive amounts of the material; however, established methods of take-back and re-processing have yet to be created."

Specialized Concept Store Covent Garden: 11 Mercer Street, London, WC2H 9QJ 0207 438 9450
www.specializedconceptstore.co.uk
SiS purchased by Provexis plc
Science in Sport, maker of the popular PSP22, Go and ReGo sports drinks has been sold by its founders to Provexis plc, a life-science company that "discovers, develops and licenses scientifically-proven functional food, medical food and dietary supplement technologies," according to a press release published today.

Provexis will pay £8 million for SiS, which sold £4.6 million of its nutrition products in 2010, a 7% increase over the previous year. Phil Walker, the SiS MD will join the board of Provexis and said in the release, "This represents a great opportunity for the growth of the business. Provexis offers a solid platform for SiS to continue its development, in terms of products and share of the market. I firmly believe that Provexis' scientific, product development and management experience will add further value to the SiS business."

www.scienceinsport.com
Top rower turned cyclist James Cracknell is currently participating in the Deloitte Ride Across Britain and is sponsored by Science in Sport
Elite Ozone Endurance chamois cream
Say it quietly but we're big fans of Sudocrem in our cycling shorts for big rides but this new product from Elite seems to emulate the superior density of the humble nappy rash cream while adding a certain mild medicated zing due to its "natural botanicals and essential oils including menthol." Just as well, because Elite were aiming to formulate a cream that doesn't absorb into modern synthetic short liners as readily as many and in that respect they've done a good job, if the recent Dragon Ride is anything to go by. It's pricey at £17.99 for a 150ml pot but the dense consistency goes a long way.

www.madison.co.uk