Base layers round-up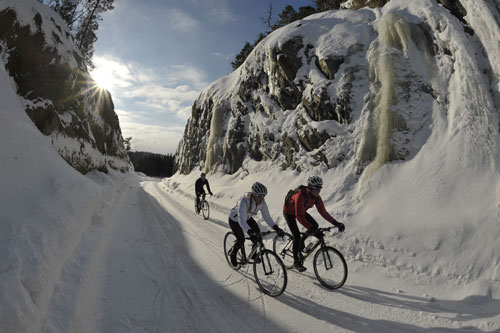 Winter riding
If the frame is considered the heart of the bike, then the same goes for the base layer of your cycling outfit.
Getting your base layer right will prevent overheating or wishing that you had packed an old Cycling Weekly to shove up your jersey to keep the chill off your chest.
Whether you're off out on a recovery spin or sticking it in the big ring, keeping your torso warm will mean you can save energy and concentrate all your effort on turning the pedals. We bring you base layers...
Nalini Traill £43.99
www.chickencycles.co.uk
Nike Pro Combat £36
www.nike.com
Specialized Deflect 1st layer £34.99
www.specialized.com
Bontrager B2Light LS £26.99
www.trek.com
BBB Thermolayer £28.99
www.windwave.co.uk
Vangard Windflex Rollneck £69.99
www.todayscyclist.co.uk
Castelli Uno Plasma £50
www.saddleback.co.uk
Endura Baa Baa £39.99
www.endura.co.uk
Craft Zero Extreme £35.00
www.unitedbrands.com
Pearl Izumi Barrier £49.99
www.madison.co.uk
Santini GLLGI TT £74.99
www.fisheroutdoor.co.uk
Moa Uelen £65
www.raleigh.co.uk
Altura Thermocool LS £44.99
www.zyro.co.uk
Gore Turtleneck LS £64.99
www.gorebikewear.com
dhb 190 Merino £40.99
www.wiggle.co.uk
Related links
Cycling Weekly's winter clothing guid: Download now