Tech: Track bikes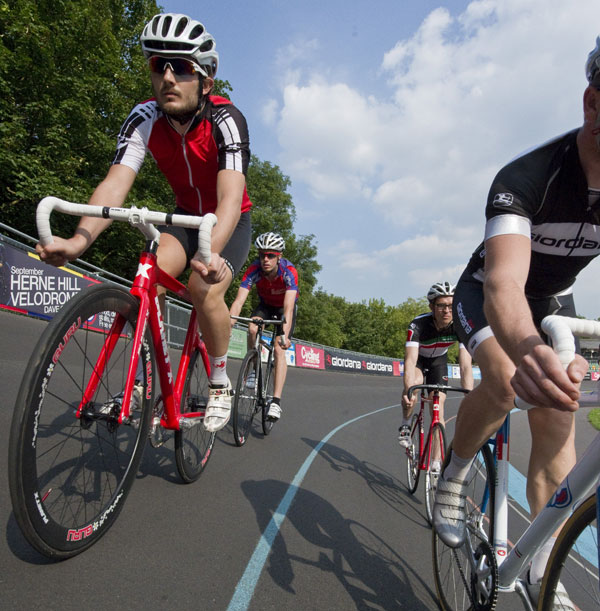 Track bike test
Lightning speeds, ferocious one-on-one battles between national heroes and stealthy, stripped-down bikes - who could fail to get excited by the Olympic exploits of Sir Chris Hoy and Vicky Pendleton et al?

On the velodrome it's all about the speed, fine-tuning pedalling style and your sprint. Quick machines are what we are after and we have four bikes lined up to test. They may not be quite up the standard of Team GB's UK Sports Institute machines, but they're more than enough bike to get started on.

Two off-the-peg complete bikes from Planet X and Felt and two DIY builds built using frames from Cinelli and Cervélo. We chose these based on price and variety. Our budget range was between £1,200 and £1,500 with options to improve different components to get the best bike for the price.




Cold comfort
A good track bike should handle well, giving you the confidence when chopping and changing direction at high speed, accelerate quickly and be strong enough to withstand the harsh forces track riding involves - we're certainly not worrying about comfort here.

Starting out you can really be hit by an array of components and machines. But considering how simple these bikes are - one gear, no brakes - surely it can't be that hard to choose one?

With the indoor and outdoor velodromes being almost worlds apart and different disciplines favouring a variety of wheel, gear and bar options, the initial outlay might seem expensive but with minimal moving parts the bikes are not hard to maintain.

The standard gear is 88in (49x15) which will come with most off the peg builds, but be prepared to try different ratios if you want to start racing, training specifically for just riding different tracks, as they can be different lengths, steepness and of course indoor or outdoor (where you are also contesting the wind).

We put our test bikes through their paces at the historic Herne Hill Velodrome, home of the 1948 London Olympic track racing, in South-East London.




Off the Peg
The equivalent of buying a plat de jour. An entire package that will mean you can, with the necessary accreditation, hop straight on to the track and get rolling.

Comparative
With both bikes giving different rides, it really
comes down to horses for courses. The difference isn't as vast as the
difference between race v sportive bike, more an issue of torque. The
Planet X isn't the faster of the two, but it just seemed slightly wild
in comparison to the Felt.

It's good fun, but there is a feeling that
unless you are pretty experienced it could quickly get you into trouble.
If you're happy with swift dives up and down the banking then it left
you buzzing and almost excitedly giggling.

The Felt is still a rapid
race bike, but steady, predicable and when putting power down responded
instantly, yet reliably. It's a great bike that offers plenty of
opportunity to upgrade, as and when you're ready to progress, making the
bike pretty spot-on for most track disciplines up to a national level
of competition.

Swings and roundabouts
It's hard to choose a winner as each offers a
different feel, and how much you'll like it will depend on what kind of
rider you are. With tweaks, both are capable of being raced across all
disciplines and up to a high level.

The Felt does offer most opportunity
to fine-tune and the purchase of a better set of wheels would be right
at the top of the shopping list. Think of it as a grower, ready to
develop alongside you as a track rider.

Planet X has nailed the
race-ready bike market. Giving you its 50mm Planet X Guru Pro Carbon
wheelset shod with Continental Tempo tubs adds up to a lot of bang for
buck. In our opinion it punches well above it weight and, assuming you
aren't a bike label snob - we would say it's certainly worthy of even
the most experienced track legs out there.




Felt TK2
Despite its name, the TK2 is Felt's number one track bike. The 7005 alloy frame and carbon track-specific bladed forks certainly lured us in with its Gucci-esque £250 3T SPHINX LTD endurance aero handlebar, although closer inspection revealed the rest of the components aren't quite so high end.

To be fair the SRAM Omnium track GXP crankset and CNC aluminum chainring is more than good enough for a bike at this price point. But we can't help think Felt threw a bit too much cash at the bar and stem, scrimping on wheels - which arguably let the TK2 down.

Putting the eclectic build-up to one side, the bike rides well, especially when we swapped the wheels out for the stiffer Planet X Guru wheelset. It's confidence-inspiring to ride, stable and grounded without being boring and sluggish. A real trusty steed perfect for first timers.

Contact: www.saddleback.co.uk
£1,249




Planet X Carbon Track Ltd Edition
As with the Felt, this is Planet X's top track bike offering - again from a range consisting of two. It's a meaty looking bike, with its teardrop seatpin, thick carbon tubing, even the high sheen pillar-box red paint job highlights its oversized look. From the front though, it's clear the bladed forks, chain and seatstays all add up to a pretty sleek bike.

Being prudent by using house branded components (excluding the KMC chain) has paid off for Planet X. The ride is much better than you expect for the price. Much of this can be credited to the 50mm GURU tub wheels, which pick up swiftly in a sprint and hold speed well.

The ride is lively and rapid, and although not exactly twitchy, it's noticeably responsive and direct in steering. Planet X has certainly done its homework, marketed as race ready - it is, right up to national level.

Contact: www.planet-x-bikes.co.uk
£1,199.99




Fixie yeah!
IF you're thinking of pottering about town on your fixed-wheeled bike, it's not too difficult to transform your racing beast to a road legal bike simply with the addition of a front brake.

Although, if this is your intention, first check that your bike of choice can accept a front brake (not all race forks will have a front brake mount hole).

We would also suggest opting for a much smaller gear than standard, ideally no bigger than 72in (eg 45x17). This should make riding up inclines, away from lights, junctions and general manoeuvres in traffic much easier. Of course at night you will also need to apply the usual Highway Code rules on lights and reflectors.

Build up
IF you don't want an off the peg bike, the other option is to build it yourself to get a custom spec bike. We've built our two test frames with the same equipment and wheels to ensure consistency and a benchmark for comparison of the two frames.




Cinelli Vigorelli
With a history of frame making dating back over 30 years, Cinelli offer the biggest stable of track frames to choose from. The Vigorelli slips in at second place in a line-up of five. Pitched as 'the good all-rounder', it's another confidence-inspiring ride, just build up according to your budget and requirements.

The 7005 alloy frame and fork combo isn't the lightest on the market, but weight isn't really of concern track wise. It certainly is very stiff, but with a track having minimal surface defects to deal with, the stiffness is simply translated into direct drive.

We'd be more than happy throwing the responsive Vigorelli at anything from local track meets to national level races.

Contact: www.chickencycles.co.uk
£564.99




Cervélo T1
Despite Cervélo's near 20-years existence in the bicycle industry, it has actually only been producing track frames since 2006 with its P3C track frame. Fast-forward six years and it's now all about the T1, Cervélo's only 2012 track frame, but when it's this good you don't need another.

The alloy frame and carbon fork has certainly taken its cues from Cervélo's stable of time trial and aero road frames, with true aerofoil tubing making it feel significantly faster than the other bikes.

The T1 has been constructed in a way that makes for complete harmony between rider and frame, and it sure is noticeable. Flicking it around the track gives you nothing but a feeling of total control and confidence to try anything, as it just felt effortless. It ain't cheap for an alloy frame but boy, you certainly feel the difference.

Contact: www.madison.co.uk
£1,000.00




Wheels
Unlike the rest of a track bike, wheels are one element where weight will penalise you. With many of the track disciplines needing sudden acceleration, rolling mass needs to be kept to a minimum. Building your own not only embraces the DIY concept, but means that you can get an excellent pair of hand-built wheels for an affordable £181.59.

We opted for Mavic Reflex 32 spoke rims, for strength and £50 each The Planet X large flange Track Hubs at £34.98 for the pair are another reasonably priced purchase and laced them with 64 DTSwiss Competition Spokes for £41.60.
The end result is a pair of strong, fast and light wheels.

Contact: www.madison.co.uk www.planet-x-bikes.co.uk www.mavic.com




Tublar tyres
Getting rolling very quickly was aided by dressing our wheels with Continental Sprinter tubular tyres, for £42.95 each. Tubular tyres may well appear an expensive outlay, but with most tracks offering silky smooth surfaces, punctures are highly unlikely - as a cost per ride they actually work out very cheap.

Contact: www.conti-tyres.co.uk

Chainset
Unless you are Sir Chris Hoy or team pursuit starter Joanna Rowsell, the chances are a standard, middle of the road, chainset will do. What you are looking for is stiffness and longevity of wear.

We opted for the Miche Primato Advanced for £119.99. These should see you through many track seasons, with only the need to change chainrings when you either need an alternative gear ratio or it eventually wears out.

Contact: www.chickencycles.co.uk




Bar, stem and seatpin
Knowing that the best place to spend money is on wheels and tubular tyres, we decided to cut right back on the cost of bars and stem. Still not scrimping on quality we simply saved money by not choosing the lightest options out there. Opting for the fancy-free Pro PLT Handlebar, stem and seatpost for a combined price of £119.97 did just the job nicely.

Contact: www.madison.co.uk




Comparison
As the saying goes, the frame is the heart of any bike. If you get this right, then you have a solid platform with which to build a bike to suit most budgets and abilities. Getting it 'right' for the track is the hard bit and often comes down to personal preference. We decided to test two framesets that could be built up for all track disciplines.

With such a gap between the two price points a direct comparison is always going to be tricky. The Cinelli Vigorelli is a lovely track frame. It's well constructed and a great all-rounder, and even with the moderate build we used, it felt ready to race.

For a build total of £1,072.44 you get a really decent bike, and of course, as and when you want to upgrade bits and pieces, it will only enhance the ride further.

However, we can't lie, it did get overshadowed by the best track frameset we've ever ridden. Spending a cool grand just on a frame and fork alone is something that is going to be pretty hard to swallow for even the most avid track rider, but it really is a standalone machine.




Again, even with our modest build for a total of £1,507.45 it really flew - putting some serious wheels on it would take it off the scale. We're not suggesting that results are all about how much you've got in your wallet, but with such a phenomenal ride from a frameset it's going to go a long way towards helping.

If you've got the cash then go for the T1 without a doubt. If your budget is more restricted then you'd be hard pushed to find a better frame than the Vigorelli.

Verdict
We started this test wanting to know what kind of track bike £1,200 would get you. The verdict being quite a lot. The Planet-X surprised us with its bang for buck. Managing to squeeze a carbon deep-section tubular wheelset onto £1,200k budget is impressive.

However, out of the two off the shelf options we would probably opt for Felt's TK2 - promptly flog its expensive bars and use the cash to buy the Planet-X Guru wheelset. The combination giving the perfect balance of performance and confidence for our tester.




However, if you are willing to use a bit of the old grey matter your options increase significantly for a custom bike. The beauty of building to your own specification means no need for swap outs as soon as you open the box, giving you exactly what you desire from a track bike, rather than close enough for the same, if not less expense.

The Cinelli Vigorelli is perfect for this, a solid core from which to build a great, all round track bike, with a decent set of lightweight wheels for well within the £1,200 budget. As much as we would love to be able to disprove the 'get what you pay for' mantra, with Cervélo's T1 we can't.

You aren't just buying a brand, you're buying a frameset which stands out as possibly the best we've ever ridden.

It won't necessarily bring you a knighthood and six Olympic golds, but it might help you on the way. If you're struggling to justify the cost, being savvy with the rest of the build and shopping around can help keep the cost down, the benefit of taking the DIY path.

Where to race
By the end of this year the UK will have five indoor velodromes and 14 outdoor velodromes up and down the country. Most, especially the indoor tracks, will need you to be accredited to race local leagues and open events to make sure you're competent on the boards.

Each venue will vary slightly on rules. The best bet is to go to an open training session and have a go, talk to the coaches to see what the natural path is within that velodrome in order to progress up the ranks to race. Check out the British Cycling website for details of velodromes near you www.britishcycling.org.uk/track

Pro wheels
IF you're looking for performance improvements, its likely that investing in a set of fancy wheels will be more of a game changer than buying a new bike will ever be.

For most bunch racing events, it's generally accepted that the best rapid wheelset option is a five spoke front wheel and a disc at the back. The aerodynamic effectiveness, weight saving and reduced rolling resistance all add up to be something special when you need that extra zip.




Pro Carbon track disc wheel with Shimano Dura-Ace track hub £1,399.99
Pro Carbon Track Five-spoke with Shimano Dura-Ace track hub £1,199.99

This article was first published in the August 23 issue of Cycling Weekly. You can also read our magazines on Zinio and download from the Apple store.