Brits in the Tours: From Robinson to Cavendish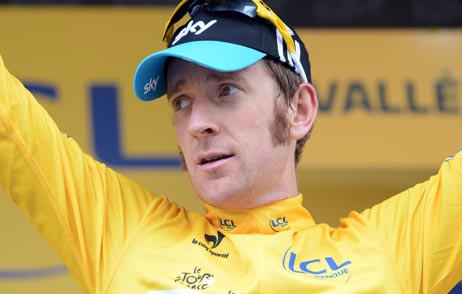 Bradley Wiggins, Tour de France 2012 R
Brian Robinson was the first back in 1958. In the last couple of years, Mark Cavendish has racked up win after win and Bradley Wiggins has become the first British rider to win the Tour de France.
Here are all of Britain's stage (and overall) wins in the three grand tours - Giro d'Italia, Tour de France and Vuelta a Espana.
We've included prologue time trials but not included team time trials.
THE 1950s
1958 Tour de France
BRIAN ROBINSON
Stage 7, Brest
Robinson became the first Brit to win a stage of the Tour de France. He actually crossed the line second behind his breakaway companion, the Italian Arrigo Padovan. But Padovan was relegated to second place for irregular sprinting.
1959 Tour de France
BRIAN ROBINSON
Stage 20, Chalon-sur-Saone
There was no doubt about this stage win, though, as Robinson - riding for a Luxembourg-Mixed Nationality team - attacked alone and won by more than 20 minutes to record an epic win.
THE 1960s
1964 Vuelta a Espana
BARRY HOBAN
Stage 12, Santander
1964 Vuelta a Espana
BARRY HOBAN
Stage 13, Aviles
1965 Tour de France
MICHAEL WRIGHT
Stage 20, Auxerre
1966 Giro d'Italia
VIN DENSON
Stage 9, Campobasso
1967 Vuelta a Espana
TOM SIMPSON
Stage 5, Madrid
1967 Vuelta a Espana
TOM SIMPSON
Stage 16, San Sebastian
1967 Tour de France
MICHAEL WRIGHT
Stage 7, Strasbourg
1967 Tour de France
BARRY HOBAN
Stage 14, Sète
Hoban's first stage win in the Tour came in unhappy circumstances. He was allowed to go forward from the peloton in the closing stages to cross the line first as a tribute to his Great Britain team-mate, Tom Simpson, who had died on Mont Ventoux the previous day.
1968 Vuelta a Espana
MICHAEL WRIGHT
Stage 2, Lerida
1968 Vuelta a Espana
MICHAEL WRIGHT
Stage 4, Salou
1968 Tour de France
BARRY HOBAN
Stage 19, Sallanches
Hoban later became known as a sprinter but he was much more than that. Here he secured a brilliant stage in the Alps. Attacking early he crossed the Col des Aravis, Col de la Colombiere and Col du Cordon in first place to finish 4-06 ahead of the runner-up Bitossi. It was a rare mountain win for a man who was to become one of the most feared sprinters in the Tour.
1969 Vuelta a Espana
MICHAEL WRIGHT
Stage 1c, Badajoz
1969 Vuelta a Espana
MICHAEL WRIGHT
Stage 13, Barbastro
1969 Tour de France
BARRY HOBAN
Stage 18, Bordeaux
1969 Tour de France
BARRY HOBAN
Stage 19, Brive
Later in his career Hoban was rarely allowed to get away in breaks because he was feared for his sprinting ability but in 1969 he did it two days in row, becoming the first Brit to win on consecutive days in the Tour. In Bordeaux he sneaked into a break of five on the run-in and won. The bunch didn't learn their lesson and there was a sense of inevitability among the four he joined on the escape in Brive.
THE 1970s
1973 Tour de France
MICHAEL WRIGHT
Stage 10, Aubagne
1973 Tour de France
BARRY HOBAN
Stage 11, Argelès-sur-Mer
1973 Tour de France
BARRY HOBAN
Stage 19, Versailles
1974 Tour de France
BARRY HOBAN
Stage 13, Montpellier
1975 Tour de France
BARRY HOBAN
Stage 8, Bordeaux
The 1980s
1983 Tour de France
ROBERT MILLAR
Stage 10, Bagnères de Luchon
This was Britain's first stage win since Hoban's last in 1975, when the little Glaswegian climber got away with a Colombian, Jiminez, worked him over on the climb and descended brilliantly to win.
1984 Tour de France
ROBERT MILLAR
Stage 11, Guzet Neige
The stage that made Millar a superstar was a 226-kilometre monster. After catching and passing Jean-Rene Bernaudeau he was left with Luis Herrera and Pedro Delgado again before attacking in the closing kilometres to win. "In the final stages I knew Herrera was coming up fast so I put in an extra burst just to make sure he didn't catch me." This win gave Millar the polka-dot jersey, which he was to keep all the way to Paris.
1986 Vuelta a Espana
ROBERT MILLAR
Stage 6, Lagos de Covadonga
In 1985 Millar became the first British rider to finish on the podium in one of the three grand tours when he took second place in that spring's Vuelta. It should have been first and would have been but for a Spanish combine on the penultimate day that left the Scot stranded, to Pedro Delgado's advantage. In 1986 Millar hit back at the Vuelta, winning the first mountain stage of the race, at Lagos de Covadonga, to take the yellow jersey, which he held for five days. He went on to finish second overall again, this time to Alvaro Pino, who proved the stronger rider in the time trials.
1987 Giro d'Italia
ROBERT MILLAR
Stage 21, Pila
The Scottish climber became the first Brit to win a stage in each of the grand tours when he won at Pila to clinch second place overall and the green king of the mountains jersey. He was one of four Panasonic riders in the top ten overall but was 3-40 down on winner Stephen Roche. Millar was accused of working for Roche when the Irish rider enraged his team-mate Roberto Visentini (the defending champion) by taking the pink jersey.
1988 Vuelta a Espana
SEAN YATES
Stage 12, Jaca
Yates, riding for Fagor, clipped off the front with about seven kilometres to go. Another British rider, Deno Davie of the Carrera team, went with him but Yates beat him easily in the sprint. The Fagor team was having a torrid year. It's leader, the world champion Stephen Roche, was plagued with injury and the management and sponsor were anxious and disorganised. Yates' victory came in spite of the sponsor, not because of it.
1988 Vuelta a Espana
MALCOLM ELLIOTT
Stage 17, Toledo
A few days later, Yates' team-mate Elliott won in Toledo. There was a drag up to the finish and the Fagor team worked hard to get Elliott into position. About 800 metres from the line it levelled out and Elliott won it easily.
1988 Tour de France
SEAN YATES
Stage 6, Wasquehal
As one of the early starters Yates, riding for Fagor, benefited from a healthy tailwind and set the quickest time. When the big names started the wind had dropped. Yates was characteristically cool and under-stated as he saw them come in, one by one, in slower times. In the end he won by 14 seconds from 1986 Giro winner Roberto Visentini of Italy.
1989 Tour de France
ROBERT MILLAR
Stage 10, Superbagnères
Millar loved the Pyrenees - all three of his Tour stage wins came here - and this was the best of the lot because of the two riders he was with and the gap they opened up over the rest. Pedro Delgado - Millar's nemesis - had lost almost three minutes by missing his start time at the prologue, so as soon as the race reached the mountains he set about recovering as much as he could. That meant that when Millar found himself with the Spaniard, and another favourite Charly Mottet, he knew they'd be chased. Millar crossed all three cols in first place but on the final climb to Superbagneres they took turns attacking each other. Late on Delgado looked to have it but Millar fought back and then went past him. The trio had put more than three minutes into the rest.
1989 Vuelta a Espana
MALCOLM ELLIOTT
Stage 3b, Orense
In 1989 Elliott was engaged in a fierce battle in the sprints with Dutchman Mathieu Hermans. Elliott, now riding for the Spanish Teka team, won on an uphill finish in Orense.
1989 Vuelta a Espana
MALCOLM ELLIOTT
Stage 11, Lleida
At Lleida, Elliott beat Eddy Planckaert and, with a few stages remaining was in the driving seat to win the blue jersey as winner of the points competition.
THE 1990s
1994 Tour de France
CHRIS BOARDMAN
Prologue TT, Lille
On his Tour de France debut, Boardman broke the record for the fastest average speed in a prologue - 55.152kph. Technically the ride was as close to perfect as it's possible to get.
1995 Tour de France
MAX SCIANDRI
Stage 11, Saint Etienne
Technically, Sciandri was still an Italian when he rode the 1995 Tour but he'd already stated his intention to apply for a British racing licence. (The Italians can keep his three Giro stages, though!) With the 1996 Olympic Games in Atlanta on the horizon, and professional riders allowed to compete for the first time, Sciandri knew his chances of getting in the Italian squad were limited. So he drew on his British roots (he was born in Derby) and applied for a British licence. In Atlanta he won a bronze medal in the road race. In St Etienne, during the 1995 Tour, he got away with the Colombian climber Hernan Buenahora. The pair contested the sprint, which Sciandri clinched.
1997 Tour de France
CHRIS BOARDMAN
Prologue TT, Rouen
After the painful crash in the rain at St Brieuc in 1995 and a narrow defeat at the hands of Alex Zulle in s'Hertogenbosch, Holland, on the opening day of the 1996 Tour, Boardman was back on top in Rouen. He beat Jan Ullrich by two seconds.
1998 Tour de France
CHRIS BOARDMAN
Prologue TT, Dublin
By his own admission, this was the most surprising of his three Tour prologue wins. Going into the race he felt he did not have the required form to win. In front of a huge Dublin crowd who supported Boardman as if one of their own, he blasted round the course and ended up four seconds quicker than his nearest rival, Abraham Olano. Boardman's Tour ended in the back of an ambulance again, though, when he crashed on the second road stage before the race even returned to France.
THE 2000s
2000 Tour de France
DAVID MILLAR
Stage 1 TT, Futuroscope
Another British Tour debutant set the race alight. Millar, a relatively early starter, set the best time of 19-03 and then sat waiting to see the rest of the field could beat it. They couldn't - not even Lance Armstrong. Millar held the yellow jersey until the following Tuesday's team time trial.
2001 Vuelta a Espana
DAVID MILLAR
Stage 1 TT, Salamanca
The 2001 Tour had not been a happy experience for Millar and he regrouped and headed to the Vuelta feeling the pressure. The opening stage was a 12-kilometre time trial and the Cofidis rider - complete with ludicrous Oakley Over-The-Top glasses, narrowly beat the Colombian, Santiago Botero, by a single second.
2001 Vuelta a Espana
DAVID MILLAR
Stage 6, Torrelavega
On stage four, Millar lost the yellow jersey to Botero after a crash in the closing kilometres, then the pair of them fell right down the overall classification on stage five, a mountain stage to Lagos de Covadonga. It meant that on stage six they were free to go hunting again. Millar got in a break of seven with 25 kilometres to go, then attacked over the top of a third-category climb and took Botero with him. It was a strange finish, on a pathway around a sports stadium but Millar just about managed to win a very long, compelling sprint ahead of the Kelme rider.
2002 Tour de France
DAVID MILLAR
Stage 13, Beziers
Millar was having another challenging Tour but after a bad time in the Pyrenees, recovered to get into a powerful five-man break than included David Etxebarria, Laurent Brochard, Michael Boogerd and David Latasa. Millar waited until the streets of Beziers and won the sprint.
2003 Tour de France
DAVID MILLAR
Stage 19 TT, Nantes
This was the rainy day that Lance Armstrong and Jan Ullrich went head to head to decide the Tour. That morning the American led the German by 1-05 and it was feasible, even if it was a long shot, that the lead could change hands. In the event Ullrich had a disaster, Armstrong, hearing the news of his rival's crash, eased off, and Millar came through to win by nine seconds from Tyler Hamilton. Millar's average speed of 54.361kph over 46 kilometres is the second-fastest time trial in Tour history. The quickest was Greg LeMond's on a 24.5km, slightly downhill course, from Versailles to Paris. It makes Millar's ride an astonishing one.
2003 Vuelta a Espana
DAVID MILLAR
Stage 17, Cordoba
Millar attacked on the final hill, taking Juan Miguel Mercado and Alberto Martinez of Spain with him. Over the top and on the descent to the line, Millar got away by himself and soloed to victory.
2006 Vuelta a Espana
DAVID MILLAR
Stage 14 TT, Cuenca
Back in action after a two-year ban for admitting to using the banned drug EPO, Millar chose the hottest possible environment for his competitive return - the Tour de France. He got through the race in decent shape and then headed to the Vuelta, where he won the time trial at Cuenca and said: "I want everyone to understand I am doing this on nothing, on bread and water. I won and I am 100 per cent clean."
2008 Giro d'Italia
MARK CAVENDISH
Stage 4, Catanzaro-Lungomare
The Isle of Man sprinter powered to his first grand tour stage win, beating Robert Forster and Daniele Bennati to the line.
MARK CAVENDISH
Stage 13, Cittadella
Having been pipped by the width of a wheel by Bennati on stage 12, Cavendish made absolutely certain with a convincing victory over the Italian.
2008 Tour de France
MARK CAVENDISH
Stage 5, Cholet-Châteauroux
After a torrid first Tour in 2007, when crashes and bad luck marred the Manx sprinter's chances of a stage win, it all came good in 2008. The whole of Team Columbia catapulted Cav to the front of the bunch and no one could match his blistering pace to the line.
MARK CAVENDISH
Stage 8, Figeac-Toulouse
Cavendish's turn of speed burst him out the front of the bunch to take his second stage of the '08 Tour in rain-soaked conditions. Such was Columbia's dominance in the stage, Cavendish's team-mate Gerald Ciolek took second.
MARK CAVENDISH
Stage 11, Lavalanet-Narbonne
Another remarkable sprint from the fastest man in the world. It was a messy sprint into Narbonne, with Team Columbia gaining then losing control, then coming back to the fore. When Cavendish was delivered into position, though, there was absolutely no doubt. Another convincing victory.
MARK CAVENDISH
Stage 12, Narbonne-Nimes
Cavendish continued his sensational Tour with a fourth stage win - and second in a row - in Nimes.
2009 Giro d'Italia
MARK CAVENDISH
Stage nine, Milan
The peloton protested that the Milan criterium circuit was unsafe, with pedestrians able to cross the road in front of the riders and parked cars on the course. So they staged a go-slow. At the finish, all but a group of 25 or so sat up and coasted home. That left Cavendish to hold off Allan Davis and Tyler Farrar.
MARK CAVENDISH
Stage 11, Turin-Arenzano
Having led the race after Columbia won the team time trial, Cavendish missed the opportunity to win in pink on the first Sunday when Alessandro Petacchi got the better of him. This time there was no mistaking Cavendish's superiority. Farrar was second, Petacchi third.
MARK CAVENDISH
Stage 13, Lido di Camaiore-Florence
Victory in his second home, Tuscany, was sweet, as was another win over Petacchi.
2009 Tour de France
MARK CAVENDISH
Stage 2, Monaco-Brignoles
Cavendish got his Tour campaign off to a flyer, winning the first bunch sprint of the race after a text-book perfect set-up by his Columbia team.
MARK CAVENDISH
Stage 3, Marseille-La Grande Motte
This was the day that the peloton split when put under pressure in the wind by Columbia, who were angry that no other teams had helped them chase the break the previous day. The whole Columbia team made the 27-strong split. Cavendish has never had such a straightforward sprint. Hardly any of the other sprinters made it. For the first time, Cavendish won while wearing the green jersey.
MARK CAVENDISH
Stage 10, Limoges-Issoudun
Another bizarre day. The peloton staged an unofficial go-slow in protest at being deprived their race radios as part of an ASO experiment to see if racing is more exciting without them. The bunch idled along, then Cavendish won a fierce sprint.
MARK CAVENDISH
Stage 11, Vatan-Saint Fargeau
Cavendish matched his 2008 Tour tally of four wins in Saint Fargeau with a masterfully-timed uphill sprint that saw him win the stage, match Barry Hoban's British career record of eight Tour stage wins and snatch back the green jersey from Thor Hushovd.
MARK CAVENDISH
Stage 19, Bourgoin-Jallieu-Aubenas
Cavendish confirmed his status as the fastest man in the bunch by winning on the uphill finish by a bike length over points leader Thor Hushovd. It was confirmation of Cavendish's growing versatility, as he had to get over a second-category climb very near the finish, something he handled comfortably.

MARK CAVENDISH
Stage 21, Montereau-Fault-Yonne - Paris
Cavendish wins by a country mile, with his Columbia team-mate Mark Renshaw in second place, to clinch his sixth win of the 2009 Tour.
2009 Vuelta a Espana
DAVID MILLAR
Stage 20, Toledo - Toledo ITT
Having placed second in the stage 7 time trial around Valencia, Millar went one better in the penultimate stage of the 2009 Vuelta, book-ending a decade with grand tour wins against the clock.
THE 2010s
2010 Giro d'Italia
BRADLEY WIGGINS
Stage 1, Amsterdam ITT
Bradley Wiggins clinched his biggest win on the road on Team Sky's first day of Grand Tour action. It was close, on a day when the drizzle made the city centre course in Amsterdam trickier than it would have been in the dry. Banishing all thoughts of the 2009 Giro time trial in Rome, when he was beaten by a single second, Wiggins gave it everything and ended the day with the pink jersey. After Cavendish, he's the second British rider to wear it.

2010 Tour de France
MARK CAVENDISH
Stage 5, Montargis
After a difficult start to the Tour, Cavendish finally got his first stage win of the race with a decisive sprint following a superb lead-out from his team-mate Mark Renshaw. The previous day, Cavendish had been well beaten and flung his bike down when he got back to the team bus. Then his helmet came flying out of the bus in anger. He later said he'd been unable to get his chain onto the 11 sprocket. But in Montargis, everything went to plan and Cavendish was back on top.

MARK CAVENDISH
Stage 6, Gueugnon
Cavendish makes it two in a row. HTC-Columbia played their tactics perfectly. Instead of the whole team taking him all the way to the line, they adjusted their approach. Mark Renshaw was the star of the show, with a perfectly-judged surge that took Cavendish past two Garmin riders. Then Cavendish took over and went for the line with the old speed.
MARK CAVENDISH
Stage 11, Bourg-lès-Valence
Cavendish had to go for a long one in a chaotic, ill-disciplined sprint that saw Julian Dean try to close the door on Cavendish's lead-out man, Mark Renshaw. Renshaw hit back with three head-butts at Dean to stop him changing his line. Renshaw then shut the door on Farrar. None of this would have changed the result because Cavendish went early and won decisively. It was his 13th Tour de France stage - meaning he overtook Erik Zabel and Mario Cipollini in the all-time list of stage winners.
MARK CAVENDISH
Stage 18, Bordeaux
Twenty five years after Hoban won his eighth and final Tour stage on the velodrome in Bordeaux, Cavendish won in the city. With Renshaw disqualified from the race, Cavendish had to choose his wheels carefully in the closing kilometres and he did so brilliantly, jumping across when Alessandro Petacchi jumped. It was his fourth stage win of the Tour, equalling his tally in 2008.
MARK CAVENDISH
Stage 20, Paris
Cavendish became the first rider to win on the Champs-Elysèes in two successive years. The acceleration he produced to get past Thor Hushovd and Petacchi was breathtaking, underlining his reputation not just as the fastest rider in the world but the greatest bunch sprinter for a generation. Five stage wins in the 2010 Tour brought his tally to 15 - equalling Freddy Maertens in the all-time list.
2010 Vuelta a Espana
MARK CAVENDISH
Stage 12, Lleida
Cavendish followed Robert Millar as only the second British rider to win stages in all three grand tours when he won the bunch sprint into Lleida. By coincidence, Lleida had only previously hosted one other stage finish in the Vuelta - in 1989 when the winner was Malcolm Elliott.
MARK CAVENDISH
Stage 13, Burgos
Another win as Cavendish took back-to-back victories to stretch his lead in the green jersey to boot. The margin of victory was decisive again and he even had time to bunny-hop over the line.
MARK CAVENDISH
Stage 18, Salamanca
Another victory, although he was pushed quite hard by Saxo Bank's JJ Haedo, put Cavendish another step closer to victory in the green jersey competition.
2011 Giro d'Italia
MARK CAVENDISH
Stage 10, Teramo
Having lost out to Petacchi on the first sprint stage of the race, Cavendish made no mistake this time, beating Francisco Ventoso (who had accused the Manx sprinter of hanging onto a team car on the previous day's stage to Mount Etna) into second place.
MARK CAVENDISH
Stage 12, Ravenna
HTC-Highroad were on the front of the bunch for almost the entire stage and set up the sprint superbly. They had four men at the front as they entered the technical finale in Ravenna. Good job too, because just behind them someone overcooked a left-hand corner and only 15 or so made it through to contest the finish. Sky's David Appollonio launched a spirited late run at the line but Cavendish had enough to clinch the seventh Giro stage of his career.
DAVID MILLAR
Stage 21, Milan ITT
After a spell in the maglia rosa earlier in the race - where he became the first British rider to wear the leader's jersey in all three Grand Tours - Millar finished on top in the 2011 Giro's final time trial. It was Millar's first stage win in the Giro.
2011 Tour de France
MARK CAVENDISH
Stage 5, Cap Fréhel
Having been boxed out of the intermediate sprint half-way through the stage, Cavendish made amends at the finish. The Manxman came from the back of the lead group on the wheel of Geraint Thomas to out-pace his rivals, including stage one winner Philippe Gilbert and overall leader Thor Hushovd.
MARK CAVENDISH
Stage 7, Chateauroux
Cavendish took his second stage win of the 2011 Tour in the same place he took his first ever Tour win in 2008 - Chateauroux. The Manxman benefited from another perfect lead-out from the HTC-Highroad train to take the win on a day when British overall hope Bradley Wiggins crashed out of the race with a suspected collarbone fracture.
MARK CAVENDISH
Stage 11, Lavaur
After coming second to old HTC team-mate Andre Greipel the previous day, Cavendish was out to show who's boss in the bunch sprints. Another textbook lead-out from his team put Cavendish up front when it mattered, and he easily out-paced Greipel to take the win - and put himself in the green jersey for the first time since 2009.
MARK CAVENDISH
Stage 15, Montpellier
Cavendish solidified his lead in the points classification with his fourth stage win of the 2011 Tour in Montpellier. Tyler Farrar and Alessandro Petacchi ran him close to the line, but it didn't matter - Cavendish already had his arms in the air and moved up to seventh in the all-time list of Tour stage winners.
MARK CAVENDISH
Stage 21, Champs Élysées, Paris
Cavendish became the first British rider to win the points classification of the Tour de France, and the first rider in history to take three consecutive wins on the Champs Élysées. Cavendish's 20th Tour stage win was like so many before it - a perfect lead-out from his HTC team launched the Manxman across the line well clear of his rivals.
2011 Vuelta a Espana
CHRIS FROOME
Stage 17, Peña Cabarga
Kenyan-born Froome went into the Vuelta's 17th stage just 22 seconds behind race leader Juan Jose Cobo (Geox-TMC). Froome launched a final kilometre attack on Cobo up the steep ramp to Peña Cabarga in an attempt to move into the race lead. Cobo was quickly distanced, but with some level-headed riding managed to regain contact with Froome. Just as it looked as though Cobo was going to take the stage win, Froome mustered up the energy to pass the Spaniard and win his first grand tour stage. He went on to finish second overall.
2012 Giro d'Italia
MARK CAVENDISH
Stage 2, Herning (Denmark)
Cavendish opened his 2012 Grand Tour account at the earliest opportunity, winning the first road stage of the Giro in Denmark. He won it in classic Cavendish style, easily out-pacing former HTC team-mate Matt Goss and American rival Tyler Farrar from a long sprint to win by over a bike length.
MARK CAVENDISH
Stage 5, Fano
Badly bruised and sporting road rash down his left side from a crash on stage three, Cavendish wanted to make amends for missing out on that day's sprint finale - and to make up for a disappointing ninth place for Sky in the previous day's team time trial. With girlfriend Peta Todd and newborn daughter Delilah waiting on the line, Cavendish gave his family cause to cheer after a near-perfect lead-out from Sky, beating Goss to take his second win of the 2012 Giro.
MARK CAVENDISH
Stage 13, Cervere
The short 121km mid-race stage ended with a fast, straight run-in to Cervere. Sky were leading out Cavendish when the Orcia-GreenEdge train passed them. Cavendish jumped onto Matt Goss's wheel, but then got boxed in as the riders wobbled to the left. A gap opened, Cavendish saw the opportunity and blasted through to take his third 2012 Giro stage.
2012 Tour de France
MARK CAVENDISH
Stage 2, Tournai
After losing weight to contest the hilly Olympic Games road race later in July and the lack of a comprehensive lead-out train at Sky there was a question mark over whether the Manxman had retained his killer sprint against the most on-form riders in the world - not least stage one winner Peter Sagan. The answer came on stage two, where Cavendish picked his way through his rivals in the finale to take the win with apparent ease.
CHRIS FROOME
Stage 7, La Planche des Belles Filles
The Kenyan-born British rider took his first Tour stage after Sky collectively shattered the peloton up the steep final ascent to La Planche des Belles Filles after a crash-marred opening week. Defending champ Cadel Evans (BMC) launched a late attack, Froome countered leaving team-mate Bradley Wiggins to catch up with Evans. The result was a win for Froome and the yellow jersey - and third on the stage - for Wiggins. Froome also temporarily took the lead in the King of the Mountains classification, before finishing the race second overall.
BRADLEY WIGGINS
Stage 9, Besançon
Wiggins' team-mate Chris Froome looked set to win the first long individual time trial of the 2012 Tour, posting the fastest times on the intermediate checkpoints - until Wiggins came through, not only smashing his team-mate's time but that of time trial World Champion Fabian Cancellara. Wiggins strengthened his position at the head of the GC, distancing Cadel Evans by nearly two minutes.
DAVID MILLAR
Stage 13, Annonay Davézieux
Millar worked his way into the day's escape group on the longest stage of the 2012 race. As the bunch took it easy after the day's opening pair of category one climbs, the break was allowed to build up a 12-minute advantage. Millar followed a late attack by Jean-Christophe Peraud up the rise to the line, and easily out-paced the Frenchman in the two-up sprint to take his first Tour stage win since 2003.
MARK CAVENDISH
Stage 18, Brive-la-Gaillarde
Having taken a stage earlier in the race and then switching to domestique duties for Bradley Wiggins, Cavendish was on vintage form on the 18th stage of the 2012 Tour. Led out by Wiggins in the yellow jersey and Edvald Boasson Hagen in the final 2km, from 300 metres Cavendish then single-handedly caught the escape group and cruised to the line to take his 22nd Tour stage win.
BRADLEY WIGGINS
Stage 19, Chartres
Wearing the yellow jersey, Bradley Wiggins stamped his authority on the 2012 Tour by taking an emphatic win in the final 53.5km time trial. British team-mate Chris Froome finished second fastest, one minute and 16 seconds adrift of Wiggins setting up a British 1-2 on the final podium in Paris.
MARK CAVENDISH
Stage 20, Paris, Champs Élysées
Cavendish topped off Sky's incredible 2012 Tour with a record-setting fourth consecutive win in the race's final stage in Paris. Having enjoyed another lead-out from Wiggins in the yellow jersey, Edvald Boasson Hagen delivered Cav to a long sprint, where the Manxman beat green jersey winner Peter Sagan to the line.
BRADLEY WIGGINS - OVERALL
Bradley Wiggins became the first Briton to win the Tour de France after spending the first week in second spot behind prologue winner Fabian Cancellara, taking the yellow jersey in the race's first mountain stage and then extending his lead in the race's two time trials, Alps and Pyrenees. British team-mate Chris Froome placed second overall, and the pair were unstoppable in both the mountains and against the clock.
2012 Vuelta a Espana
STEVE CUMMINGS
Stage 13, Ferrol
Cummings launched a solo attack from a small escape group with four kilometres to go - perfect distance for the former British team pursuiter. He kept away from Juan Antonio Flecha and Cameron Meyer as the duo chased furiously, but Cummings opened up the gap further to take his first Grand Tour stage win, and the biggest victory of his career.
2013 Giro d'Italia
MARK CAVENDISH
Stage 1, Naples
After a couple of misfires during Omega Pharma's Classics campaign, Cavendish was back on form when it counted - the first Grand Tour stage of the season. After a crash held up the majority of his team-mates, and lead-out man Gert Steegmans fumbled with his gears, Cavendish was left to fight out the sprint for himself, pipping Elia Viviani on the line to take the victory.
MARK CAVENDISH
Stage 6, Margherita di Savoia
The Omega Pharma-QuickStep train nailed the finish of stage six of the 2013 Giro to perfection, delivering the Manxman to a comfortable win - his second stage of the race.
ALEX DOWSETT
Stage 8, Saltara
Dowsett started his first Grand Tour with the Movistar team with hopes of helping to claim the stage two team time trial. As it turned out, they were pipped to the victory by Sky on that occasion. However, Dowsett would have his revenge on the long 54.8km test against the clock on a twisting, techincal course to beat Bradley Wiggins by 10 seconds and take his biggest win to date.
MARK CAVENDISH
Stage 12, Treviso
Cavendish took his third win of the 2013 Giro after a stage run in an appalling rainstorm. The win marked Cavendish's 100th victory since turning professional in 2007.
MARK CAVENDISH
Stage 13, Cherasco
A lengthy 254km stage with several testing climbs in the finale looked, on paper, not to suit Cavendish but the Manxman rode up near the front of the bunch on the climbs and had enough energy to take another emphatic victory.
Related links
The all-time list of British pro winners