Tour de France 2009: Stage 9 preview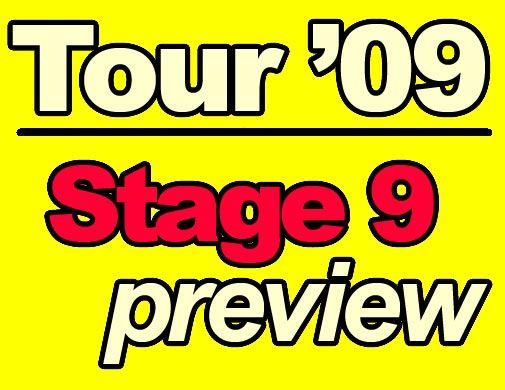 Tour de France 2009, stage 9 preview logo
When Sunday July 12
Where Saint-Girons – Tarbes
How long 160.5km

IMPACT ON CLASSIFICATIONS
Yellow Jersey: 2/5
Green Jersey: 1/5
Polka-Dot Jersey: 3/5

STAGE DESCRIPTION
Although this stage includes two Tour legends, the Aspin and the Tourmalet, the favourites will ride tempo and allow a breakaway to get away in the preceding valley. It's still seventy downhill kilometres from the 2,115m summit of the Tourmalet to the finish in Tarbes, so any splits made on the climbs will come back together. The breakaway could have to work harder than expected to keep the bunch at bay.

STAGE FACTS
This is one of seven high mountain stages in this year's Tour – two more than the 2008 race.
Tour stages have finished three times before in Tarbes: the victors were Jean Aerts (1933), Tour winner Antonin Magne (1934) and Serafino Biagoni (1951).
The Tourmalet was first used in the 1910 race, the year that Tour founder Henri Desgrange introduced mountains to the route. Octave Lapize was first over the top.
A memorial to Eugene Christophe is in Ste-Marie-de-Campan, the village at the foot of the Tourmalet. His story has passed into Tour folklore. In the 1913 race, Christophe's forks broke on the descent of the climb and he was forced to shoulder it and run 10 kilometres to the nearest village, Ste-Marie-de-Campan. He then went to a blacksmith's and fashioned a new pair with hammer and tongs, taking a three-minute fine for receiving help from a small boy. Despite that major setback, he rode to the stage finish in Luchon and still went on to finish seventh overall that year.