Tour de France 2009: Stage 11 preview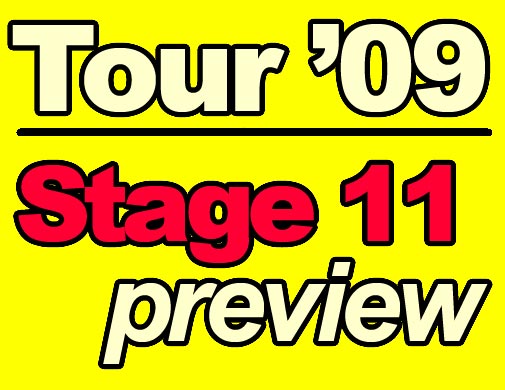 Tour de France 2009, stage 11 preview logo
When Wednesday July 15
Where Vatan – Saint-Fargeau
How long 192km

IMPACT ON CLASSIFICATIONS
Yellow Jersey 1/5
Green Jersey 5/5
Polka Dot Jersey 1/5

STAGE DESCRIPTION
More flat fare for the fast men to get stuck into. As the race heads into the Nièvre, there's not much uphill to get in the way of a rampaging bunch. Expect the early break to be pegged back on the run-in, as Mark Cavendish and company have a big bunch gallop a stone's throw away from the beautiful chateau at Saint-Fargeau.

STAGE FACTS
Number of Tour winners to have the yellow jersey by halfway in the past ten years: four. It's been Lance Armstrong each time: 1999, 2000, 2003 and 2005.
With a population of 1,800, the town of Saint-Fargeau is the smallest ville étape on the route this year. Neither it nor Vatan have been used in the Tour before.
Louis XIV's exiled cousin Anne Marie Louise d'Orleans lived in the chateau just by the finish. She took the title of duchesse de Saint-Fargeau, helping to build the chateau to its current magnificent state.