Tour de France 2009: Stage 18 preview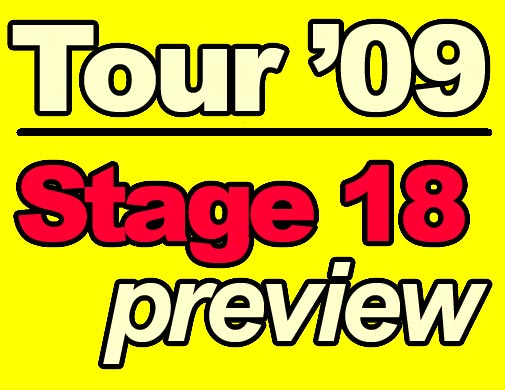 Tour de France 2009, stage 18 preview logo
When Thursday July 23
Where Annecy – Annecy
How long 40.5km ITT

IMPACT ON CLASSIFICATIONS
Yellow Jersey 4/5
Green Jersey 1/5
Polka-Dot Jersey 1/5

STAGE DESCRIPTION
After a couple of tough days in the Alps, the riders face a medium-length time-trial around picturesque Lac Annecy. Though primarily flat, the four-kilometre Côte de Bluffy, coming 12 kilometres from the finish, will disrupt the rhythm. Big-gear specialists will be looking to take as much time as possible, while the climbers will have to limit their losses. Evidently, the organisers are hoping that two or three contenders will be closely separated after this test, leaving the race on a knife-edge for the Ventoux.

STAGE FACTS
This year's Tour has 55.5 kilometres of individual time-trial - the lowest amount since the 1967 Tour, which had 52.3 kilometres.
Of the final time-trials in the seven Tours he won overall, Lance Armstrong claimed six of them, only missing out to David Millar in 2003 in a rainy Nantes.
Two stages have finished in Annecy in the past: Albert van Schendel won in 1939, while Rolf Graf took the stage in 1959.