Tour de France 2009: Stage 20 preview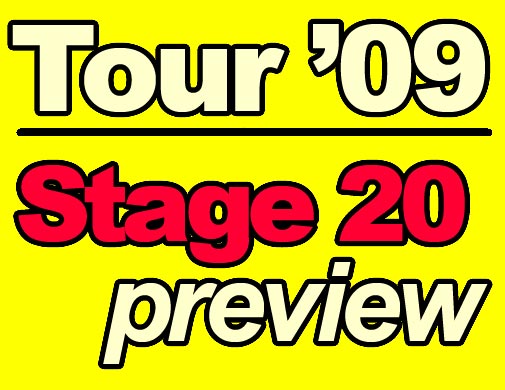 Tour de France 2009, stage 20 preview logo
When Saturday July 25
Where Montélimar – Mont Ventoux
How long 167km

IMPACT ON THE CLASSIFICATIONS
Yellow Jersey 5/5
Green Jersey 1/5
Polka-Dot Jersey 3/5

STAGE DESCRIPTION
It's Judgement Day for the Tour: after four categorised lumps, it's 21.8 unreleting kilometres up one of the Tour's most legendary climbs: Mont Ventoux. After Le Chalet Reynard, there are no signs of civilisation barring snow poles: it's five kilometres of scree and the climb's famous "moonscape". As Raphaël Géminiani warned Ferdi Kübler before the latter's attack and subsequent foamy-mouthed capitulation in the 1955 Tour, it "isn't a mountain like any other". It could be that the Tour is decided here, à-la-Sastre, with an all-out attack early on. While overall contenders will be giving it their all, a miscalculated effort could be fatal - anyone out of energy or bonking will be found out on the slopes "Giant of Provence". If it is hot, the stage will be even more difficult and, potentially, more epic.

STAGE FACTS
The Hors-category Mont Ventoux is 21.1 kilometres long with an average gradient of 7.6%. However, the climb's last 16km average 8.9%.
The Ventoux was famously the mountain on which Tom Simpson collapsed and died in the 1967 Tour, due to a combination of exhaustion, drugs and a scorching Provencial day. There is a memorial for Simpson both in the town square in Bédoin and, more famously, two kilometres from the climb's summit. Lesser known is Jean Malléjac's collapse and near-death in the 1955 Tour.
The race is more accustomed to having a time-trial the day before Paris; this is the first time a mountain finish has ever been used as the race's penultimate stage.
The Tour has been up the Ventoux thirteen times, and finished there seven times.
The stage winners atop Ventoux are a select bunch of Tour legends: Charly Gaul (1958), Raymond Poulidor (1965), Eddy Merckx (1970), Bernard Thévenet (1972), Jean-François Bernard (1987), Marco Pantani (2000) and Richard Virenque (2002).
Iban Mayo holds the record for the fastest climb of the Ventoux, set in the 2004 Dauphiné. He clocked 55m 51s.