Tour de France 2009: Stage 21 preview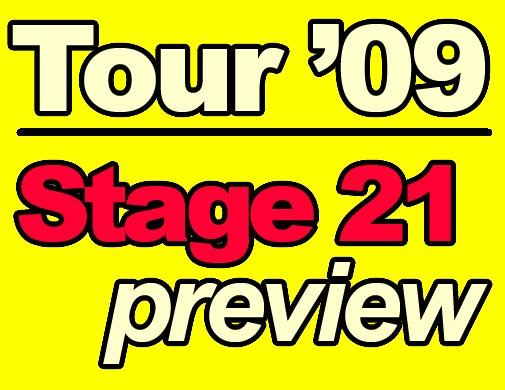 Tour de France 2009, stage 21 preview logo
When Sunday July 26
Where Montereau-Fault-Yonne – Paris Champs-Élysées
How far 164km

IMPACT ON THE CLASSIFICATIONS
Yellow Jersey 1/5
Green Jersey 5/5
Polka-Dot Jersey 0/5

STAGE DESCRIPTION
In the space of just 20 hours, it's from sprinter's hell on the Ventoux to the sprinter's world championship – from Abdoujaparov to Zabel, many of the sport's finest fast men have won on the cobbles of the Champs Elysées. The first half of the ride will be a 30km/h processional spin, as the riders drink champagne, share jokes and mess around for the cameras. However, once they hit Paris, it becomes a super-fast circuit race around the French capital, taking in landmarks such as the Arc de Triomphe and Place de Concorde, as sprinters' teams wind things up for their fast men and a last shot of glory on the Tour's traditional and spectacular endpoint.

STAGE FACTS

This is the only stage in the 2009 route without a single categorised intermediate climb or sprint.
Paris is the most northerly point in this year's Tour route, the first time this has happened since 2000.
The Champs-Elysées was first used in 1975; since then, it has become de rigeur.
Number of times a sprint finish has been avoided on the Champs-Elysees: six – Alexandre Vinokourov (2005), Eddy Seigneur (1994), Jeff Pierce (1987), Bernard Hinault (1979), Gerrie Knetemann (1978), Alain Meslet (1977)
Number of times the yellow jersey has changed hands on the last day: three. Jean Robic (1947), Jan Janssen (1968) Greg Lemond (1989)
Number of times the green jersey has changed leadership on the last day since the Champs Elysées was introduced: three. Jean-Paul van Poppel clinched it in Paris in 1987, Erik Zabel in 2001 and Baden Cooke in 2003.
The last green-jersey winner to win the stage on the Champs-Elysées in the same year was Robbie McEwen in 2002.
The closest ever Tour de France finish was in 1989, when winner Greg Lemond and runner-up Laurent Fignon were separated by just eight seconds.