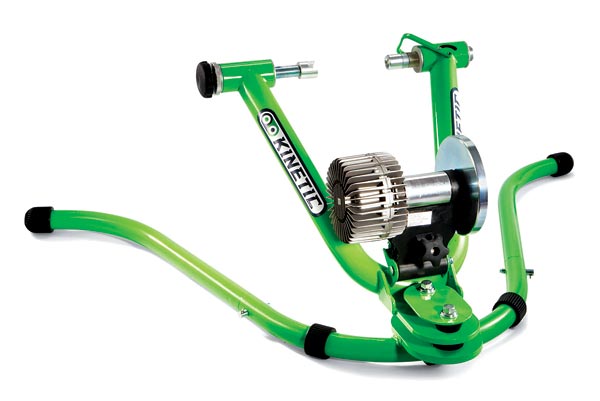 Kinetic by Kurt's Rock and Roll has a unique design that lets the bike move from side to side.
It's best described as somewhere between rollers and a turbo trainer. You can't fall off it, like rollers, yet you can really feel the need to pedal smoothly and balance, by engaging core muscles during a workout, much more than a static trainer.
Being able to ride out of the saddle, realistically, and in your natural rhythm, simulating sprints and climbing efforts in a way previously impossible, is really good for specific indoor workouts.
That said, sometimes it's a hindrance and it would really benefit from a bar-mounted switch to lock out the motion.
The fluid resistance unit is one of the best I've tested for similarity to road riding, with a good, hefty flywheel that delivers smooth and balanced resistance, ramping up nicely in line with your pedalling inputs, and coping well with out of the saddle efforts.
Verdict
Tyre slip on the roller was sometimes an issue, though not a deal breaker. It's got a huge footprint, so you'll need plenty of space, and it's not very portable or easy to store, plus it's quite pricey, but if none of those things bother you, it's ace.
Full Specification
Supplier:
www.chocolatedistribution.com