South Shropshire with David Harmon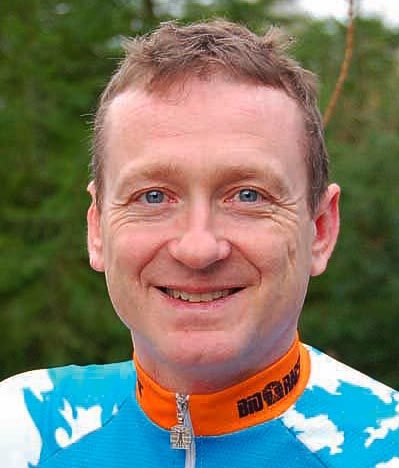 DISTANCE 28 miles (45km)
MAIN CLIMB Brown Clee Hill
TOTAL CLIMB 750 metres
ACHTUNG! Some narrow roads with high hedges. Take care on blind corners.

David Harmon says he got into cycling at Sheffield University when he: "Blew half my grant on a mountain bike."

He says that later on: "I got into commentating by accident when I was working for a company making motorsports programmes, and ended up working live for 17 hours of the Le Mans 24-hour race."

A few years after that, he got the chance to put the two together when Eurosport were looking for someone with the potential to fill the huge shoes of David Duffield. "I sent them my show reel and at the bottom of my CV they saw that I'd raced in mountain biking, and it was that that got me the job," Harmon says.

It is clear when you listen to him at work that Harmon enjoys his job. His professional delivery combines with enthusiasm, revealing real respect for the men he talks about. But Harmon loves riding a bike himself too. "I must be the only cyclist who looks forward to winter, because it gives me the chance to ride in the Shropshire countryside," he says.

Geo Tour
The ride starts in the village of Ditton Priors, a place built of stone quarried from nearby Brown Clee Hill. The stone is called dhustone locally, but geologists know it as dolerite. It's hard, black, polishes easily and was used for surfacing roads as well for building. Nowadays, though, the dolerite from Brown Clee is melted, spun into Rockwool and used for insulation.

The first climb begins almost as you leave the village and the road undulates into Weston and Corve Dale, then descends to Brockton before scaling Wenlock Edge. This is another familiar name in geology because 425 million years ago, when Shropshire was level with the Seychelles, this area was a coral reef. The shells of animals that lived on the reef make up the rock here today.

The views are stupendous and Harmon is enjoying himself. "I love riding here between jobs, but cycling helps at work too. My job looks glamorous, but it's not. My days are very structured. You get up, you work, you make phone calls, eat and then sleep. Then if it's the Tour de France you might have to squeeze 300 kilometres of driving on top of that too. I was getting in a bit of a rut, but working with Kelly changed that.

"He's never stopped living like a pro. He gets up, eats, rides two hours then works, and soon he got me doing the same. When I first worked with him I whinged about not having enough time. Then one day Sean turned to me and said: 'The trouble with you is you've got no willpower.' And when someone like him says that to you, you listen. So now I ride with him and it's done me good. I feel fitter and I feel better about myself.

"Commentating with Sean is also amazing. The way he can read a race is incredible. The only problem I find is that he says some of the most insightful things off air, but then I can't draw them out of him when we are on."

Of all the major races that Harmon commentates on which does he like the best? "I enjoy the Worlds. All my commentating colleagues are in the same place at once and we get the chance to chat. Plus it's quite relaxed, and you can talk to the pro team directeurs. But my favourite is the Tour of Flanders. It's an incredible race with incredible support."



Climbing the Edge
From the north-west side of Wenlock Edge the route undulates then climbs to another local landmark, Caer Caradoc, then descends into Ape Dale. A pause before a climb of Wenlock Edge gives me a chance to ask Harmon about his commentating style.

"David Duffield gave me a piece of advice. He said that the diehards will watch anyway and that I should imagine I'm commentating for a widow woman in Wigan. But I'd compare what I do to sitting in a pub and talking to my mates. I try not to overstep what I know, and I'm happy to say when I'm wrong. I won't let things go and hope nobody notices. Other than that I think the ability not to dry up is the important thing."

There must be days when that isn't easy. "They are rare but they happen. The worst was in the Vuelta when there was a 52.2-kilometre time trial running one way along a flat motorway across an arid, featureless plain. There is only so much you can say about riding styles or equipment."

Back into Corve Dale and Brown Clee Hill, the highest in Shropshire, comes into view. During the Second World War more planes crashed here than on any other hill in England; seven altogether, six of them allied and one a German Junkers 88. It's a slog, but the road turns off shortly before the top for a descent back into Ditton Priors.

"There, I call that my 'How much work do I have to do?' circuit," says Harmon as he freewheels to a halt at the end of the ride. "There's some flat, some really steep hills and some longer steady climbs where you can go into the big ring over the top if you are going well," he adds.


YOUR GUIDE: DAVID HARMON

Age 41, born in North London, lives in Shropshire with partner Jan and son Leon. Also has another son, Joseph, who lives in Bournemouth.
Holds a degree in archaeology and pre-history.
Very interested in motorsports, especially 1950s and '60s Le Mans cars.
Missed a bronze medal in a national uphill mountain bike championships during the early Nineties by six feet. Best personal racing memory is: "Lining up with the likes of Tim Gould, Steve Douce and Martin Earley. Them in racing gear and me still in combat trousers."
WHICH WAY?
Start in Ditton Priors and head north on an unclassified road. Turn left (TL) to Weston. TL on B4368 and take 1st turn right (TR) on unclassified to Brockton. Cross the B4378 on unclassified to Easthope. TR on B4371. TL on unclassified to Hughley, Church Preen, Enchmarsh, Willstone and Cardington.
TR on unclassified to Wall under Heywood. TR and 1st TL in Wall under Heywood onto unclassified to Rushbury. TL on B4368 and 1st TR on unclassified to Tugford. Then follow signposts to Ditton Priors.