Derbyshire and South Yorks with Kit Gilham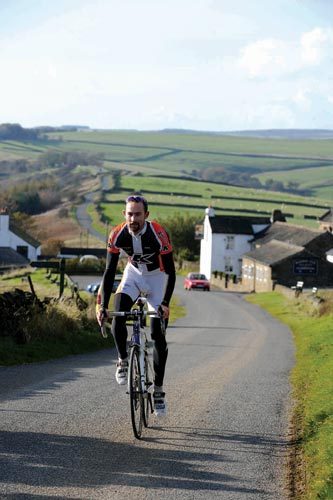 DISTANCE Distance 38 miles (61km)
MAIN CLIMB Strines, Bradwell, Froggatt
TOTAL CLIMB 1,434m
ACHTUNG! Leaves at this time of year. Junction from Strines on to A57. Junction from B6521 on to B6001.

I meet up with Kit Gilham on a beautiful October afternoon sitting on the dam wall at Damflask Reservoir, which is close to his home on the west side of Sheffield.

It's a Wednesday afternoon and as Gilham is currently studying full-time for a civil engineering degree at Sheffield University, today is a timetabled sports afternoon. "There's usually a good group of university lads that meet up every Wednesday to go out for a ride and normally I'd be out with them," he says as we set off round the reservoir.

"Kit is short for Christopher," Gilham explains. "It's perhaps one of the less common ways of shortening the name but it was in use back in Shakespeare's time." Gilham also stresses that he's not American, as some articles have suggested: "I was born and brought up in York. My mum is American so I'm half American but I've never lived over there. My mum's family are from Washington DC on the east coast."

We drop in to Low Bradfield at the top end of the reservoir and start the climb out of the valley up towards Bradfield Moors and on to the Strines road. "I use this route a couple of times a month. It's one of the many routes round here. It's such a nice area to ride in," enthuses Gilham as we take in the rugged moorland landscape that opens up after the climb past the Strines Inn.

We soon descend to Ladybower Reservoir and on through the back lanes through Thornhill and Aston before we start heading for the climb out of Bradwell village. It's clear to see how good a climber Gilham is on this typical Peak District gradient, one that was always used in the classic Tour of the Peaks circuit.

His climbing skills took him to success in Ireland this year: "Winning the Ras King of the Mountains jersey is the highlight of my career so far, although I was pleased with how I rode at Lincoln when I got fifth place."


High places
A left at the old feed point for the Tour of the Peak at Windmill's crossroads takes us up through the small village of Great Hucklow below the gliding club and up to Bretton. As the road crests the rise past the Barrel Inn the views across the Dark Peak (gritstone) to your left and the White Peak (limestone) to your right are superb.

"The views going up here towards Sir William Hill are some of the best, particularly on a clear day like today," Gilham observes. We drop in to the back of Eyam village, famed as the Plague Village back in the 17th century before dropping down to join the road back towards Froggatt village. Over the small humpback bridge in Froggatt, we take the less used option of the 20 per cent gradient out of the village and up on to the main Froggatt climb.

Here Gilham says, "Froggatt is good for doing interval work." His pedalling style is effortless up this favoured Peak District climb. The top of the climb offers fabulous views down the Hope valley and as we head over the moors back towards Sheffield, Higgor Tor and the Iron Age hill fort of Carl Wark can clearly be seen just beyond Fox House corner.

On the descent towards Sheffield we take a left towards Ringinglow village with its grade II listed 17th century octagon toll house known locally as the Roundhouse. Left here and then right to take the road over the Hallam moors offers more great views back across Sheffield.


Good company
It's then down Lodge Lane and up the sharp climb of the Rails Road up to Stannington. Malcolm Elliott lives near here and I ask Gilham whether he ever rides out with Elliott. "I do ride out with Malc but it's generally during the winter when we ride out with the local Rutland Club," he says.

All that remains is the steep descent towards Loxley and the short ride back to finish
at Damflask.

So what are Gilham's plans for 2009? "I'm not with Kinesis next season, I'm going to Sigma Sport to join up with Matt Stephens and Rob Sharman. I really enjoyed riding with Kinesis this season but the opportunity arose to ride with Matt and Rob at Sigma. We'll be doing the Premier Calendar. I've had a few top 10s this season and ridden reasonably strongly, so I'll be aiming for podium placings."


Your guide: Kit Gilham

Gilham is 29 and lives with wife Jo and five-month-old daughter Amelie
Born in York. Now lives in Sheffield
Studying for a civil engineering degree at the University of Sheffield
Career highlights: FBD Ras King of the Mountains winner 2008, fifth Lincoln Grand Prix 2008
Will join Sigma Sport team for 2009
Which way?
Start at Damflask Reservoir on B6077 road south of the reservoir to Low Bradfield. TR into village and bear left towards the Strines. TL on to Strines at A57 TR towards Ladybower reservoir. At lights TL on A6013 to TR on UC to Thornhill. TR in Thornhill to Aston to TL to jn with A625. TL to TR at lights on B6049. Continue to Windmill, TL and TL again towards Great Hucklow. TR to Eyam at jn at Ladywash mine. TL through Eyam to bear left on to B6521. At jn with B6001, TR direction Calver to TL in to Froggatt. TL after bridge and TL on to the A625. TL and TR then TR on A625 direction Sheffield. TL Sheephill Road direction Ringinglow. In village TL to TR to Porter Clough and continue over tops to TR on UC to TL to Lodge Moor. Descend to A57 to TR to TL Rails Road to Stannington. TL on to B6076 to TR to descend to B6077 to TL back
to Damflask.