Wiltshire with Harry Lodge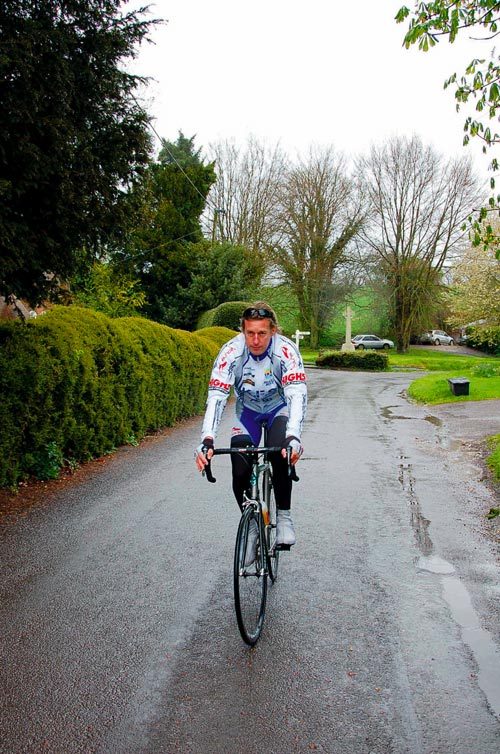 DISTANCE 47 miles (76km)
MAIN CLIMB Lambourne Hill
TOTAL CLIMB 635 metres
ACHTUNG! Main road crossings

Harry Lodge has got an idea for a book. "I would call it The Diary of a Kermesse Racer. I've kept all my training diaries and lots of other notes about what happened. I was just thinking the other day, it wouldn't be glossy or about winning, it would be a look at what happens in the smaller teams," he says.

It would certainly be a colourful read. Lodge's life has been a colourful journey. After
celebrating his 21st birthday at the Seoul Olympic Games, Lodge went to race in Belgium, turning pro in 1990 for what in those days was called a kermesse team.

"La William-Saltos it was," Lodge explains. "The kermesse scene was still big then, with a pro race every day from May to September. Our team leader, Jan Bogaert, was a sort of folk hero. I remember when he took his 100th win in 1991, it was special. We rode the kermesses, but we also did all the Belgian Classics. I rode Flanders, Roubaix, Amstel Gold Race, Flèche Wallonne and Liège-Bastogne-Liège in my first year."

Mad Paul
Lodge lived in Wevelgem, with a Belgian family that was full of characters. His team manager was a character too: "Paul de Baermaker, Mad Paul we used to call him. Although not to his face. If things didn't go well you didn't speak to Paul after a race. If he said something, you just said, 'Yeah Paul, you're right.' You never argued. I saw him hit a rider once because he argued. Just punched him out."

Lodge is tall and still quite slim. He looks elegant on a bike; a natural climber splashing through the rainy Wiltshire lanes.

"I was a climber really. We did the Milk Race with La William and the team won four stages. I was 18th in my first race, the Tour of the Mediterranean, and I won the GP Anderlecht and a stage in the Tour of Bayern with the team," he says.

The ride starts in Amesbury and meanders south to Salisbury, following the river Avon.
"You do a bit of Salisbury Plain on this ride and should always look at the wind direction; you want it to be blowing you back off the plain," Lodge advises.

It turns north-east at the preserved earthworks of Old Sarum, a ring fort that was
established in the Iron Age, about 500BC, and was occupied by a string of invaders. The Normans made the most of the place, building a palace and town, and in 1086 this is where William the Conqueror summoned all the great landowners of England and made them swear allegiance to him.

Lodge's allegiance stayed in Belgium when, after two years of hard work and improving results, he signed for Collstrop and got to play on a bigger stage.

"I was in the top 40 in Liège-Bastogne-Liège, got second in the GP Cannes, ninth in the Classique des Alpes and was top 20 in the Midi-Libre," he recalls.

It was Lodge's breakthrough. "I spoke to the Tulip team in August and was offered a pro
contract. Tulip were equivalent to a ProTour team now, and I rode all the big international races. I didn't do the Tour de France, but I did the Giro. I was top 20 for the first two weeks, but dropped back in the third," he says proudly.

But as Lodge ploughs through the rain towards Andover he recalls how cycling sank into one of its periodic recessions. "Tulip pulled out at the end of '93 and I can remember at one time there being 60 unemployed riders in Belgium — good ones too."


Italian job
Lodge eventually ended up in Italy and dropped into a whole new world of experiences.
"I rode for Amore e Vita, which was connected to the Catholic Church and the anti-abortion lobby in Italy. They later had to play that down, because everywhere we went we got pelted with rotten tomatoes and fruit by young women. Later it became a lobby for cancer victims."
One thing that sticks vividly in Lodge's mind was the annual blessing by the Pope.

"That was really amazing. We were based in Tuscany, so had to get up really early to make it to Rome. But, just like everybody else, we went too early and when you went in the motorway services, just outside the city, it was full of people all in their
best clothes killing time before the reception.

"You would go inside the Vatican, stop at the gates and get your pass from the Swiss Guard, then when it was our turn the manager would give the Pope a jersey and a bike and he would bless two of the riders. It was incredible, just you in there with the Pope and a few of his high ups, and 120,000 people behind you outside in St Mark's Square just waiting for a glimpse of him."

Lodge rode the Vuelta and Tour of Switzerland with Amore e Vita, and he married an Italian woman in 1996. He raced for a British team, went back to an Italian one, then a Belgian squad.

"By 2000 I was thinking of how to get into team management. Then, at the end of 2002, I was given a chance with the Endura team. We hired a house in Italy and with my contacts I got us in some good races. Daniel Lloyd, Alex Coutts and David McCann all started with us," he says.

Which brings us to where Harry Lodge is today. The Italian marriage didn't work out and he's back where he grew up in Wiltshire, riding the lanes when he can and running his Italian clothing import business. He also manages the KFS-Sunday Cycles team. They're young riders, like Lloyd, Coutts and McCann were, and Lodge is doing what he's good at — developing their talent.


WHAT MAKES A GOOD PRO?
Winning isn't for everybody. Only the hugely talented win at the top level of pro road racing, but there are hundreds that the fans, the riders and managers will say are good pros.

After 13 years of being precisely that, Lodge knows what it takes.

"I can do a list," he says. "First they have to develop the sense to wait for the right moment to race, and when that comes they must give it everything.

"Second, they must be good communicators and be totally open with the team. If they aren't going well then they say so.

"The next things are about how they live. So number three is living right. That means not eating junk, not going out clubbing every night, and not chasing after girls. They can have steady relationships, in fact that should be encouraged. It was in all good teams I was with, and we do the same in KFS.

"Finally, they need patience, self belief and strong morale. It can take years to get the strength for the longest races; it can't be rushed. It's about going out and riding long, then doing it again and again. There's a lot of suffering and 95 per cent of being a good pro is hard graft."


YOUR GUIDE: HARRY LODGE

Age 40, single, lives in Allington, Wiltshire
Works as an importer of Italian bike clothing, a bike agent and he is a team manager, see www.halosports-management.com
Started racing with the Wessex RC and was inspired to road race by watching the 1982 Goodwood World Championships
Rode the 100-kilometre team time trial in the 1988 Olympics
WHICH WAY?
From Amesbury take the unclassified west over the river Avon and head south following signs to Old Sarum. Turn left (TL) on A345 and turn right (TR) at roundabout on unclassified. TL on A30. TR on unclassified at Cholderton. Cross the B3084 and follow signs to Quarley and Amport. TL to Thruxton and TR to Weyhill. TL on A342 and TR on unclassified to Appleshaw. TL to Ludgershall and TR on A342. Cross the A338 and TL on unclassified to Netheravon. TL on unclassified and head south to Bulford. TR on A3028 and TL at roundabout on A345 to Amesbury.