Yorkshire Dales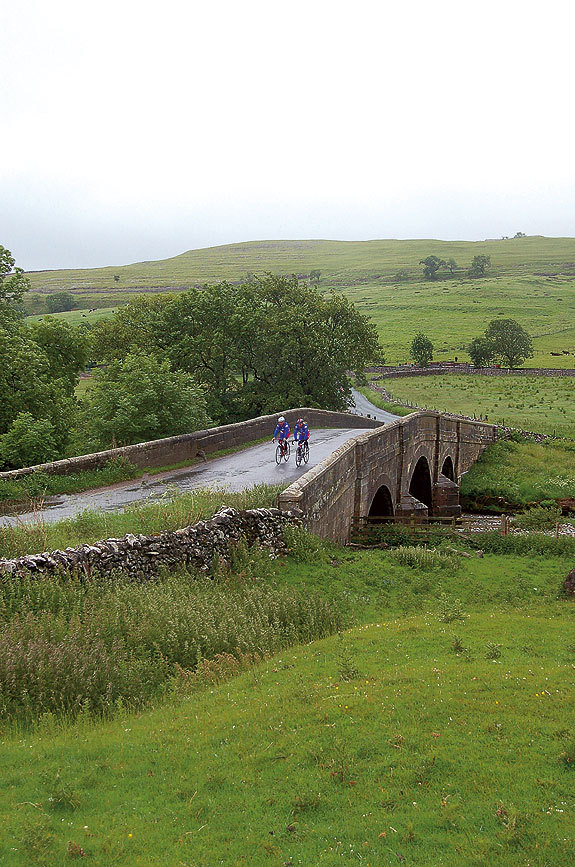 YOUR GUIDES: Sid Barras and Keith Lambert
DISTANCE: 29 miles (47km)
MAIN CLIMB: Steady ascent of both dales
TOTAL CLIMB: 370m
ACHTUNG!: Occasional straying sheep


'Super Sid' and 'Legs Lambert' they called them in the Eighties when Monday night on Channel 4 was city-centre cycling night. The era was the high point of domestic British bike racing, and Sid Barras and Keith Lambert were two of its biggest stars.

"The city centre races were just right for a British audience: fifty minutes of racing with something happening all the time, and always an exciting finish. People still remember them, and I don't mean just cyclists. We both meet people, and when they find out that you were a pro bike rider they still remember those televised races," says Lambert.

"We got up to two million watching on the TV, and the last race in the centre of Manchester had a 40,000 crowd," Barras adds. "Imagine that, 40,000 people stood watching a bike race. Like Keith says, the formula was just right and we had the right riders, riders with an image. There was the Pocket Rocket, Steve Joughin; the Engine, Phil Bayton; me and Keith, Shane Sutton, Phil Thomas, and the girls really liked Malcolm Elliott. We were starting to get a real following."


MEETING OF MINDS
Barras and Lambert met in the early Seventies when Barras, a Teessider, moved to the Keighley area of West Yorkshire shortly after turning pro. "I only came to do some electrical work for Milly Bielby, who ran the professional cycling association, and I never went back," Barras says.

Barras possessed a fearsome sprint, one that won him a stage in the Tour of Switzerland while he was a British-based pro. He tried the euro-pro life with TI-Raleigh, but was a victim of Peter Post's pogrom to rid the team of all its British riders. "He just didn't want us, he gave us crap wheels to race on, and even when you got a result all he'd say was, 'so what?'" says Barras.
Back in Yorkshire, near-neighbours Barras and Lambert paired up to do their training and the pairing became a bond, even though they were rarely in the same team. "We had the same ideas about training and we both knew what we had to do," Lambert explains.

What sort of training did they do in their heyday? "A mix, you can't slog out miles all the time, although we did plenty. For the criteriums we used to do a lot of riding behind motorbikes. Then for the World Championships we would go to Belgium if we didn't have a stage race in Britain, riding the kermesses and training before them too," Barras explains.

Our ride today starts and finishes in Grassington, whose cafes are a mecca for walkers and cyclists. "We get out here most Tuesdays and Thursdays," Lambert explains at the start, and just to underline what he says, a group of their riding mates piles noisily past.


THE DALESMEN
Barras and Lambert thread through the streets of Grassington, quickly finding the river Wharfe for the first leg of this Y-shaped, two dales route. The setting is beautiful; fields coloured with a shade of green that you only get in this part of Yorkshire, and above them the limestone scars bristle like furrowed brows under a hairline of low cloud. It's going to be a wet ride.

But even so it'll be a pleasant ride. The route is surrounded by big hills but there is hardly a contour to clamber over. Laughing together through the rain, Barras and Lambert quickly reach Kettlewell, the setting for Calendar Girls, a film based on the real-life story of a Yorkshire Women's Institute group who posed naked for a calendar to raise money for charity.

From there the ride goes to Buckden and loops around Hubberholme to return on the same road down Wharfedale. "When we were racing we used to ride up here, then over to Wensleydale, then to Hawes and back on some big climbs. But this little circuit still gives you a feel for the scenery. I never tire of it up here," Barras tells us.

Both Barras and Lambert still have close connections with British racing through working for the Dave Rayner Fund, and Barras's son Tom races in Belgium with the DFL squad. What do they think of road racing in this country today?

"I'll go to the Nationals but I get depressed when I go to the races," says Barras. "Road racing has been neglected, there's no two ways about it. I can see why British Cycling has put its money into the track, but we are road riders, like 95 per cent of British cyclists, and we love road racing."

"Where are the riders now?" asks Lambert. "There doesn't seem to be a plan for the road," he adds. Good point, but there wasn't a plan when pro racing was on the TV back in the Eighties. "No, and maybe mistakes were made then," Barras interjects. "We should have kept the city-centre series. Looking back, Alan Rushton made a mistake by trying for big stage races and single-day races. The public weren't ready for them," he says.

Back down the dale, and the pair fork right up into Littondale and on to Arncliffe. "That's where Charles Kingsley, who wrote The Water Babies, stayed for a while," shouts Lambert pointing to a cottage sitting next to the lively, babbling river Skirfare.

He's a mine of information, as we stop to look at Kilnsey Crag, a huge limestone cliff that appears to nearly overhang the road. Lambert says: "The crag looks so close that you could hit it with a stone from here, but you can't. A myth has built up around that, and people still come and try, but nobody has done it."

Back to Grassington and Lambert tells us: "Let your readers know that we are having a fun ride on the route we've just done, and next year they should go on the Etape du Dales. It's all for the Rayner Fund, and Brian Robinson, who has agreed to be our president, says he will lead the fun ride. We are calling it the President's Ride."

So there you are, if you don't feel like doing the full Etape, you've still got the chance of a lovely ride in the Dales with another cycling legend, the first British winner of a stage in the Tour de France.


WHICH WAY?
From Grassington take the unclassified road north-west to Conistone. In Kettlewell turn right (TR) on B6160. Take 1st turn left (TL) after Buckden to Hubberholme. In Hubberholme TL on unclassified to Buckden.

In Buckden TR on B6160 through Kettlewell. Just before Skirfare Bridge TR to Arncliffe. In Arncliffe TR and right again on unclassified to join B6160 again just after Skirfare Bridge. Go through Kilnsey.

In Threshfield TL on B6265 to Grassington.


SID BARRAS AND KEITH LAMBERT: THE FACTS

Barras is 58, Lambert 59, and they describe themselves as "between contracts". "What do actors say?" asks Lambert. "Yeah, we're resting," suggests Barras, adding: "Actually I'm waiting for a job offer from British Cycling."
Lambert was British pro road champion in 1974 and 1980.
Barras won the title in 1979.
Leading lights in the Dave Rayner Fund, and in organising its famous annual dinner. "Alejandro Valverde will be our guest of honour this year. He asked to come," says Lambert.
(This article originally appeared in Cycling Weekly July 13, 2006)