Granfondo San Gottardo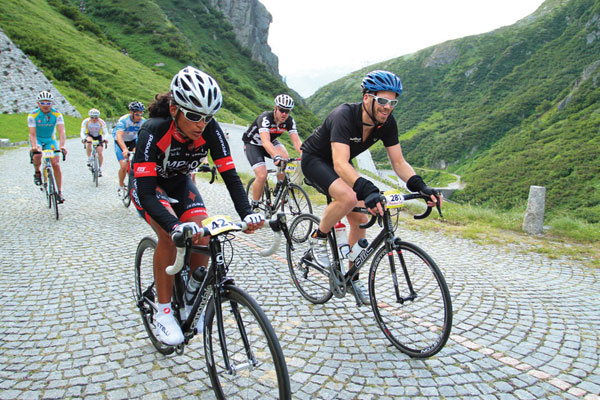 Granfondo San Gottardo
Quick info
Website: www.granfondo-sangottardo.com
Distance: 110km
Terrain: Mountainous
Best bit: Super-fast descent to finish
Worst bit: Cobbled climb of the Gotthard

The Granfondo San Gottardo is set in the Italian-speaking part of Switzerland and takes you over three classic cols: the Saint Gotthard, Furka and Nufenen.

Each col has its own character, the most interesting of which is the beautiful cobbled sections and hairpin turns of the 19km Saint Gotthard. The relatively easy five per cent average gradient is made more challenging by the uneven surface.

The second climb, the Col de la Furka, starts immediately after the descent of the Gotthard, and 16km of climbing 
takes you to a height of 2,429m through a varied landscape of pasture before becoming more barren towards the top.

By the time 
you start the 
final climb of 
the Nufenen 
your legs are already feeling it, which is unfortunate as this is the highest 
of the lot! The dramatic view at 2,478m is good compensation for the effort and the descent is even greater reward.

With very little flat between climbs there 
is no boring, sloggy sections, making this an exciting ride and it has some of the fastest descents I have ever 
ridden. On the final descent to the finish the wind rush was so great it was lifting up the edges of my contact lenses!

Missed it? Try this...
The 2013 event is on Sunday July 28. If you want to 
prepare yourself and experience a range of Swiss riding www.brevet.cc still have spaces for a six-day holiday including entry to the Granfondo.
This article was first published in the June 13 issue of Cycling Weekly. Read Cycling Weekly magazine on the day of release where ever you are in the world International digital edition, UK digital edition. And if you like us, rate us!